You can invite new users and manage their access rights in your board settings. Note that only users with an admin role can do this.
Invite a new user to your board
To invite a new user, find the section "Users" in your board settings and click the "+Invite user" button as visualized in the screenshot below.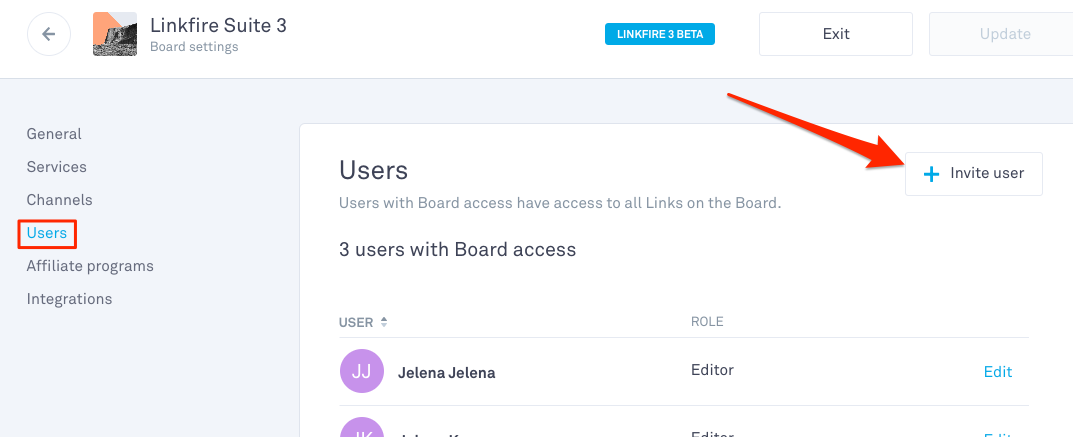 You will then see a pop-up window where you can enter the email address of the person that you would like to invite and define the user role. Read more about the different roles in the section below. If you want to include a custom message, you can add that here as well.
If the invitee already is a Linkfire user on another board, they will receive an email along with a link to accept the invite and join the board. If they do not already have a user account, they will receive an email invitation prompting them to create a new user and join your board. Once they have created their own user account, you can invite them to more boards.
Managing user roles
There are three different roles that you can assign to a user: Reader, Editor & Admin
Reader: A reader can view all campaigns within the board, share assets and view insights.

This is useful for users who need to be able to see how your marketing efforts are going, but who should not be able to create or edit any links of their own.

Editor: An editor can do what a reader can do, plus: add and edit assets, territories and service destinations.
Admin: An admin can do what readers and editors can do, plus: edit all settings, integrations and manage users.
To edit user roles or revoke access, click 'Edit' next to the name of the user and you'll be able to choose between the three different roles or revoke access.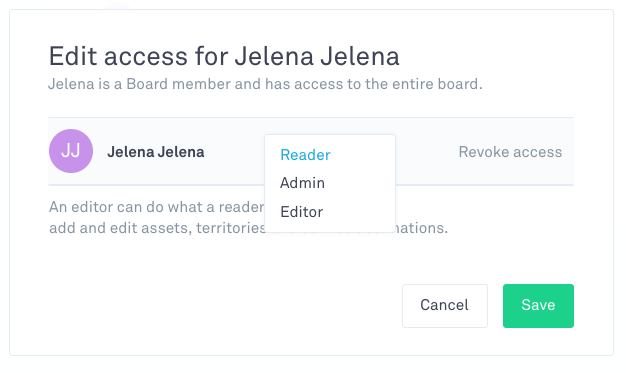 You can also resend or withdraw an invite if it's still pending. Just hover over the three dots next to the email and choose "Resend invite" or "Withdraw".