Linkfire Apple Podcasts Analytics explained
For all podcast links that utilize Apple Podcasts as a Service Destination, you will receive Apple Podcasts analytics, including data on Plays, Listeners, and Followers.
These analytics are presented in your reports on a daily, weekly, and monthly basis. When 10 or more Apple Podcasts users (not necessarily 10 different users) engage in the same action (e.g., playing or listening to an episode) within a reporting period, their activity will be visible in your Linkfire Podcasts Analytics section.
This section provides two primary views:
Link Summary: This view combines all attributed data for the link in one place, often showing slightly higher numbers due to a larger dataset.
Show or Episode Breakdown: Here, the data is grouped by show or episode, resulting in a smaller dataset. In some cases, the count may be lower than the link summary.
Sometimes, the total listener count across the Show or Episode Breakdown is higher than the link summary because of uniqueness calculations. This helps you understand how many people listen to multiple episodes versus a single episode, indicating their level of interest and interaction with your Linkfire link.
Please keep in mind that Apple Podcasts data is updated daily, not in real-time, so it may take some time to see changes in your analytics. Additionally, fan activity is tracked for a period of 2 hours, starting from the moment they click through to Apple Podcasts from your Linkfire link.

Data definition
When you promote your Podcast show or episode, you will receive exclusive data analytics that your campaign drove. These are defined as:
Follows = The total number of people who followed a show
Plays = The total number of times people pressed "play" on an episode
Listeners = The total number of people who listened to an episode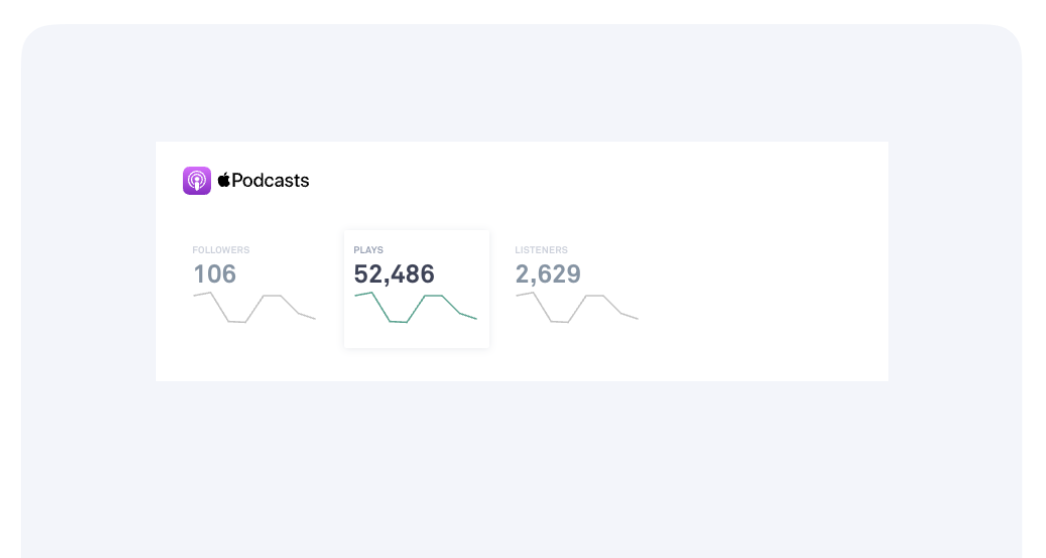 Metrics breakdown
Click on any metric to generate a customizable graph that shows activity trends over time, with a minimum data range of one day. Use the page's filter option and delve deeper by grouping the data by Products (episodes or shows), Countries, and Channels for valuable insights.
*Note: In the below examples of the breakdowns, the Play metric has been used as the example. The values can change based on the metric clicked to populate the rest of the page.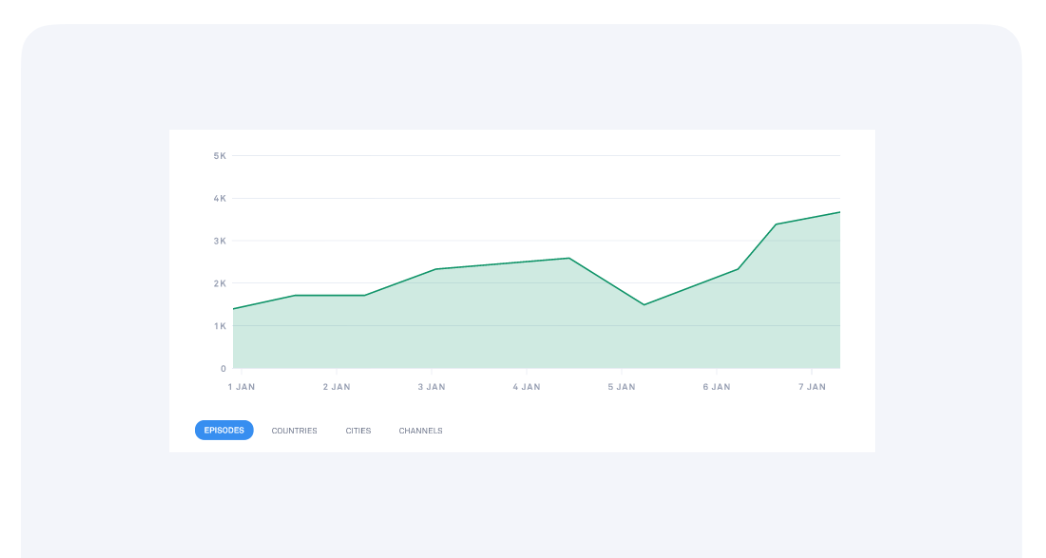 Episodes breakdown: Provides a breakdown of all episodes played from the show you promoted.
*Note: Showing either Episodes or Shows depends on the metric applied. Followers = show where Plays & Listeners = Episodes.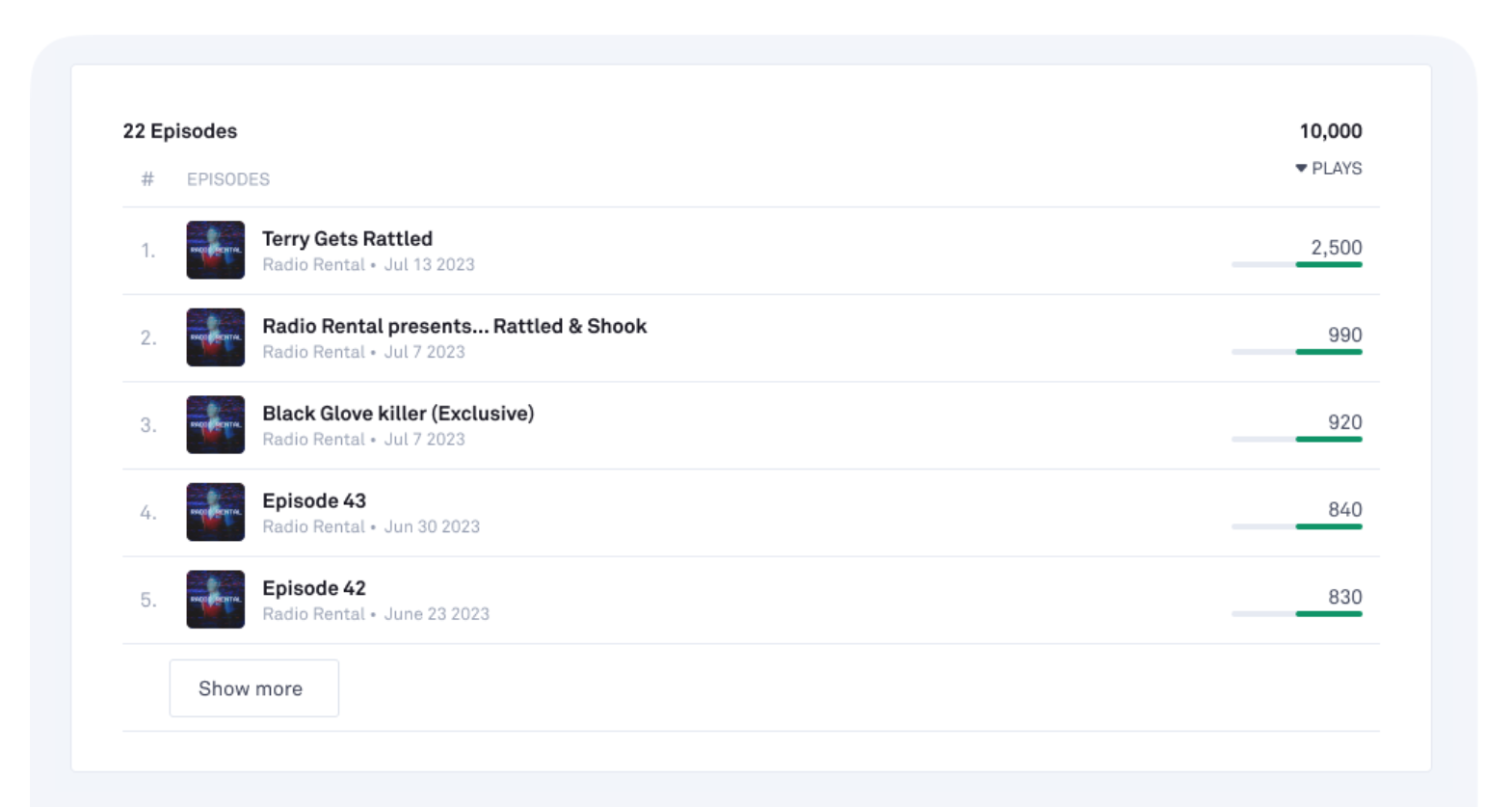 Countries breakdown: Provides a detailed picture of the worldwide fanbase. Use it to make informed decisions about your geo-targeting or how you route your next live Podcast tour.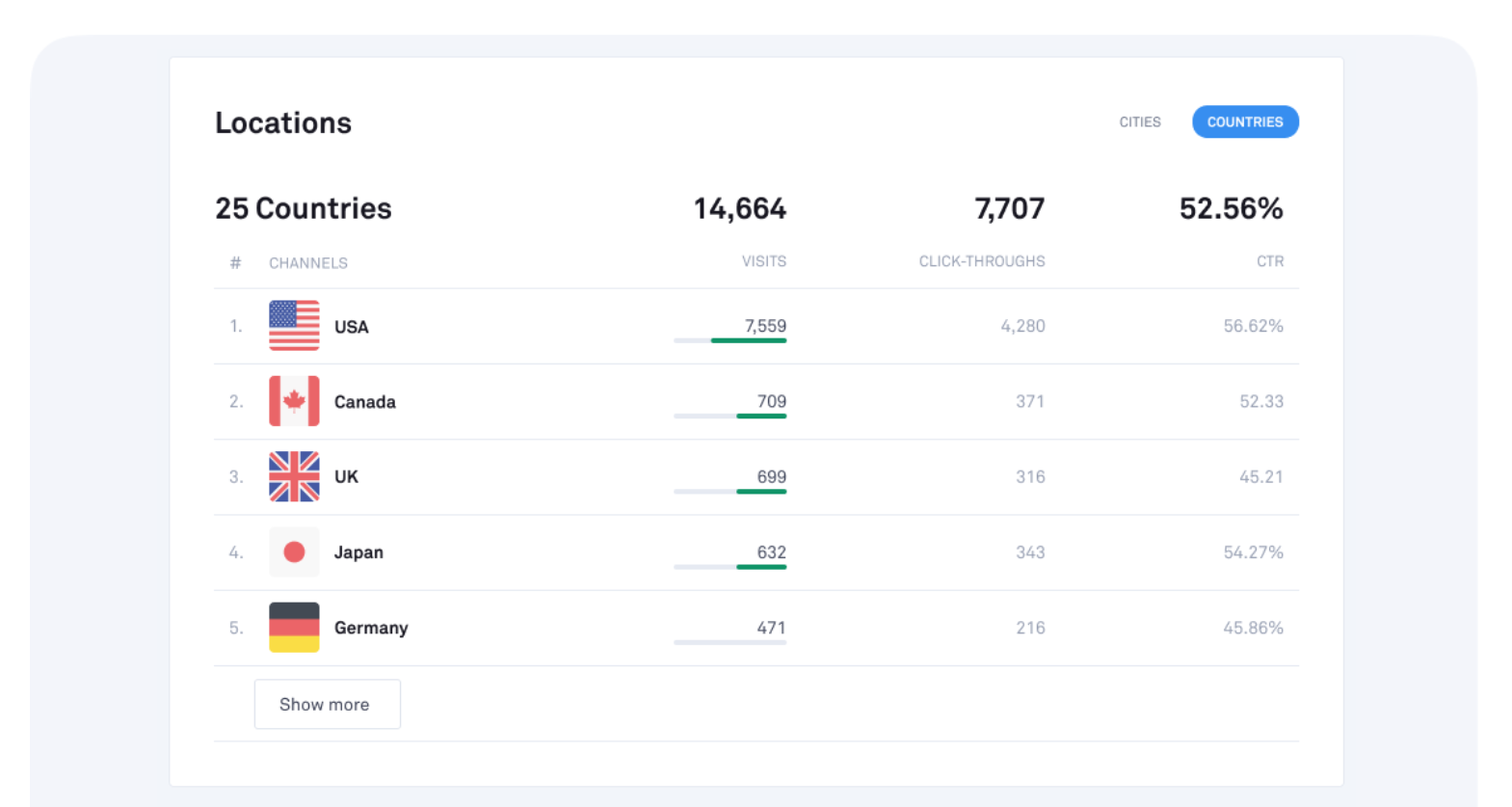 Channels breakdown: This provides a breakdown of the distribution from which marketing channels, referred to as channels, generated the plays. ****Learn more about channels here.
*Note: This feature is reserved for Team & Enterprise users.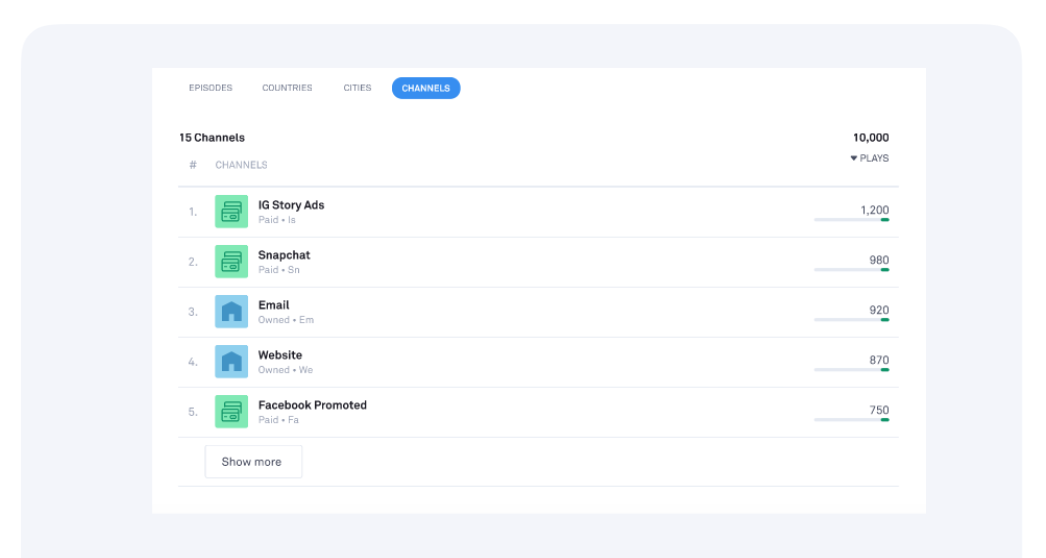 Subscriptions and commission analytics
If you are a member of the Apple Podcasts Affiliate Program, you will also receive valuable insights on Commission and Sales, which will correspond to what is also reported in Partnerize.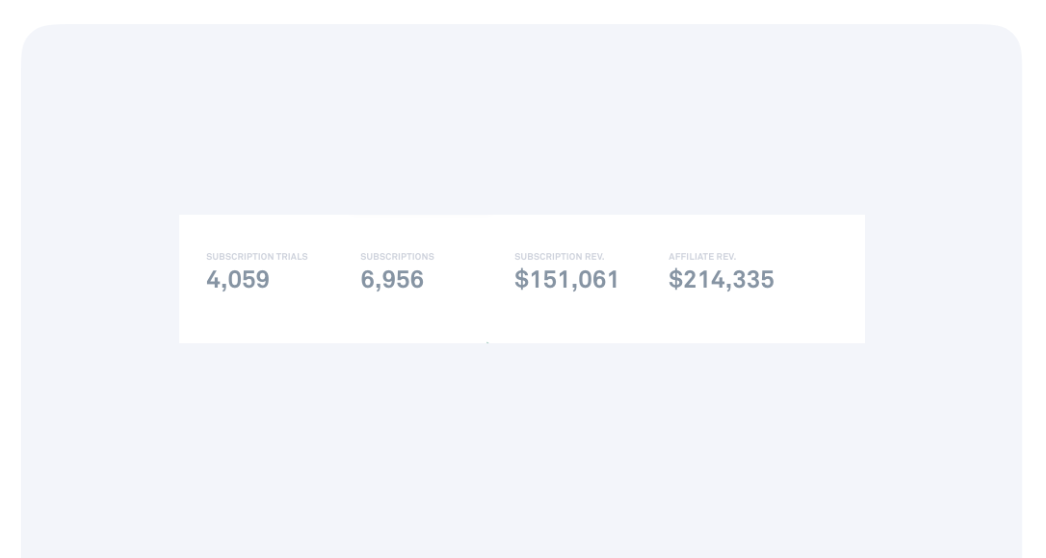 Subscription Trials = The total number of people who started a subscription trial
Subscriptions = The total number of people who have subscribed
Subscription Revenue = The total revenue generated by a subscription
Affiliate Revenue = The total commission revenue from the Apple Podcasts Affiliate Program
*If you are not a member yet of the Apple Affiliate program. Click here to learn more.

If you see Subscription Revenue in your Apple Podcasts Analytics, you will be able to click it and see a full breakdown of the subscriptions driving the revenue.
This section will display an overview of the items sold and total revenue for the past months as well as a sales breakdown on product types or stores.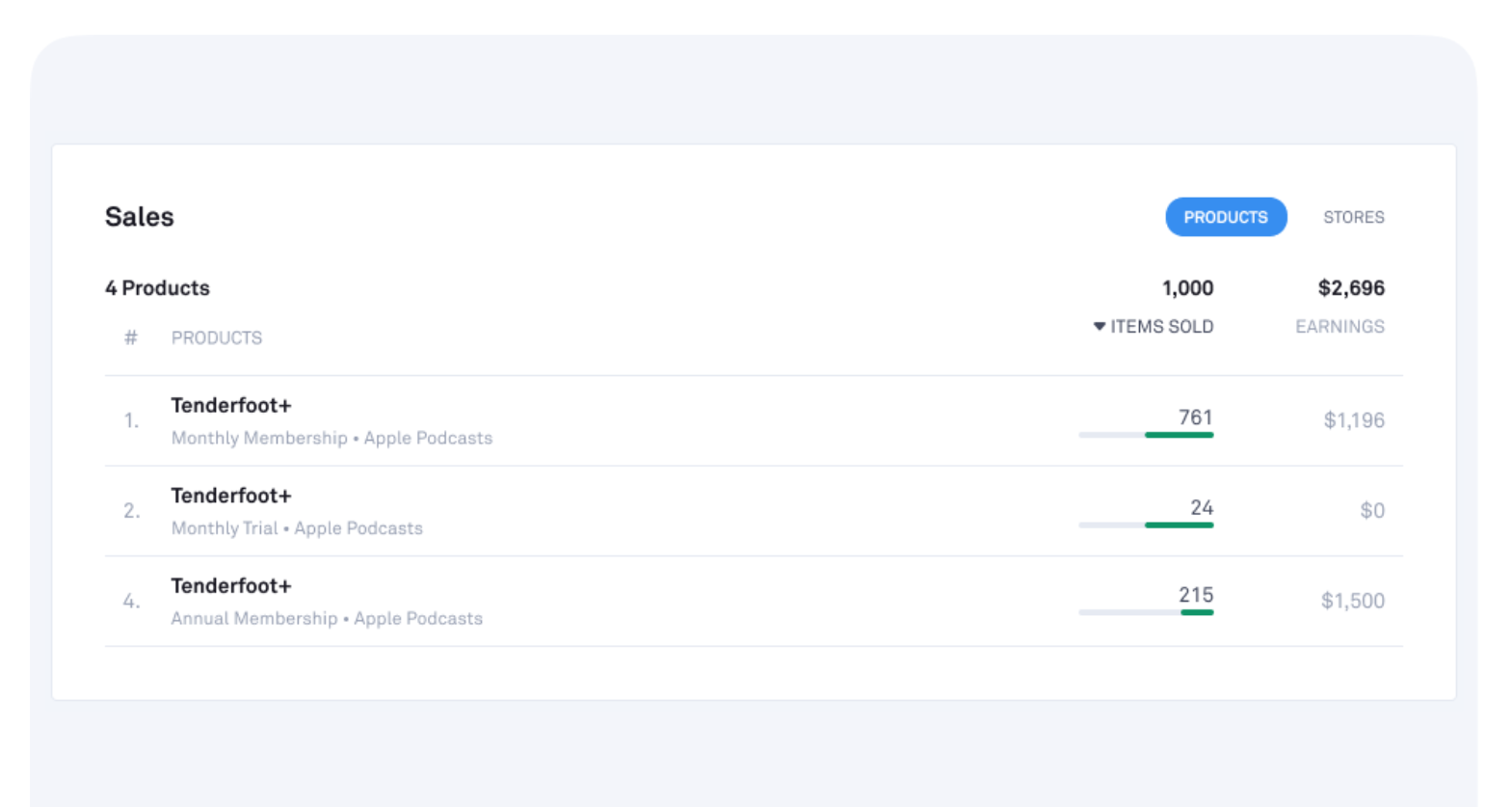 If you see Affiliate Revenue in your Apple Podcasts Analytics, you will be able to click it and see a full breakdown of the Affiliate commission driving the revenue.
The Commission section shows you a breakdown of the products, services, stores, and tokens responsible for the commissions earned on your link. Learn more about how to integrate with affiliate programs here and specifically with the Apple Podcasts Affiliate Program here.