Note: this feature is reserved for Enterprise users.
An affiliate program is when retailers pay you a commission for generating traffic to their store. For example, if a user reaches Apple Music through your recommendation and signs up for a trial, you will earn a commission.
In order to identify your commissions, you should add a unique affiliate ID to all links leading to retailers such as Apple Music and Amazon. If you enter your affiliate information in your Linkfire board settings, Linkfire will automatically make sure that any sales generated by your campaigns will contribute towards your commission payout.
Find and register your affiliate information
Before you can integrate your affiliate accounts with Linkfire, you need to locate your unique affiliate identifier. Depending on the retailer, this may be called an Affiliate Token, Tracking ID or something else.
Click here to read about the Apple Music affiliate program
Click here to read about the Amazon affiliate program
Once you have your information, please contact your dedicated account manager to have it registered in our system. If you're unsure who to contact, drop us a line on help@linkfire.com.
Add your affiliate details to your Linkfire board
Once your affiliate details have been registered in our system, you can add them to your Linkfire boards.
Go to your board settings by clicking on the board name in the top left part of the screen. Choose "Board settings" from the drop-down menu. On the settings page, you will find a section called Affiliate programs.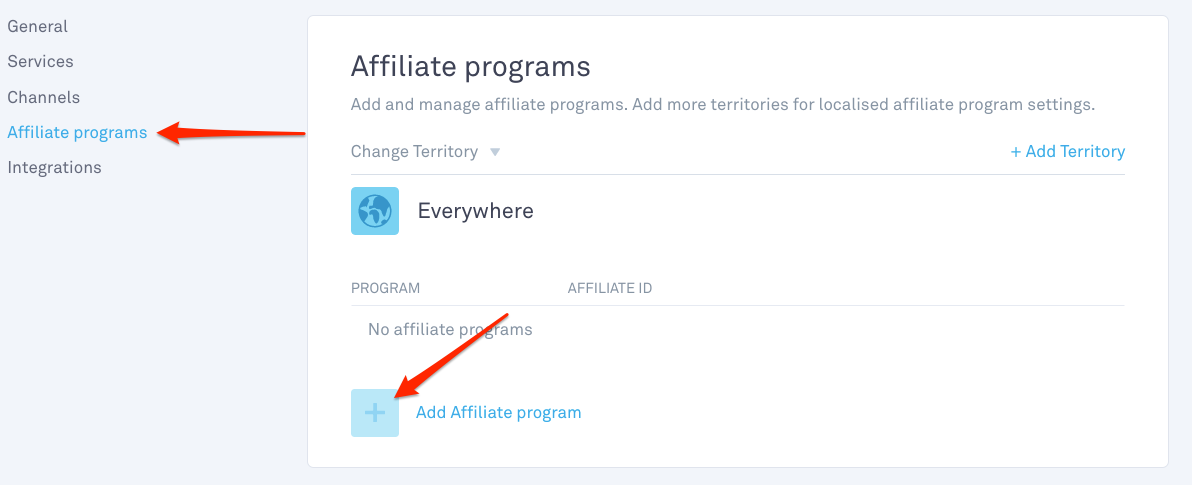 Here, you will see all affiliate programs that have been added to this board. To add an affiliate program, it must first be registered in our system first by an account manager (see above). To apply it to your board, click on "Add Affiliate program" and select the service you want to apply an affiliate program to. If it's not listed start searching for it in the input field.
You can choose a default token that applies to all territories "Everywhere" or choose territories to which you want to add country-specific affiliate tokens. Territories are useful if you want to share affiliate commissions with your international departments depending on the nationality of the customer.