Many links created in Linkfire are for tracks or albums that have not yet been released on all music services. You can always refresh your links to get the newest results when you know those to be available, but this takes time, and you risk forgetting to do so.
Using Linkfire's rescanner, you can schedule rescans for when your content will hit new music platforms. That way, your landing pages stay up-to-date with all services where your content is live.
Be aware that release times communicated by your distributor could fluctuate, which means the release may actually not be available for us to find at the exact time. Because of that, we recommend that you don't start promotion on the clock of expected release time, as we might not be able to find the release on all DSPs immediately.
Rescan only works for "Release links" and for any media service, we have an "Automated integration" with i.e. Spotify and Pandora.
Schedule a rescan
When editing your link you can choose to do a full rescan which will update all sections if new content is found. Or you can choose to do a partial rescan of a specific "Service destination". The full rescan is done in the section "Link Source" by clicking "Rescan link" and check on or off which sections you wish to update. For example, you might wanna skip updating the 'Social card', if you've already customized the text for that section. As default, the rescan is set to use the original source, but if you wish to provide a new URL or UPC/ISRC code you can change that here too.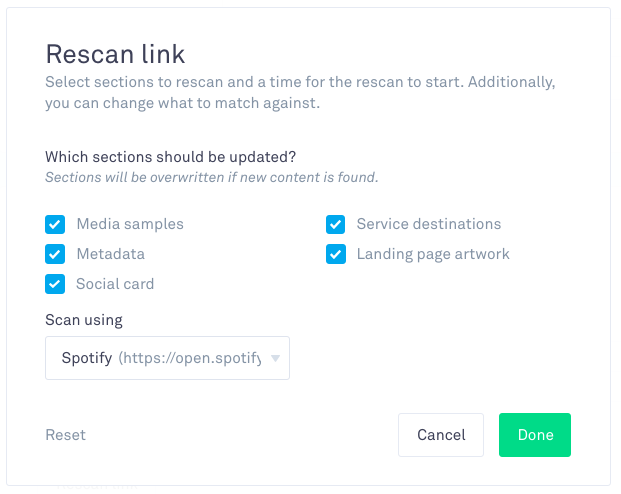 You can also add a rescan for individual services. Go to the "Service destinations" section and activate the rescan by clicking the arrow to the right of each individual service and then the 3 vertical dots and you'll see the Rescan option from the drop-down.

Select or input UPC, ISRC or URL to rescan from and set the date and time where you want the rescan to happen.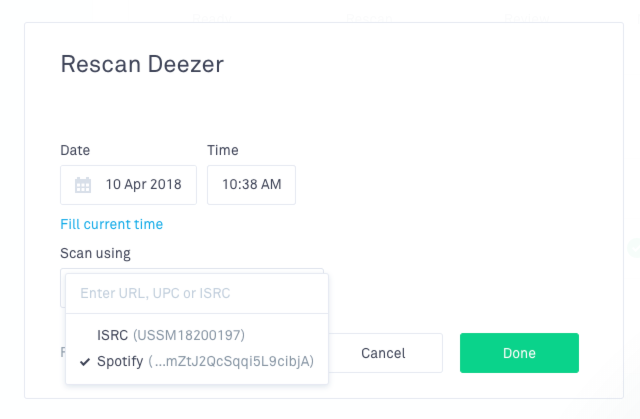 After you have scheduled the rescan click Update the link.
Once a scheduled rescan begins, Linkfire will scan for the content several times over the next 24 hours. If you want to rescan the same service several days apart, you will need to schedule a rescan for each day.
After the first rescan, the schedule for subsequent rescans is this:
After 5 minutes

After 10 minutes

After 20 minutes

After 30 minutes

After 60 minutes

continuously every hour until 24 hours
When a result is found, it is automatically added to your Service destinations section. If the result is a 95% match or higher, we will automatically add it to the landing page. If the match percentage is lower review the result from the Service destinations tab.