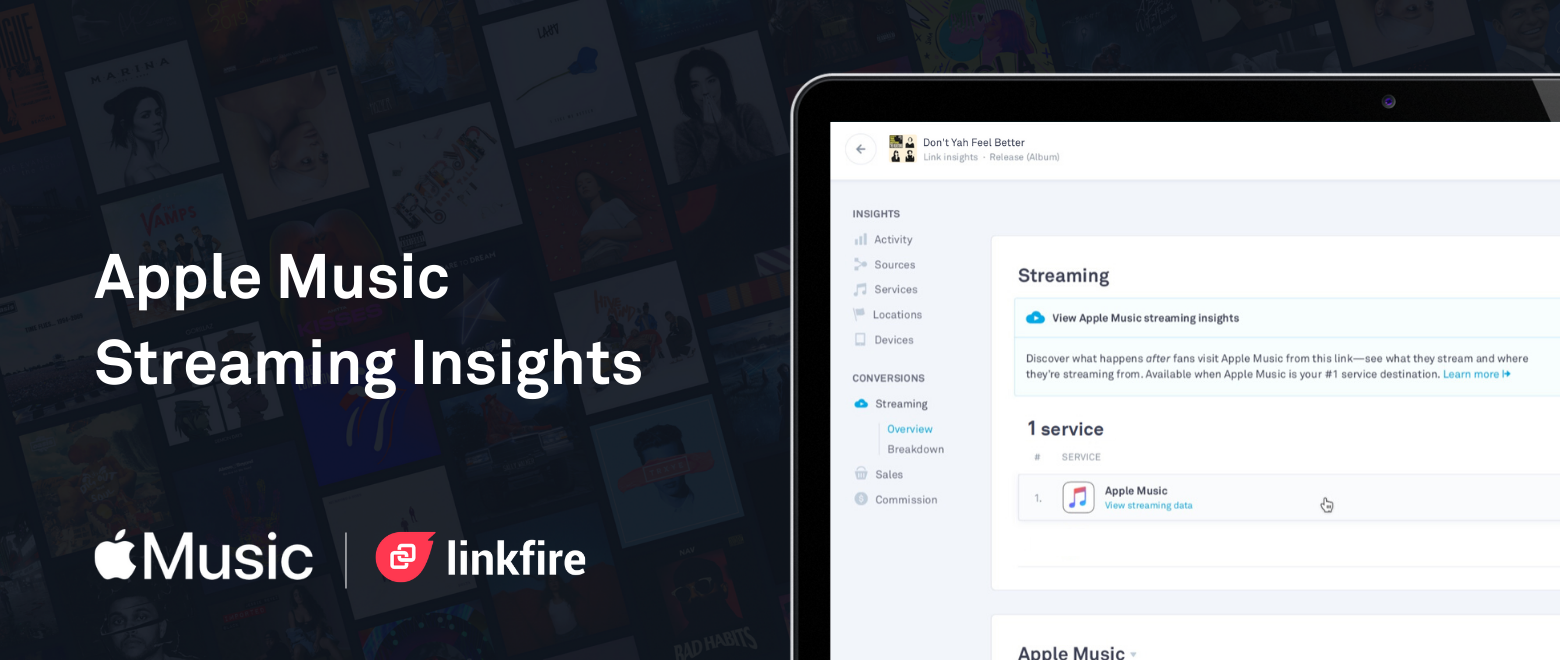 Discover which of your links, channels, and activities are actually driving streams on Apple Music, and where those streams are coming from. You can now match your off-platform campaigns with on-platform behavior and cut down on budget burners.
How to see Apple Music streaming activity
Streaming numbers from Apple Music are available when:
Apple Music is placed #1 on your landing page links

OR
You drive fans directly to Apple Music using direct-to-service links
AND
10 or more Apple Music users have taken the same action (e.g. streamed one of your releases).
Frequency: Apple Music data is updated daily rather than instantly, so don't worry if you don't see immediate changes in your streaming numbers.
Apple Music Insights explained
The "Streaming" overview shows you how many streams your links have received on the services listed.

Click on Apple Music for a more detailed breakdown, with the streams sorted under three different headers—"Products," "Countries," and "Cities."
"Products"
Under this section, you can see releases that have generated streams on Apple Music through your Linkfire links. While your own content is listed by release name, streams on other music in Apple Music generated from your links are grouped together under the name "Indirect products."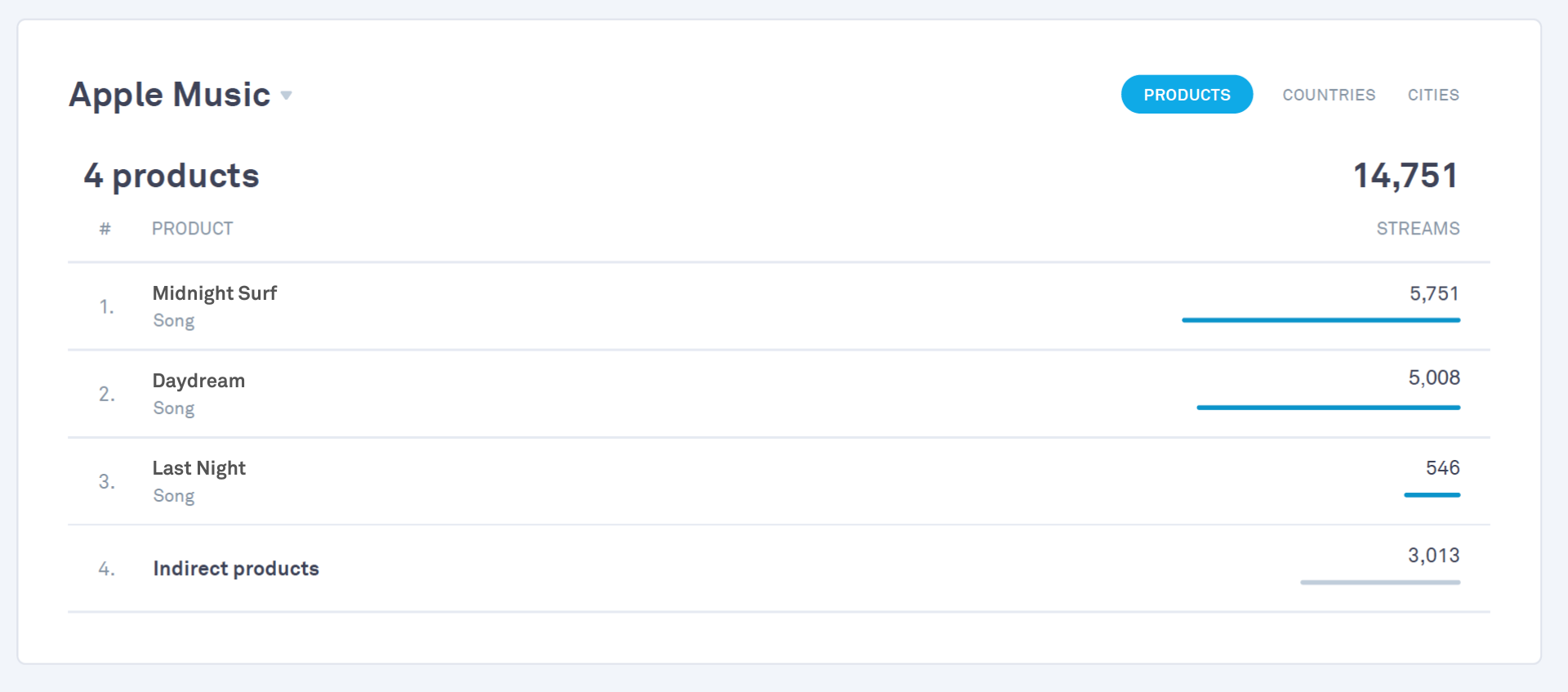 "Countries" and "Cities"
Under this section, you can get a detailed picture of your worldwide fanbase. Use it to make informed decisions on scheduling tour dates or revise the locations you're targeting with advertising and promotions.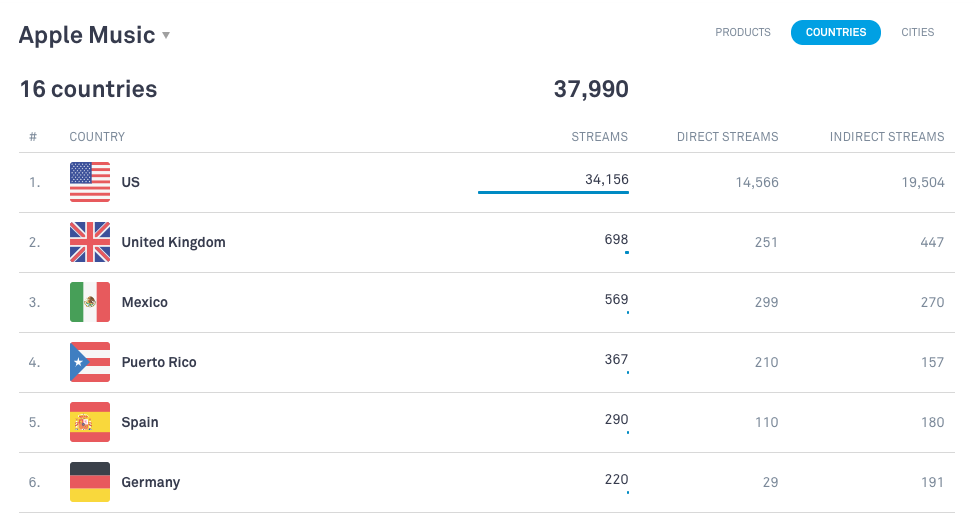 Q&As
What are "Indirect products"?

All of the Apple Music streams reported in your Insights are categorized as either "Direct products" or "Indirect products."
"Direct products" refers to songs, albums, playlists, or music videos directly linked to by a given Linkfire link. You'll see these listed in Insights by the name of the song.
Example: A fan clicks on the album link theweeknd.co/starboy and goes to Apple Music and starts listening to songs on the Starboy album.
"Indirect products" are other songs accessed through your Linkfire links that aren't the "Direct product." These are all collected under the "Indirect products" name.
Example: A fan clicks on theweeknd.co/starboy and goes to Apple Music and starts listening to a Drake album.
If a user navigates away from a "Direct product" but then plays that same song through a different inventory reference (playlist, album, etc.), this stream will be counted as "Indirect product."

How long does the window for reporting on streams last?

Fans' streaming activity is tracked for 30 minutes from the moment they click through to Apple Music from your Linkfire link.
Are all Apple Music streams reported?

A song needs to be streamed for over 30 seconds on Apple Music to be reported, similar to the way that royalty payouts are triggered.