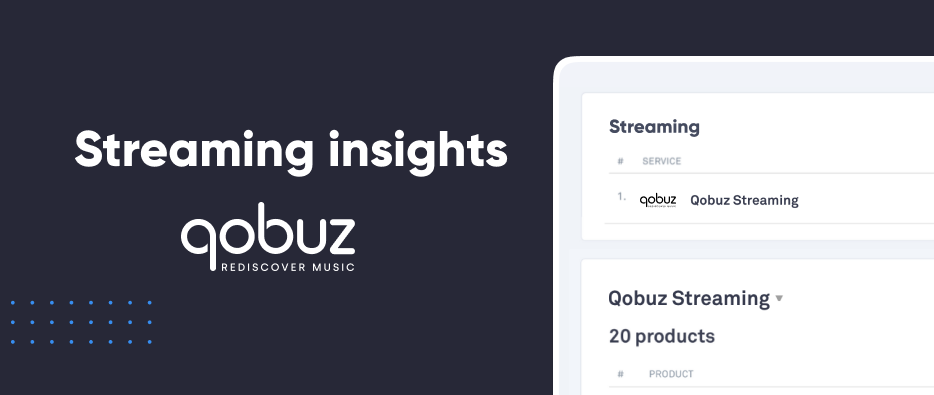 Match your marketing efforts to actual fan behavior inside the service with Qobuz streaming insights. Available in your Linkfire Insights, this data shows you what happens after fans click through to Qobuz Streaming from your smart links.
Streaming insights are reported for links with Qobuz Streaming on the landing page and for direct-to-service links where you drive fans directly to Qobuz Streaming without a landing page.
The top overview displays the number of streams by service. For Qobuz-specific streaming insights, hover over the service name and click "View streaming breakdown."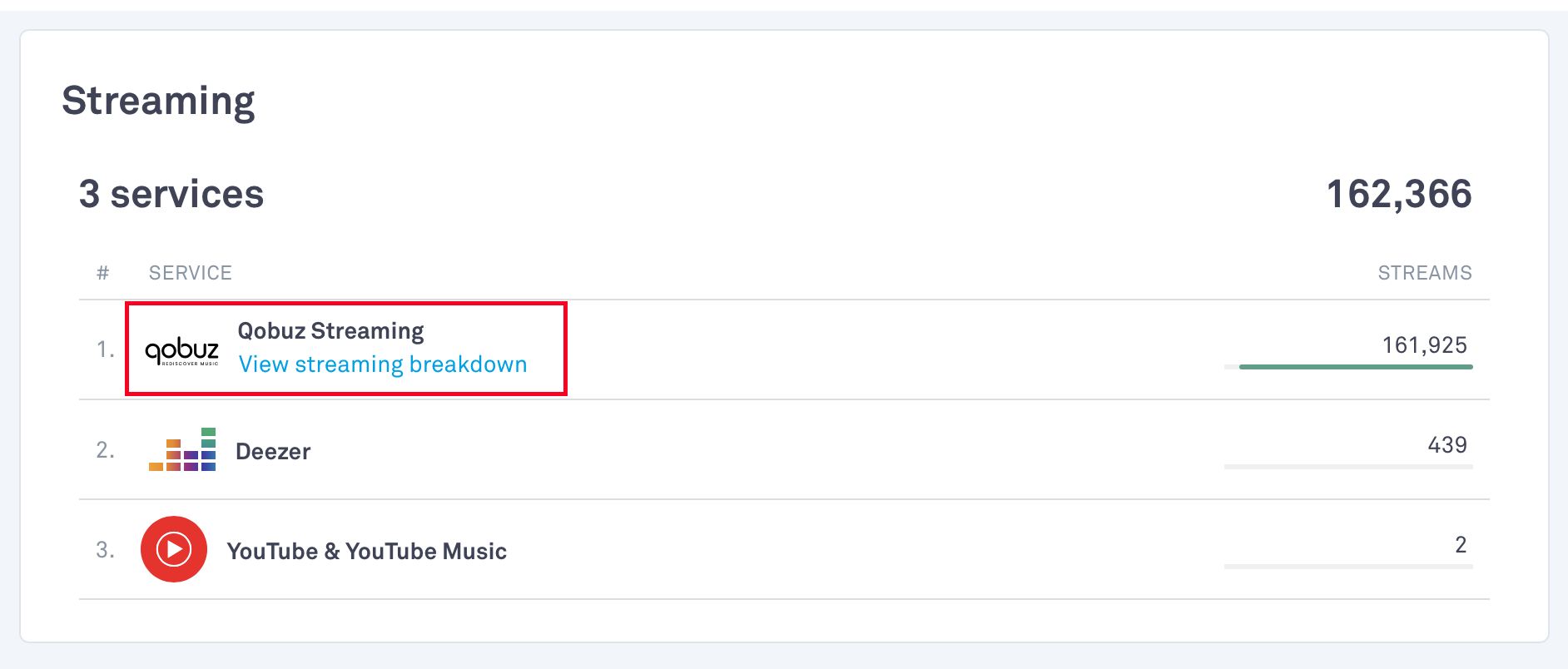 The Product overview shows which tracks (products) were streamed and gives you information about other tracks that visitors streamed after clicking your links.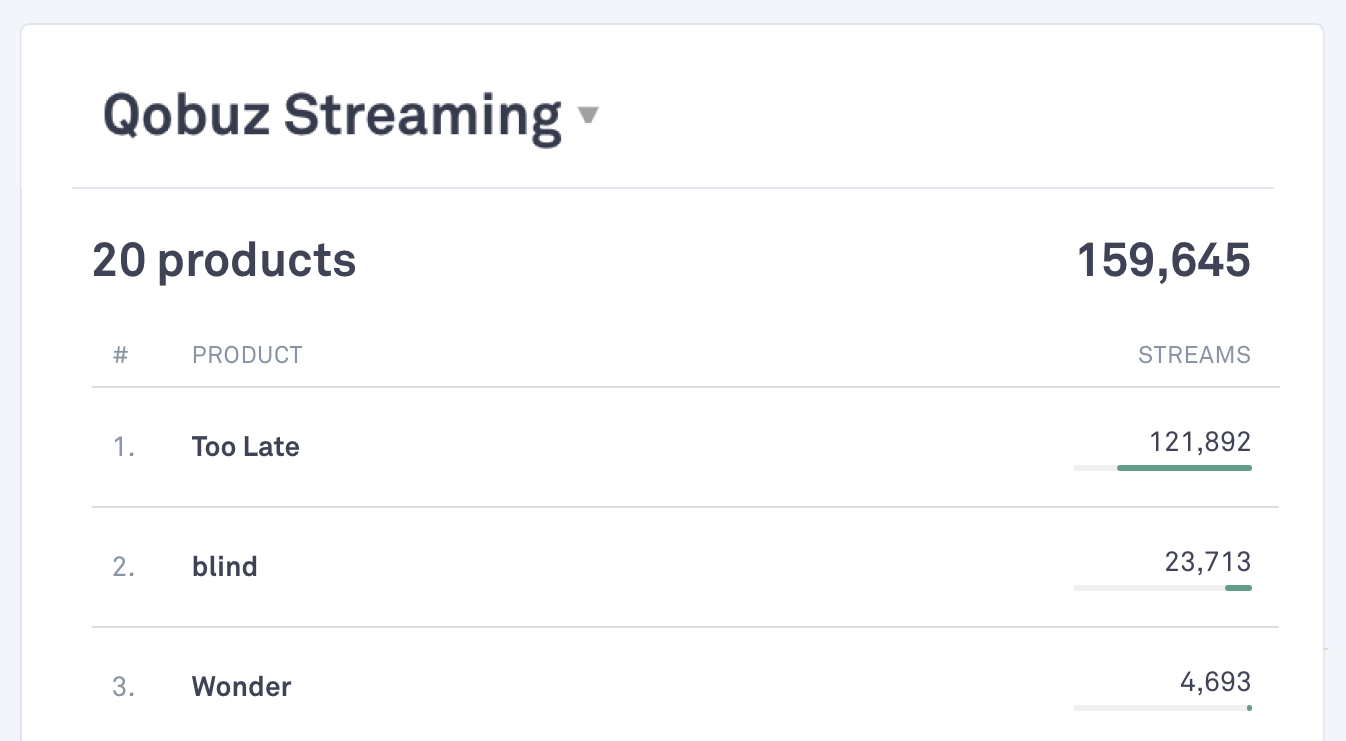 Streaming data from Qobuz Streaming is updated daily in your Linkfire Insights.
If you're on a Linkfire Business plan with territory management, we recommend setting up territories on your boards. You can then display Qobuz Streaming on country-specific landing pages, reorder its placement in your list of services, and change the language.
How do I add Qobuz Streaming as a service destination on my landing pages?
To get streaming data from Qobuz, you must add Qobuz Streaming as a service destination on your links and landing pages. We recommend adding it in your board settings to make it a default service destination for any link created on your board. You can also add it on the link level for individual landing pages each time you create a new link.
Make Qobuz Streaming a default service destination on your board
To make Qobuz Streaming a permanent service destination across all links created on your board, add it directly to your board settings under the "Services" section. You can always remove it or change the order of your services when setting up individual links.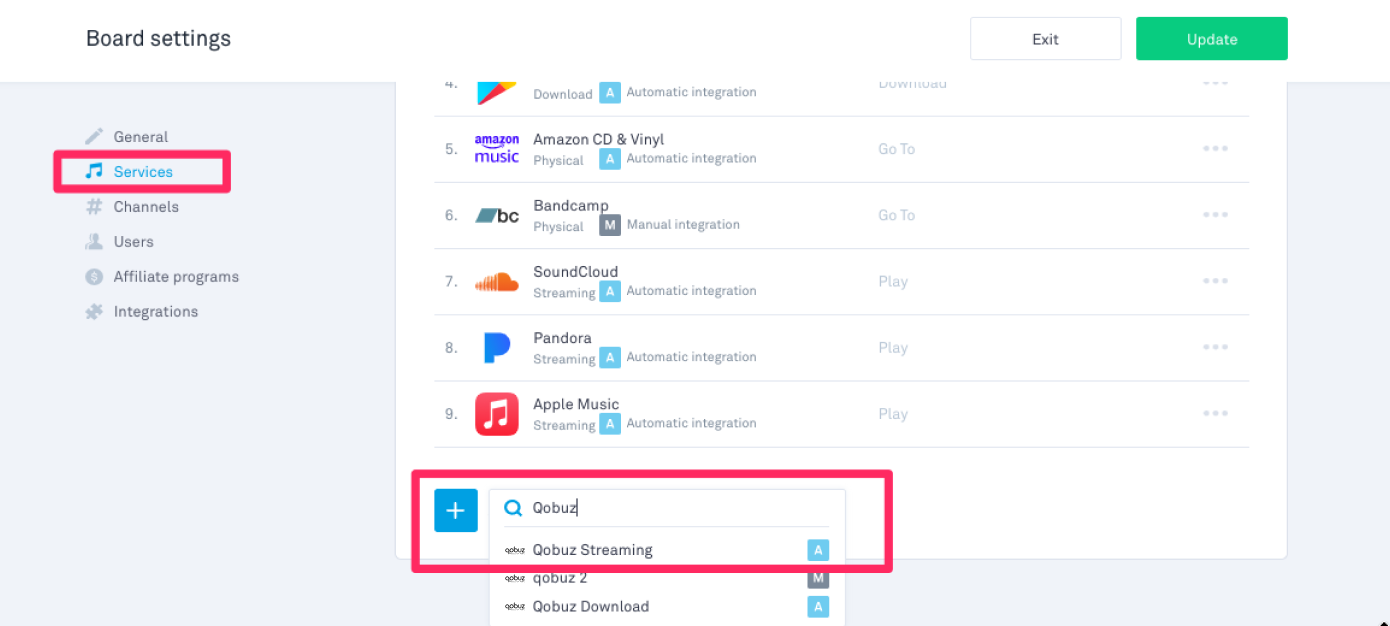 Add Qobuz Streaming to a specific link
Hover over your link and click "edit."

Under the "SETUP" section go to "Service destinations."

Select "+ Add Service" at the top-right of the screen.

Type in "Qobuz Streaming" and select it.

Click the dropdown next to Qobuz Streaming and click "Schedule Rescan." Linkfire will automatically find a match.

If you don't get an automated match, manually insert the direct URL.