The easiest way to get off to a good start with Linkfire is to set up your default settings for your board. Anything you set up on your board settings will be reflected for any link you create on your board. That way you won't have to make the same change every time you create a new link. Edit settings for services, users, channels, affiliate programs, and retargeting integrations that apply to every link created on that board.
In this article, we will cover the essentials for getting your new account set up. If you're on a plan with affiliate management and retargeting integrations, your account manager will walk you through that part.
Set-up your board settings in 5 simple steps:
Start by accessing your board settings through the gear icon next to your board name in the top left corner.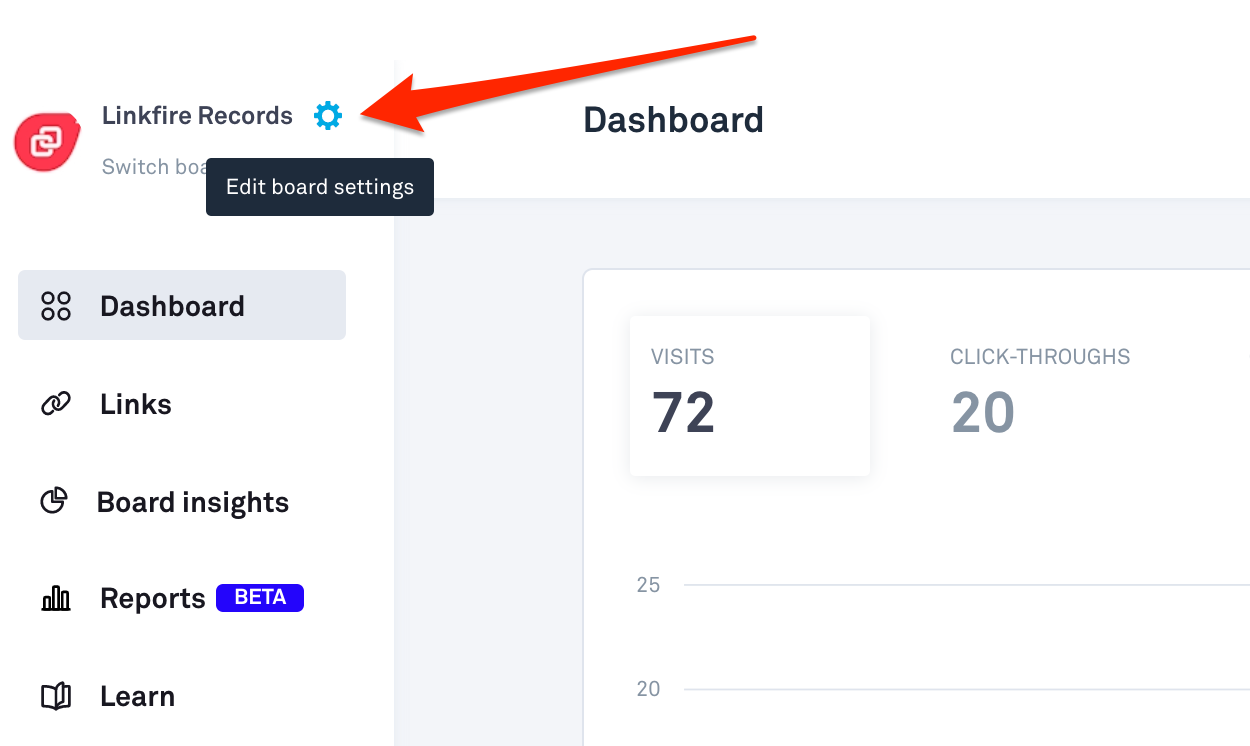 1. Add and manage default services
Your board comes with a set of default services. These are the music services we'll automatically scan for matches and apply to your landing page when you create your first link. But there are hundreds of other music services that might fit your markets and audiences. Invest some time adding and reordering the music services your fans or label focus on, so they will be part of your default setup and you won't have to add them to every link, they will be there by default.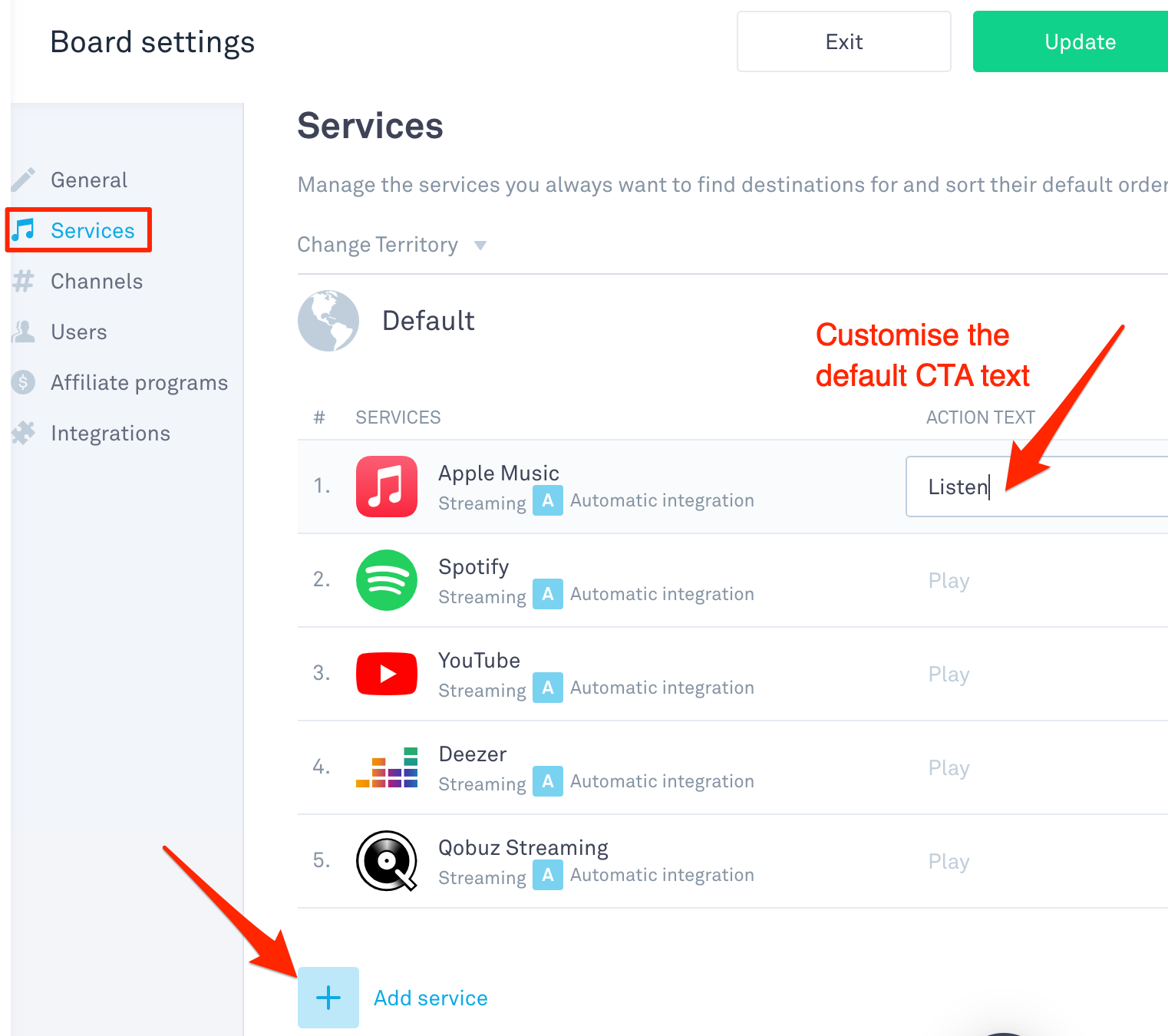 You can also customize the CTA button text. By default it's "play" and "download" for most services, but you can change it to "listen", "stream", "buy" or whatever you wish. Linkfire links are geo-localized, so the text on a landing page will automatically adapt to the location of the link visitor. That means if a fan clicks on your link in Korea the language of the landing page will be Korean, and if another fan based in France clicks the same link they will see it in French.
Learn more about setting up territory specific landing pages here.
2. Set up channels for detailed data on where your fans are coming from
To keep track of where your traffic is coming from, we suggest that you set up channels and use them every time you share your links. Channels give you accurate and detailed data on where your fans are finding your content.
By setting up channels and applying them to your links, such as "Instagram/IG", "Twitter/TW", "newsletter/NE" and "website/WE" you can see which marketing initiative led to most visits or click-throughs. This is more precise than relying on 'referrers'. Learn more about channels and channel insights.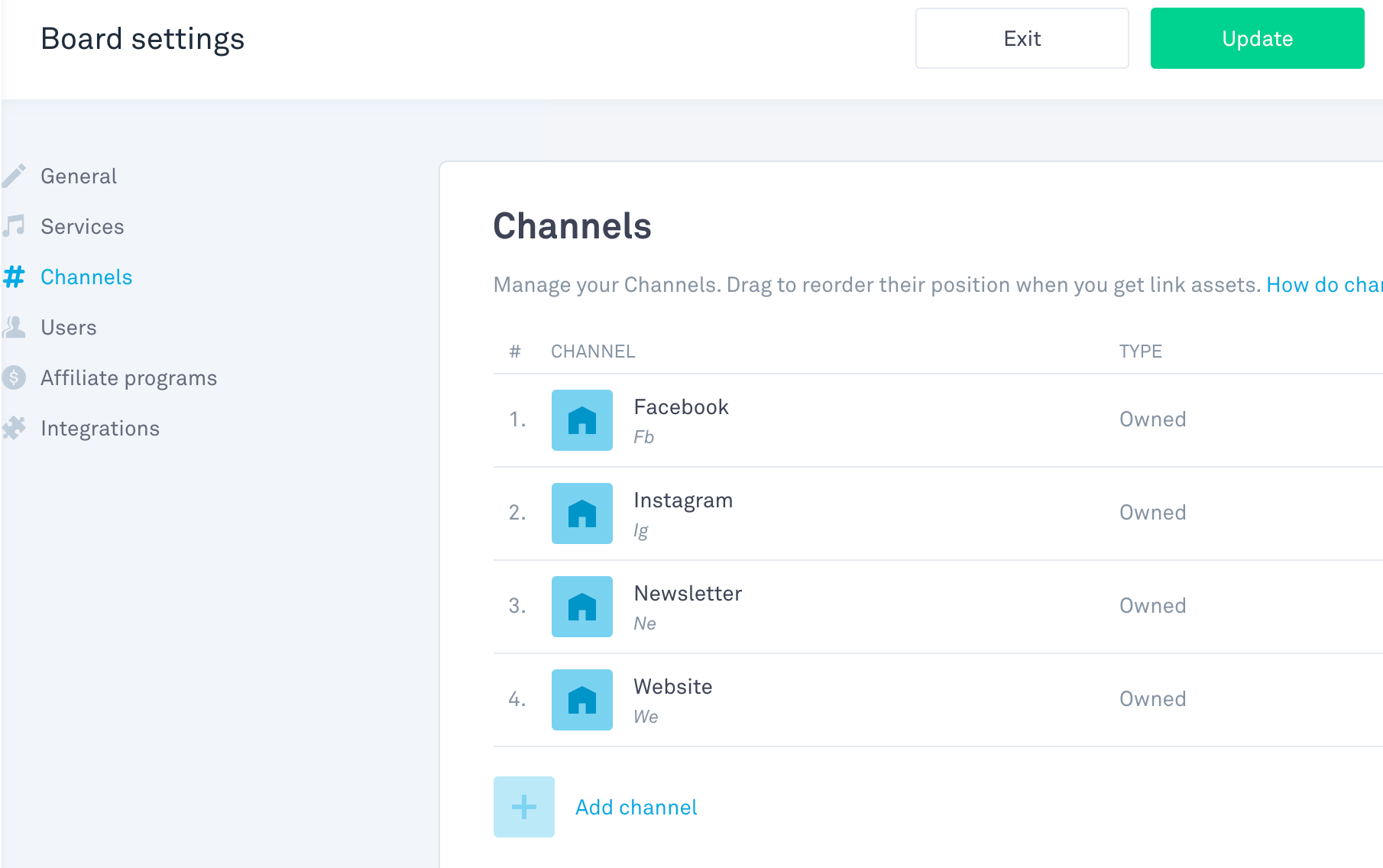 3. Manage users
Build and promote together with anyone in your team. Invite users to collaborate and share results. Depending on your Linkfire subscription, you can add up to 10 users, just click the '+Add User' and paste in the email address, and choose the user role. Learn more about user roles here.
4. Integrate with your Affiliate programs
(available on Premium subscriptions)
Linkfire offers integrations with several affiliate programs, amongst them Apple Music, Amazon, and our exclusive Qobuz affiliate program. Talk to your account executive about setting it up and learn more here.
5. Set up retargeting Integrations
(available on Advanced and Premium subscriptions)
Linkfire supports several retargeting integrations you can enable to start collecting remarketing information from fans and visitors to your Linkfire landing pages. This is the section where you can set up your pixels and retargeting IDs.
Learn more about our most popular retargeting integrations.
NEXT: Onboarding Step 3: Use smart links for every phase of your release campaign.