Welcome to Linkfire! We're excited to start helping you simplify your music marketing.
This onboarding guide covers the basics for getting you off to the best start.
We're big believers in wrapping every link you publicly share in a smart link. That way, you'll be able to maintain brand consistency, measure visit and click-throughs, gain deeper insights about your audience, and keep everything you're promoting nicely organized in one dashboard.

Get started by creating and customizing a link
Gone are the days of sharing long, ugly links that route fans to music services they may not even have. With a Linkfire release link, you can easily direct fans to your music in their app of choice.
For your first link, we suggest creating a release link or a pre-release link. Then you can head on to build your Bio link as it's based on other links you've previously created.
This article walks you through how to create and customize a release link. Click here to learn how to create a pre-release link instead.
In short, creating a release is done in 5 easy steps
Hit the green "create link" button in the upper right-hand corner.

Choose "Release" as your link type.

Paste in a link to your release on a streaming service (we recommend a Spotify or Apple Music link for the best results) and we'll automatically scan the URL and show you the details and services we've pulled in for your landing page.

Customize the URL so it includes your artist name, release name, campaign name, or any other key branding elements -

artistname.

lnk.to/

campaignname

Customize your landing page to make it look exactly the way you want by adding more services, update the text description, artwork etc. - then hit "publish" and have your new link ready to share.
For a more thorough intro to setting up a release link check out the steps below.
Create a release link
To create a release link, you must use a valid music URL. This is typically a link to a track or an album on a music service like Apple Music or Spotify. If you use a link from a service we don't have an automated integration with, like eg. Bandcamp, we won't find any matches. You can always add bandcamp manually afterwards. Click the green "Create link" button in the upper right-hand corner of your dashboard, choose "Release" as your link type, and click "Continue". Then paste in your copied URL and you will be directed to the page looking like the screenshot below.
Customize the URL
This way your URL can include artist name, release name, campaign name, or any other key branding elements you wish to highlight as part of your link. This lets your fans know exactly what to expect when they click, which increases the likelihood that they'll engage with your content. For example, Katarzia used her artist name and new album title in the following URL.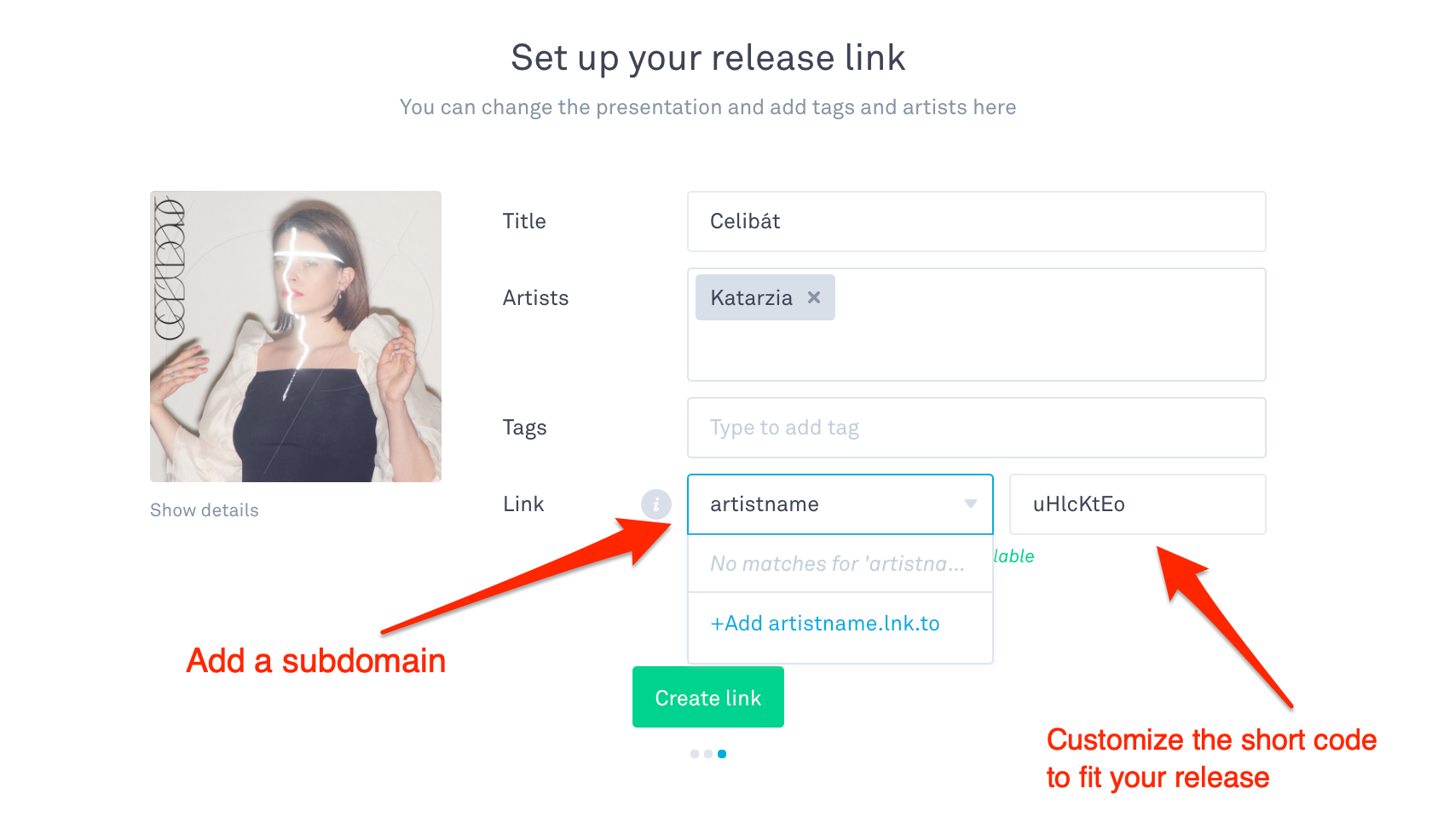 Once you click "create link" we'll start scanning and instantly find matches across other services, so that you don't have to spend time finding and adding each service manually.
Depending on your plan you'll be directed to a "share modal" (personal starter and pro) or your link feed (business essential, advanced, and Premium) and your initial link is ready. Before sharing your new link we recommend customizing your landing page to make it look exactly the way you want.
Customize your landing page
Maybe you would like to add more services to your landing page than the default ones set up, or maybe you wish to change the description text displayed below your artwork... Let's look into how to customize your landing page to make it look exactly the way you want.
Add more service destinations
Under "service destinations" you'll see the default services with the music matches for your release. But you can add any service you wish to include on your landing page, maybe you wanna include Bandcamp, Beatport, or Line music, we have more than 250 services to choose from. Click the "Add service" and simply search for the name of the service. You can tell by the blue "A" or grey "M" next to the service if it's an Automated integration or a Manual integration.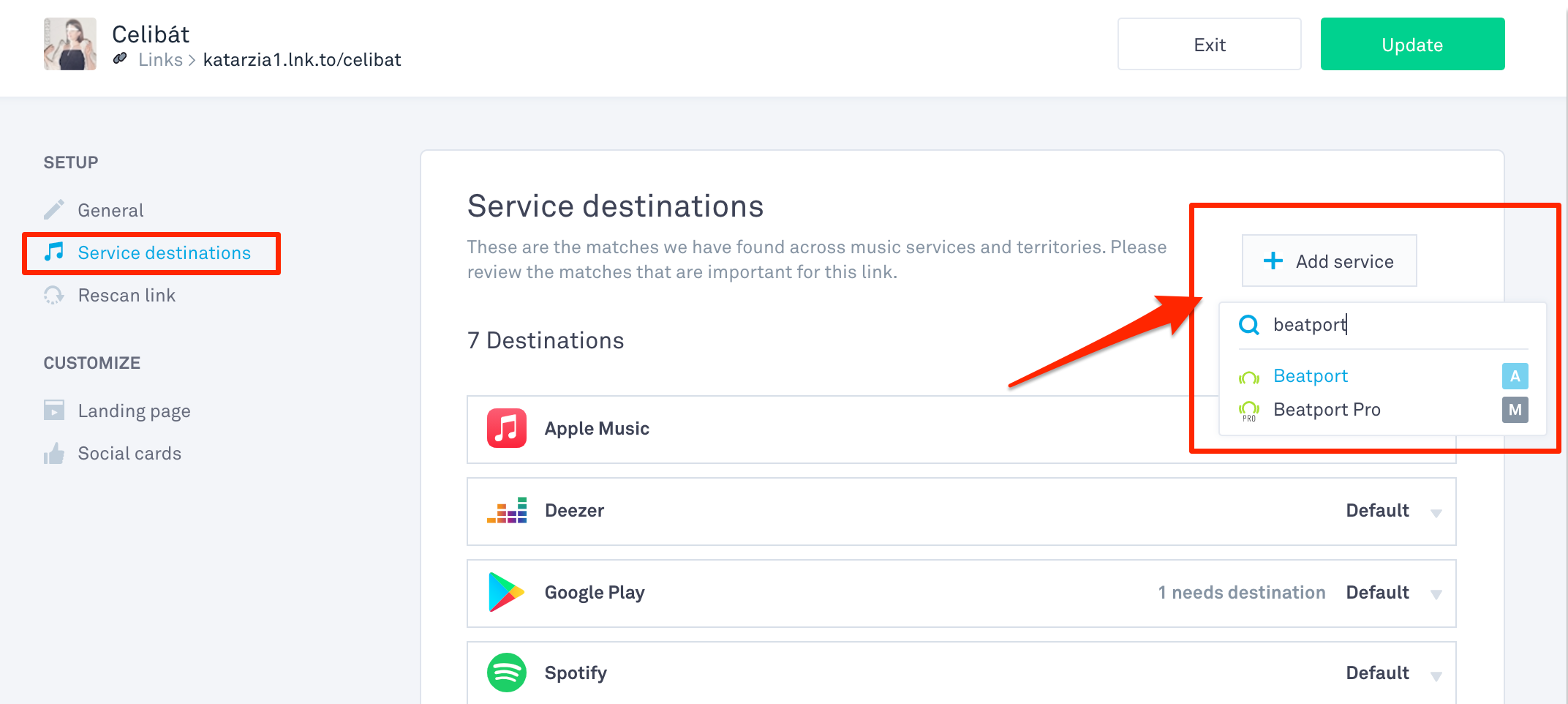 For automated service integrations, Linkfire will automatically find a match on the service once you perform a rescan. If you're adding several automated services, go to "Rescan link" from the left side menu to perform a rescan across all services and find matches for the new services.
For manual integrations insert the direct URL manually.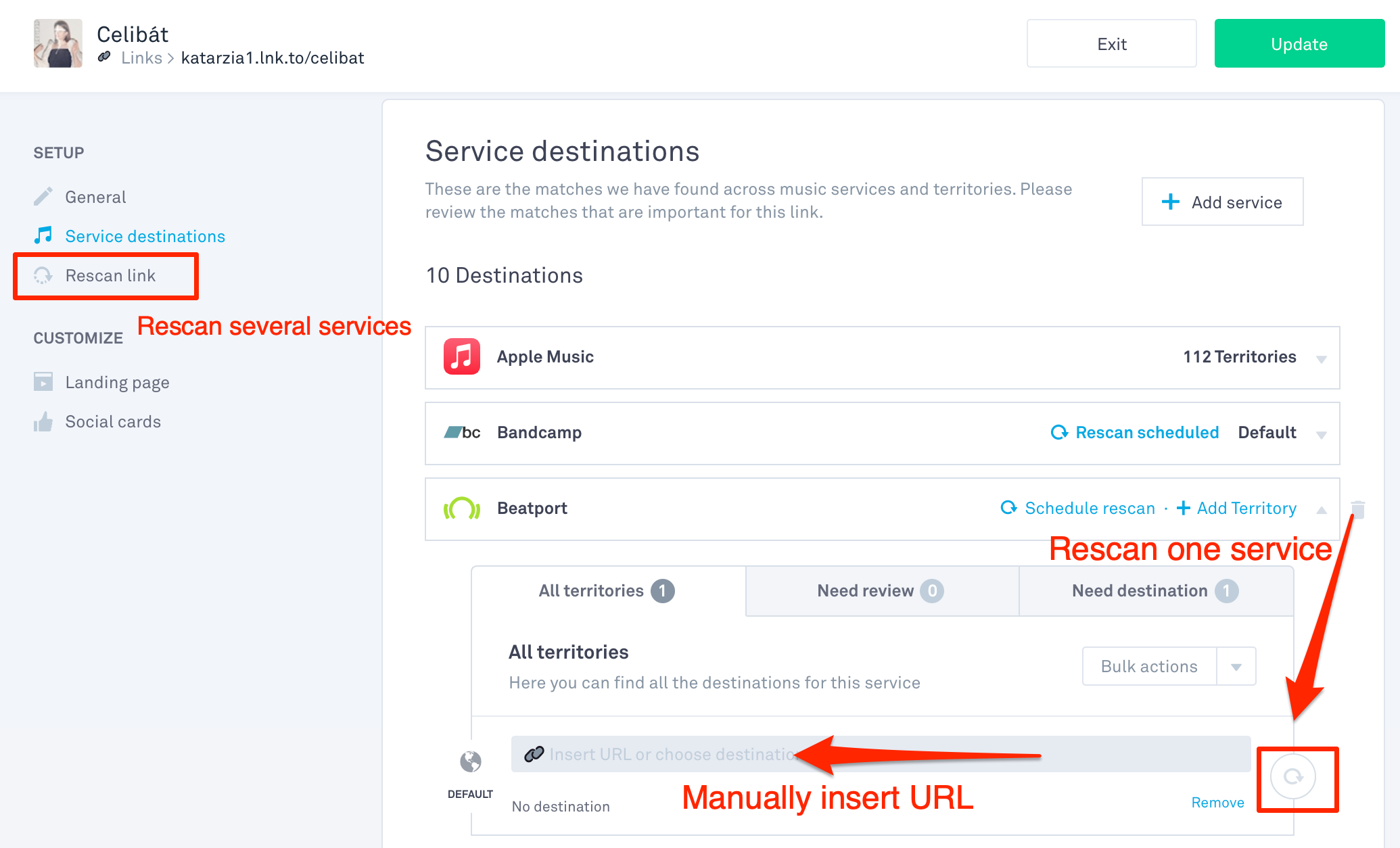 Make your landing look exactly as you want.
Now that you have all the basics down, give your landing page the final touch before starting to share it. The landing page customizer gives you a preview of your landing page to the left and options to customize and change the 'Artwork', 'Description', 'Media Sample', and 'Services' to the right.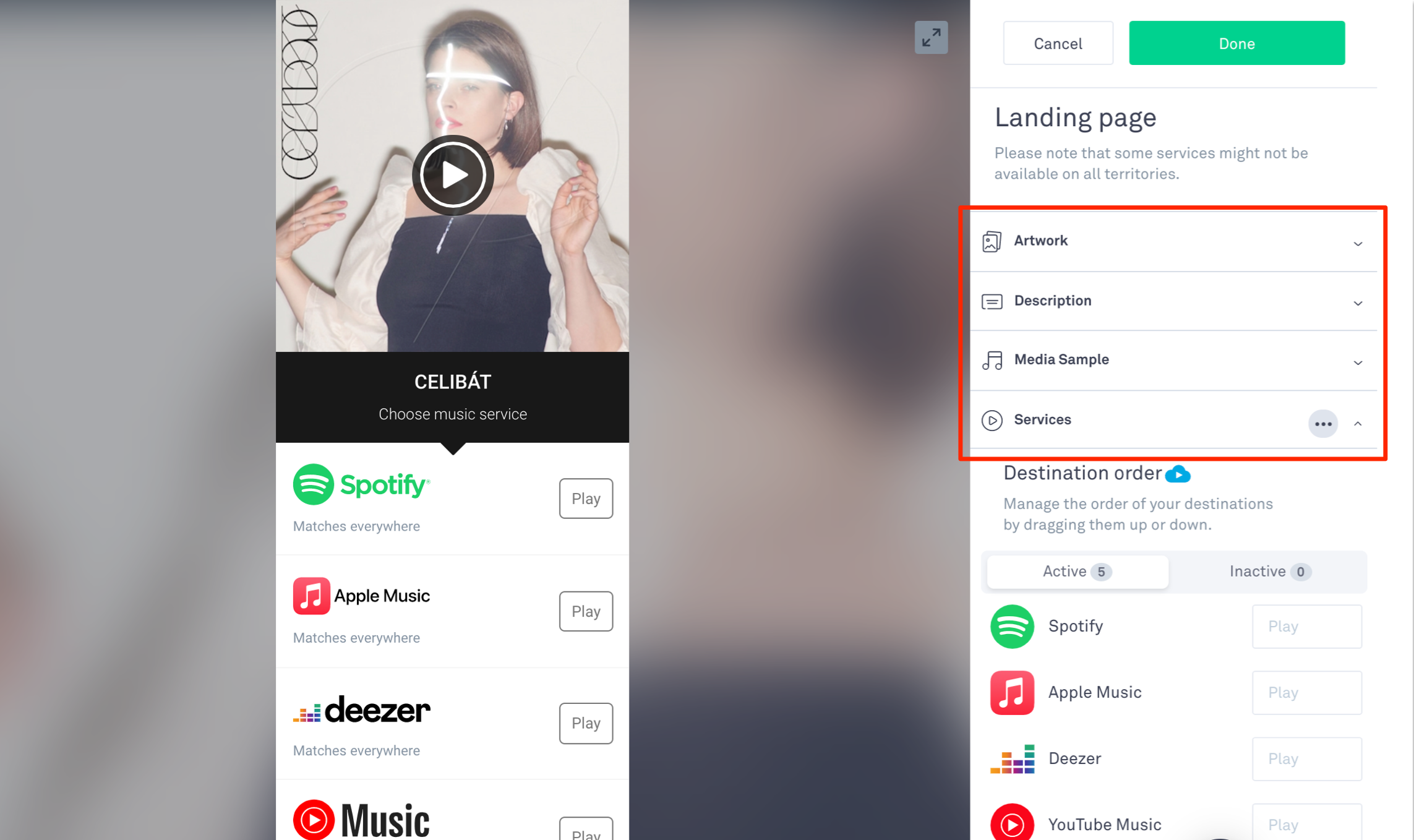 Artwork. Linkfire finds artwork automatically when you first create your link. It's used for both the cover image and the blurred background image. You can switch this artwork out for anything you want by uploading another image. 640x640 image size is recommended.


Description. Edit the title and description text displayed below the artwork. This is usually the artist name and title of the release you're promoting, but be creative and write something that fits your style.


Media sample. Add a play button on top of the artwork to enable a 30 second audio snippet or video play. This section lets you enable or disable a media sample by choosing one of the scanned services under "Media Sample" or "No sample". Alternatively, you can add a Youtube video by clicking "Add media sample" and pasting in the link to your Youtube video.


Services.

(

features in this section is reserved for Personal Pro and Business Plans users only)


Change the order of your services for 'Default' and specific territories by dragging them up and down. You can also change the text for the CTA buttons from 'Play' to for example 'Listen' or 'Stream' - just click the button field to change the text for the CTA buttons and see it reflected in the preview.
Once you're happy with the changes, click "Done" and then "Publish" if you're on a Business plan.
Well done! You completed step 1 in your onboarding. ;)
NEXT: Onboarding Step 2: Set up default board settings (Skip if you're on Starter plan and go directly to step 3.)