Note: this feature is reserved for Pro, Teams and Enterprise users.
Pre-release links empower you to start promoting your music long before it's available to your fans. They're a great way to drive engagement, gain new followers, and increase streams while building momentum prior to an upcoming release.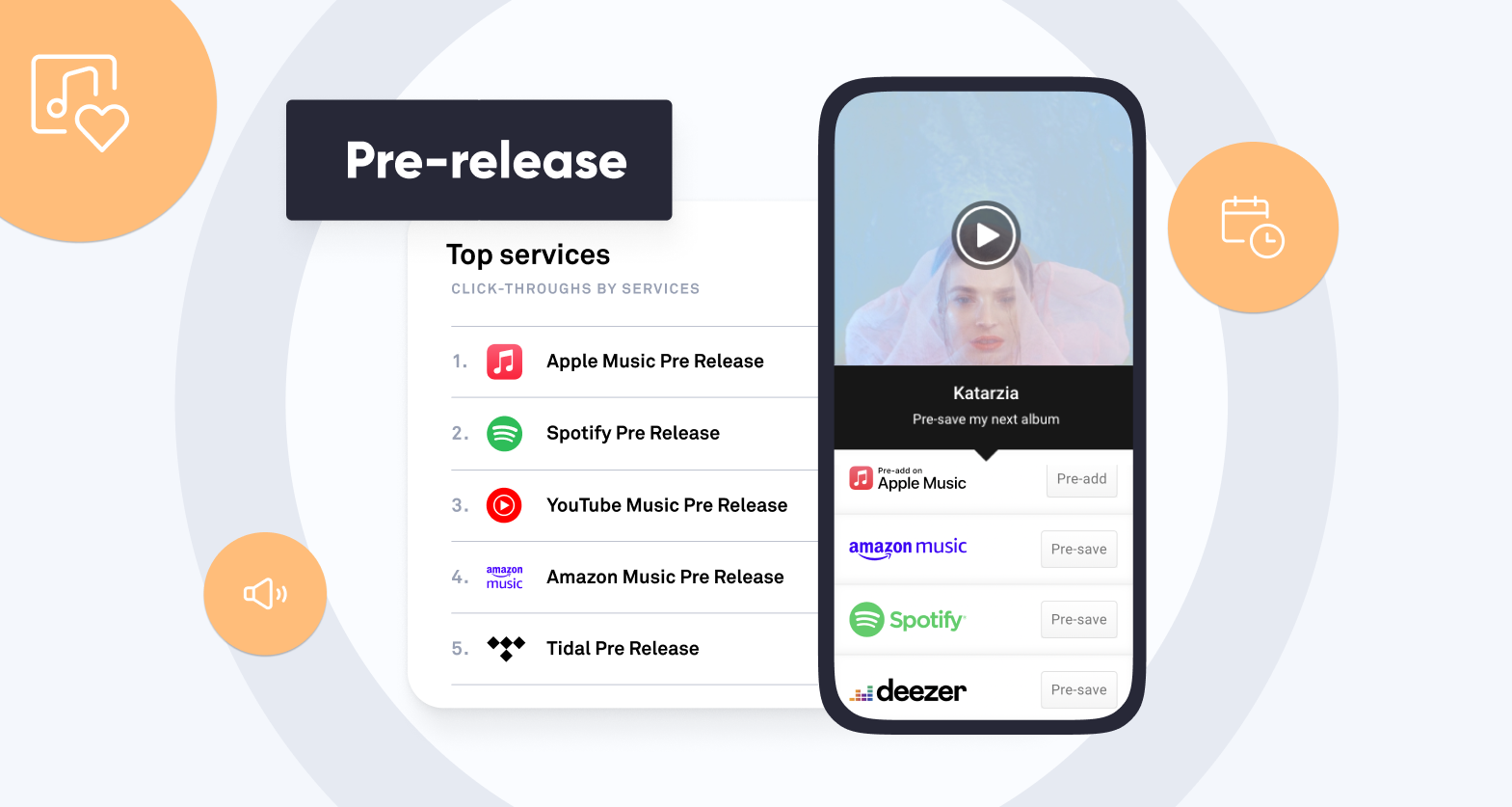 With a pre-release link, fans can choose to automatically add an upcoming track or album to their Spotify, Apple Music, Amazon Music, Youtube Music, TIDAL, or Deezer library the moment it goes live. Plus, for Spotify and Deezer pre-releases, fans can choose to follow the artist page and join an email list. That way, you can keep them updated about new releases, tours, merch, and much more!
1. Setup your pre-release link
2. Edit your pre-release link
3. Add other services to your landing page
4. Customize pre-release landing page
5. Export fan data
6. What happens on release day?
Prefer a video tutorial? Follow along as you learn the ins and outs of setting up a pre-release link, or read our step-by-step guide below:
1. Setup your pre-release link
To set up a pre-release link, start by clicking on the "Create Link" button and choosing the link type "Pre-release".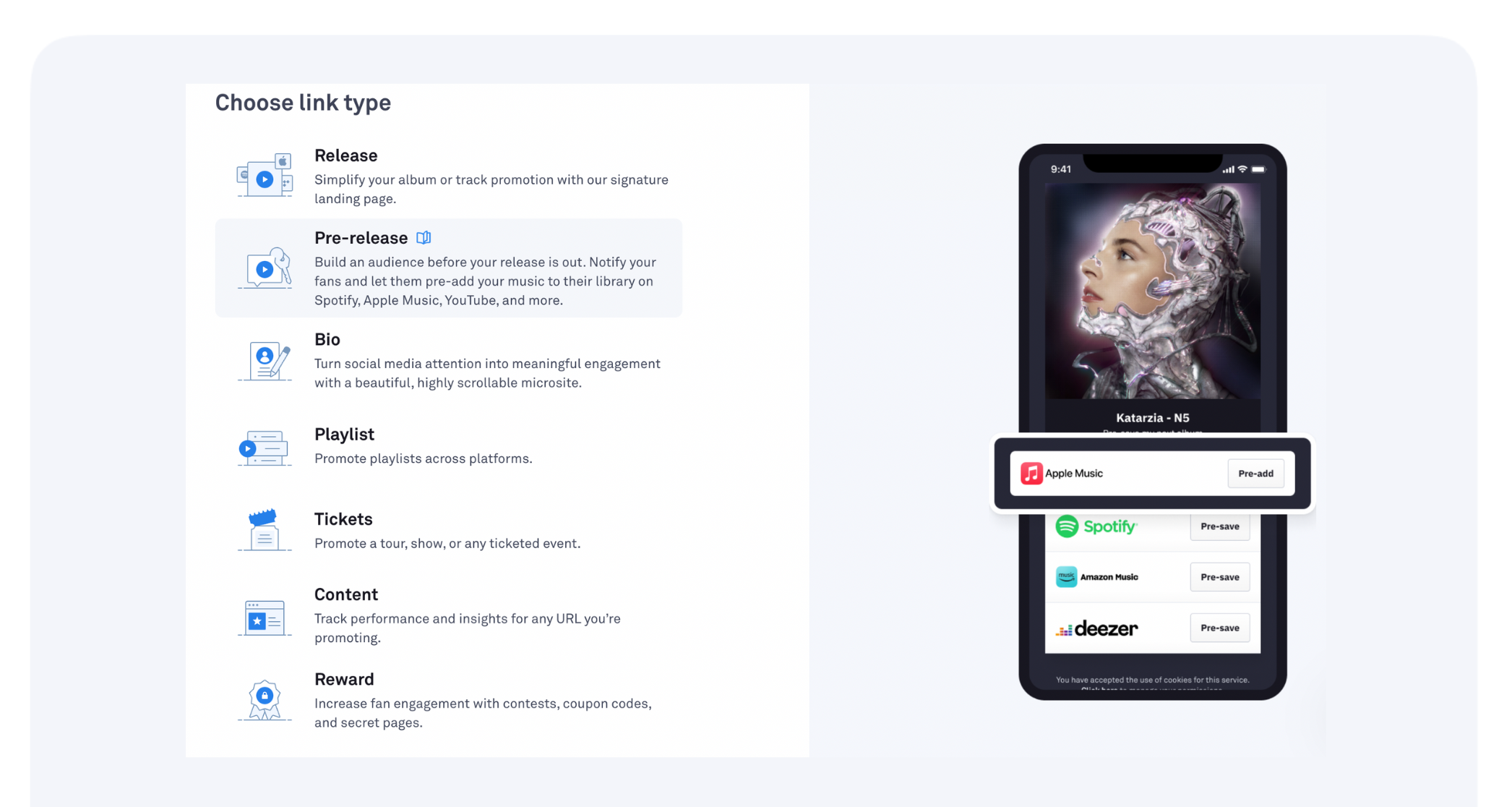 Click "Continue", and you'll be able to add more details about your upcoming release on the next page.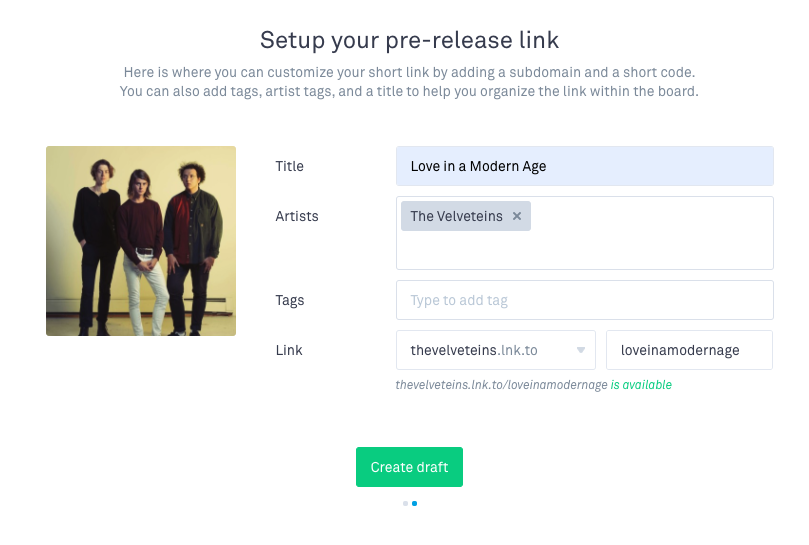 Give your pre-release link a descriptive title for internal use (this won't appear anywhere publicly). Fill out the artist name and add some internal tags—these let you easily filter and search through all your links on your board later on.
Customize the pre-release link with your own subdomain (such as your artist name) and shortcode (such as the release title). Avoid using the word "pre-save" anywhere, because your landing page will transform into a regular release landing page when the song or album is out.
When you're done, click "Create draft." You'll be taken to the edit page, where you can finalize your link setup.
Spotify, Apple Music, Amazon Music, YouTube Music, TIDAL, and Deezer will be activated by default. Toggle off any service you don't want to include on your landing page.
Activate "Notify on Messenger" to announce via Facebook message when the release is out. In order to use this feature, you need an account with a third-party Messenger notification service that provides you with a link to add to the pre-save destination box. Learn about Facebook's policies for Subscription Messaging here.
Note: Due to EU privacy policies, this feature currently does not work for Facebook in the EU.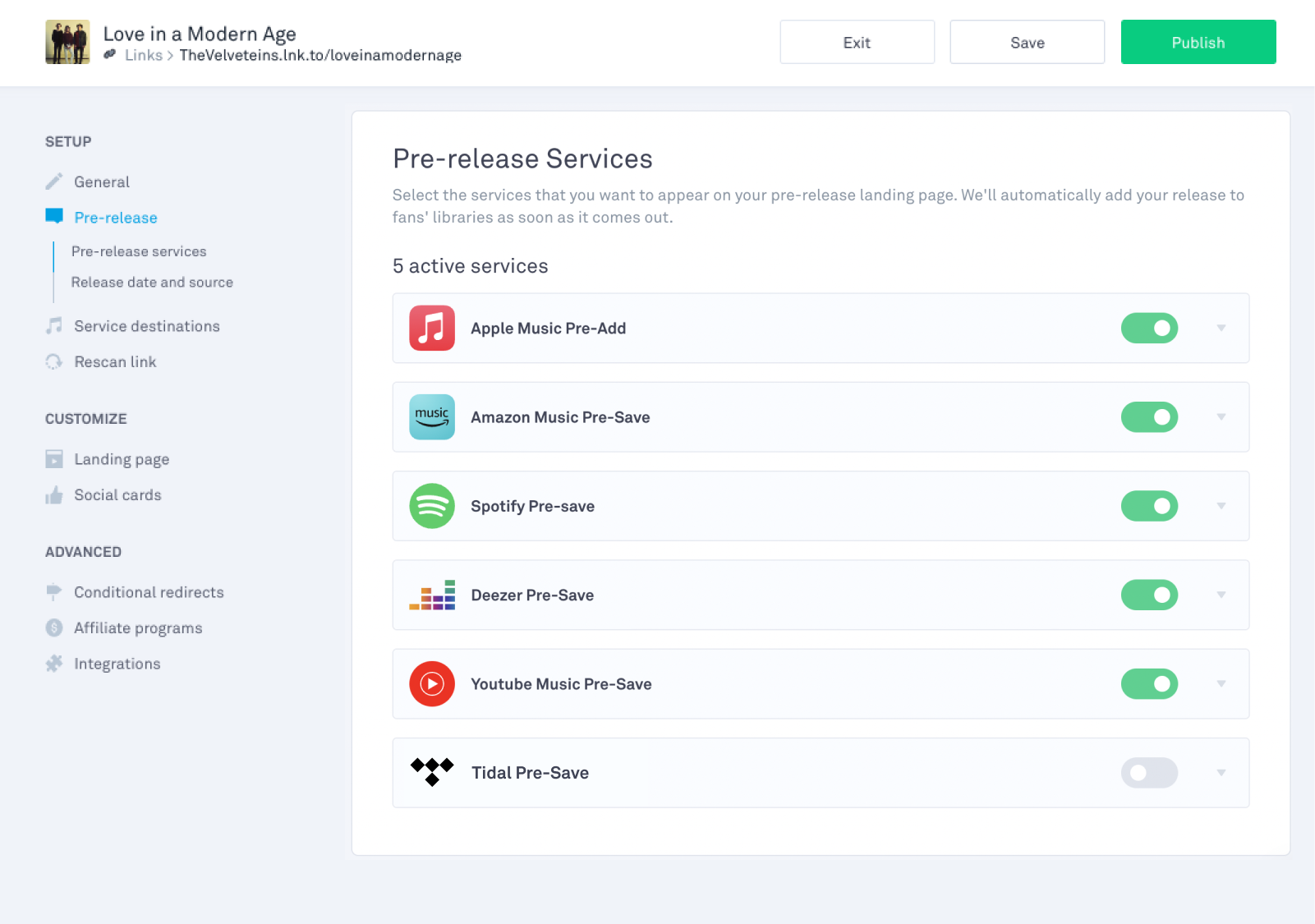 At this point, you can go ahead and hit "Publish." You can start collecting pre-saves even if you haven't entered the release day or release source yet.
As soon as you know what the date and time of your release will be, remember to come back and add it. It's also extremely important that you add the release source (Spotify/Apple track URL or ISRC code for single release, and, Spotify/Apple URL or UPC code for album release provided by your distributor) before that date and time in order for your pre-saves to work.
If you won't be able to obtain the release source prior to release day, we'd recommend setting a release time that's an hour or two after your release is actually live. That way, you'll have some buffer time to grab the URL or code and update your pre-release link.
Once you add the release source, you can select the parts of your link and landing page that you want to automatically update on release day. For example, "service destinations" is necessary to find matches in all service destinations, but you might deselect "landing page image" if you've already uploaded the correct artwork.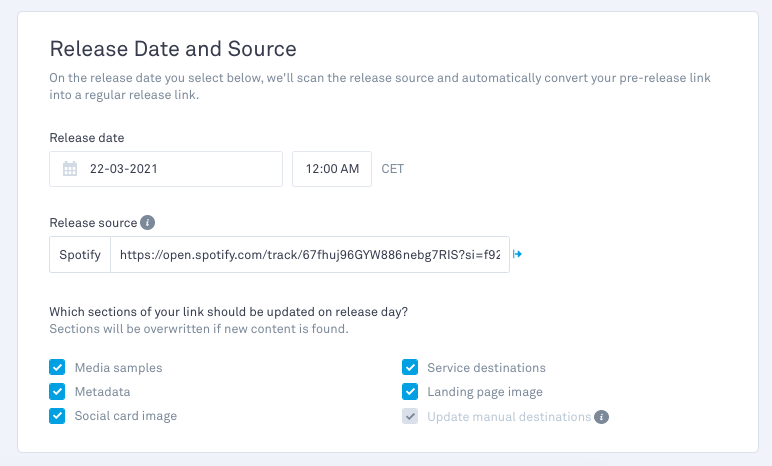 Warning: Clicking the rescan now button before release day may cause your pre-release link to convert into a release link before your scheduled release day.
3. Add other services to your landing page

Any pre-save services that you've activated in the "service destinations" section will be automatically scanned for matches on release day. To make sure additional services are scanned for matches, simply add them to your list of services and keep the URL destination empty. They'll be populated automatically on release day. If you forget a service or want to include any manual destinations, you can always come back later and add them.
To add pre-order services such as Beatport, go to "Service destinations," click the blue "+ add service" icon, and type in the name of the service. Then manually paste in the pre-order link via the dropdown to the right of the service, and it will be added to the landing page.
4. Customize pre-release landing page and social cards

Preview your pre-release landing page and customize the artwork, description, and call-to-action buttons. Please refer to this Help Center article to learn more about how to customize your landing page.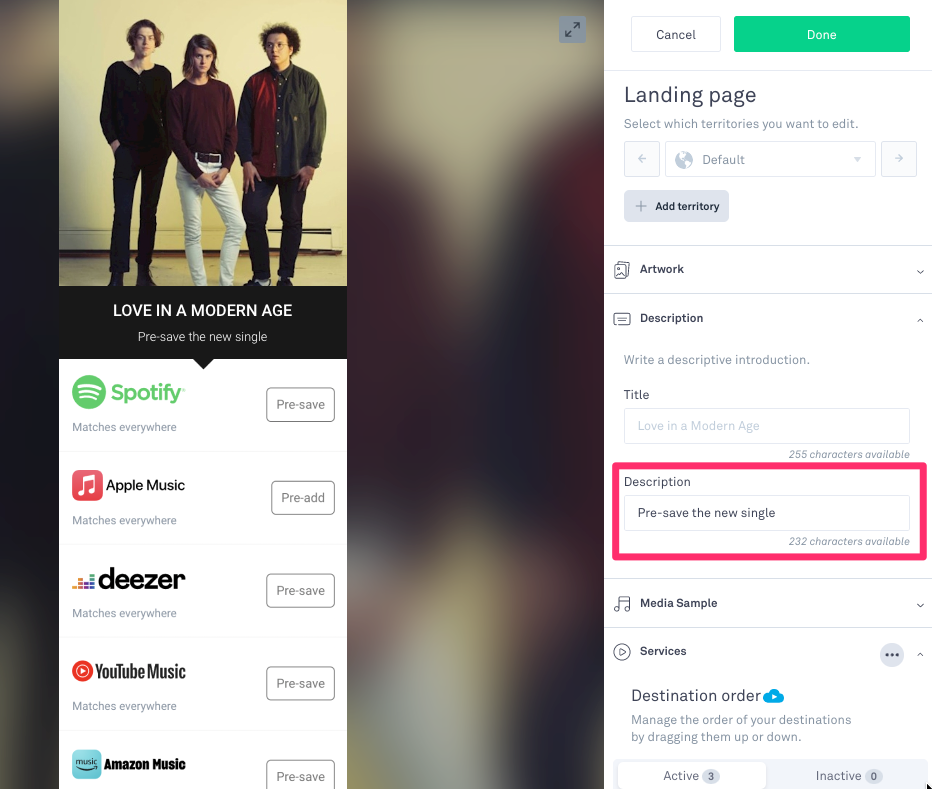 Once you're happy with your landing page setup, click on the green "Done" button, and then click the "Update" button in the top-right corner. You're ready to share your pre-release link!
Exporting fan data is available for all pre-save services.
Once your pre-release link starts getting traffic, you can export the fan data you've collected. Your export will include: the amount of registered pre-saves, email, username, service, country, timestamp for the authorization, and consent.
Use this data to reach out to your fans with information about your upcoming release, shows, merch, contests, special offers, or anything else!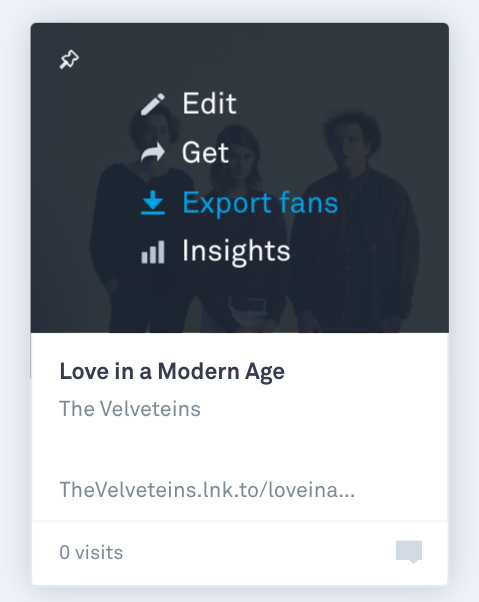 Email consent
Make sure to review the "true/false" consent column in your export, and only add fans to your email list if you see "true" next to their names. "True" means they've given you permission to contact them.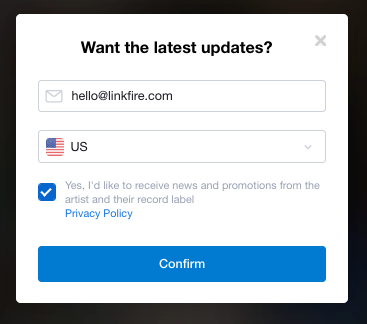 6. What happens on the release day?

On the release date and time you entered, Linkfire will perform a scan and find matches across all service destinations. (As defined in your board settings)
Your pre-release landing page will convert into a release landing page with the new service destinations listed. The call-to-action buttons next to your pre-save destinations will change from "Pre-save/Add" to "Play." You can further customize the landing page to fit your needs in the "Landing page" section.
Fans who pre-saved the release will see it in their music libraries on release day. Albums will appear in the "Albums" section of fans' Spotify libraries, while single tracks will be added to their "Liked songs" playlist.

Note: With the YouTube integration, you can only add an album to fans' libraries, so make sure to only activate YouTube Music if you are using an album URL or UPC code as your scanning source.
The scan source you used will impact where the product will be allocated on Spotify:
Album Information
Source: UPC or album level link <https://open.spotify.com/album/>
Result: the release will be added to the user's Spotify underYour Library > Albums

Track Information
Source: ISRC or track level link <https://open.spotify.com/track/>
Result: the release will be added to the user's Spotify underLiked Songs
Fans who pre-saved will also automatically start following the artist's page on Spotify, Deezer, Amazon Music, YouTube Music and TIDAL.
Note: An artist listed as "contributor" or "featured" on a release will not be auto-followed.