Note: this feature is reserved for Personal Pro & Business Plan users
Pre-release links (also known as pre-save campaigns) empower you to start promoting your music long before it's available to your fans. They're a great way to drive engagement, gain new followers, and increase streams while building momentum prior to an upcoming release.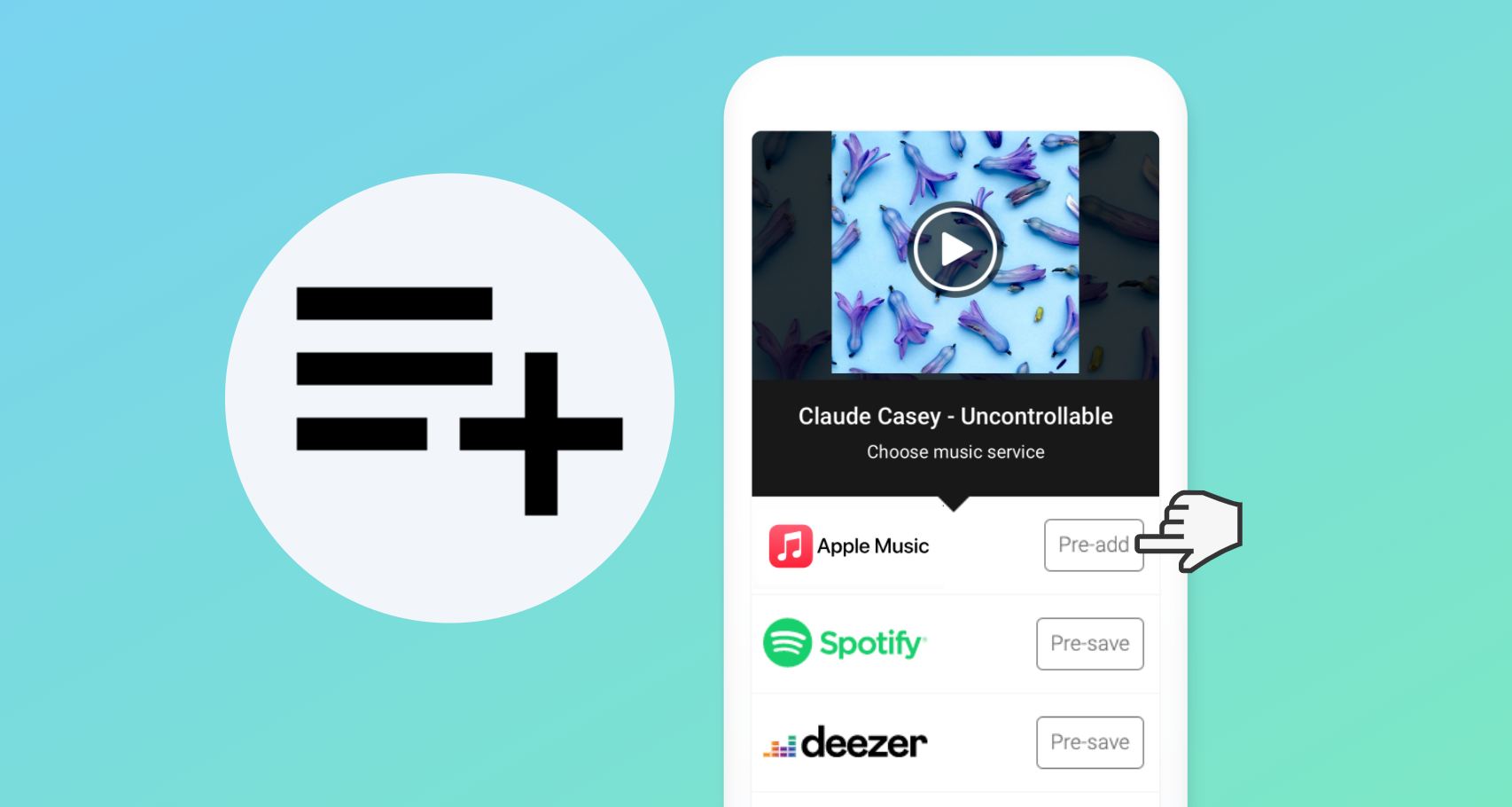 With a pre-release link, fans can choose to automatically add an upcoming track or album to their Spotify/Apple Music/Deezer library the moment it goes live! Plus, for some services, you can also collect fans' email addresses. You can then add them to your mailing list to keep them updated about new releases, tours, merch, and much more!
1. Setup your pre-release link
2. Edit your pre-release link
3. Add other services to your landing page
4. Customize pre-release landing page and social cards
5. Export Fan data
6. What happens on the release date?
7. Retarget pre-save audiences
1. Setup your pre-release link
To set up a pre-release link, start by clicking on the "Create Link" button and choosing the link type "Pre-release".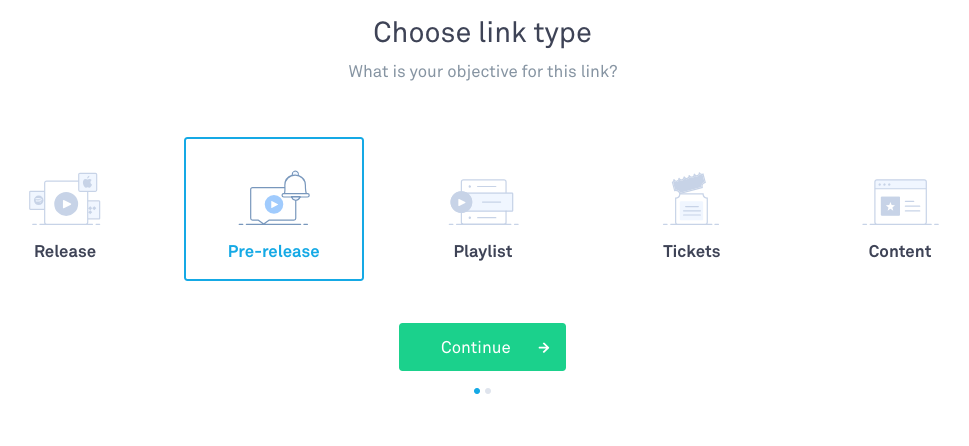 Click "Continue", and you'll be able to add more details about your upcoming release on the next page.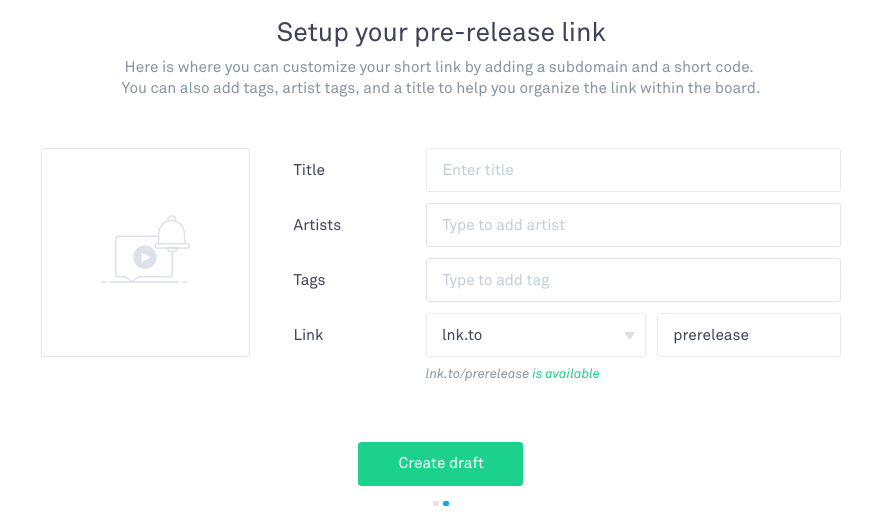 Start by giving your pre-release link a descriptive title (NOTE: This will only be seen inside the Linkfire platform and will not be visible to fans). Fill out the artist name and add some tags—these let you easily filter and search through all your links later on.
Customize the pre-release link by adding the right subdomain and shortcode.
When you're done, click "Create Draft" and you'll be taken to the edit page. This is where you can finalize the set-up of your link.
Start by choosing which services to activate during the pre-release period - step 1) and 2) below. We currently offer Spotify, Apple Music, Deezer, and Facebook Messenger pre-release integrations.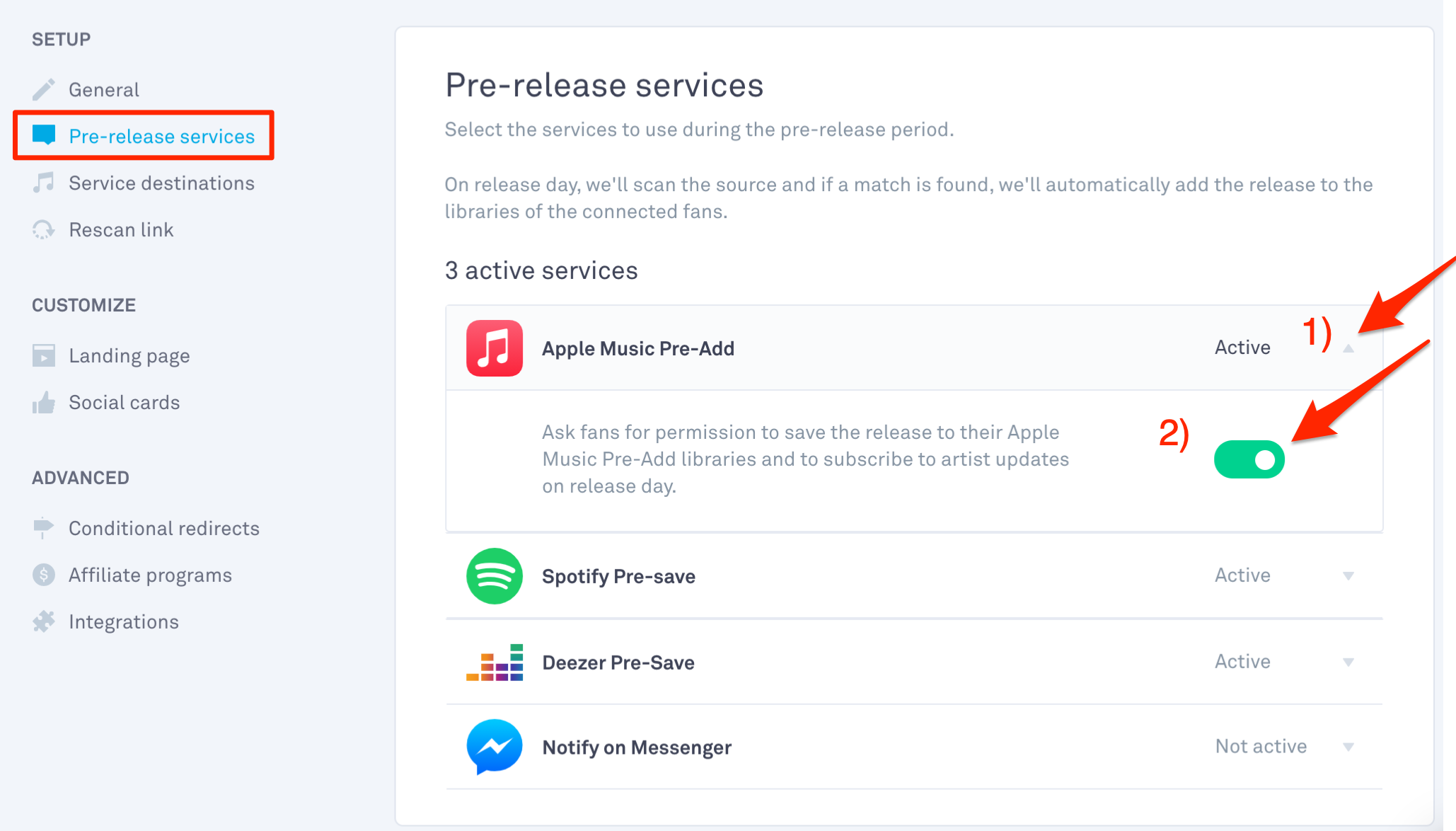 Notify on Messenger
Activate 'Notify on Messenger' if you wish to connect fans to your Messenger service and announce when the release is out via a message on Facebook. To use this feature you need a third-party Messenger notification service providing you with a link to add to the destination box. Stay updated on Facebook's policies for Subscription Messaging here.
Adding Link Source
You may not have the release URL (Link Source) when first setting up a pre-release link, but that's not a problem. Just be sure to add your source link prior to the release date to ensure the content can be added to the user's library. This is done in the 'General' section, where you can input a source link from any of the pre-release services you've activated or UPC code, and then add a time/date for when the album or track is scheduled to go live. This allows the link to be automatically re-scanned—and your release to be added to your fans' libraries—at the right time, as well as matches to be found across other music services. When your release is live, the call-to-action button on the landing page will change from 'Pre-Save/Add' to 'Play'. However, you can further customize it to fit your needs in the 'Landing page' section.

To choose which sections to scan and update on the release date, go to "Scan settings" and deselect the sections you do not want to scan. For example, you may not want to rescan the landing page image if you've already uploaded the correct release artwork. But you might want to rescan service destinations to find matches across all destinations on your board.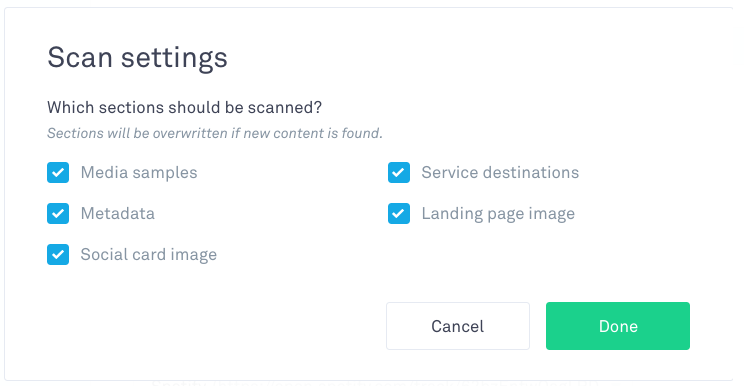 3. Add other services to your landing page
Your release will likely also be available for pre-order on other platforms. To add other services to your pre-release landing pages, such as Amazon or Google Play, go to "Service destinations" and manually add each service by clicking the blue "+ add service" icon and type in the name of the service. Then manually paste in the link for the pre-order via the drop-down to the right of the service and it will be added to the landing page. For iTunes pre-orders, we recommend using their geo-link option. This can be found here: https://linkmaker.itunes.apple.com
4. Customize pre-release landing page and social cards
Preview your pre-release landing page and be sure to edit the buttons for the pre-orders you've added, eg. change the CTA for Amazon to "Pre-order". Please refer to the article on how to customize the landing page for a release link for more information.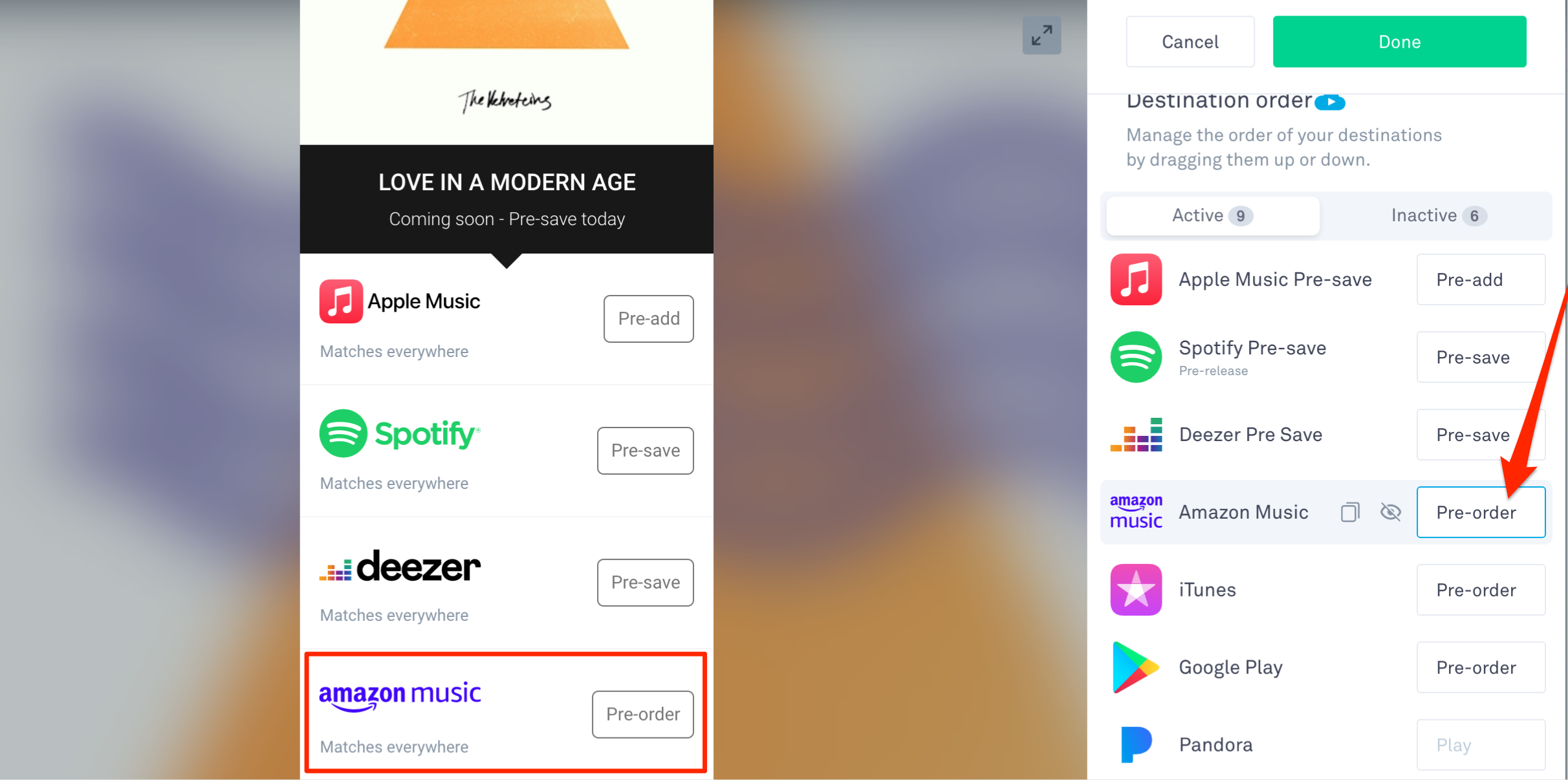 Once you're happy with your landing page setup, click the green "Publish" button in the top right corner. Now you're ready to "Get" your pre-release link and start sharing it. To see accurate and detailed insights on where your fans are finding your links, we recommend using channels when sharing your links. Read more about Linkfire's Channels feature here.
When your pre-release link is shared and starts getting traffic, you can export the fan data collected. Use this data to reach out to your fans with information about the upcoming release, tours, contests, special offers, etc. The data you get from this export is name, email, country, account type, and timestamp for the authorization.
Consider rewarding fans who add the pre-save via giveaways, private tracks, private greetings, etc.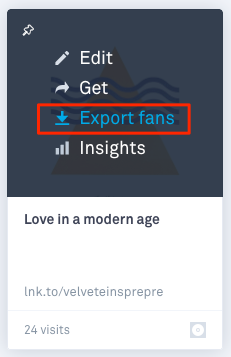 Email consent
The email consent banner authorizes the use of emails for all future marketing for any fan giving consent. Please review your export for the column "true/false" to see which fans you can reach out to by email.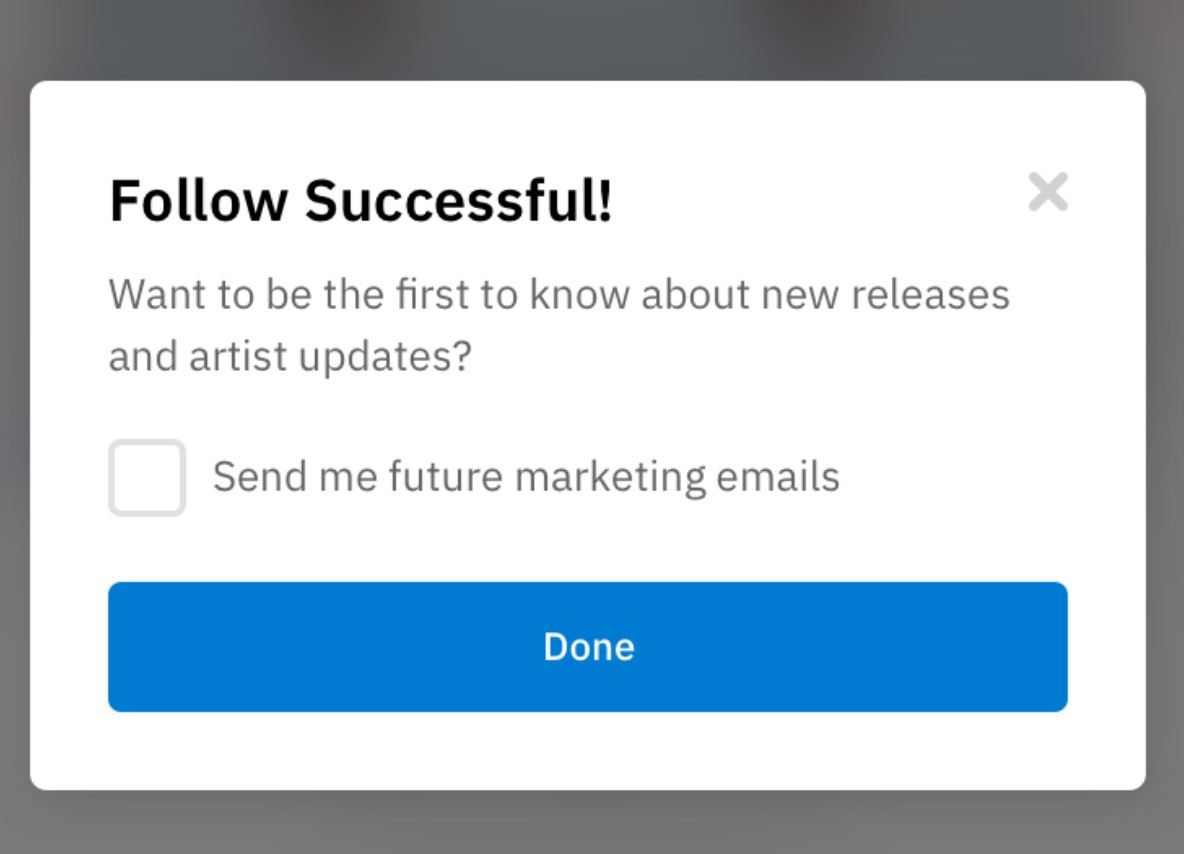 *Fan data is only available for Spotify and Deezer pre-saves.
6. What happens on release date?

On the day of your release, the input source URL will be scanned at the time specified in your 'General' settings. Any services on your board for which matches are found will be added to the landing page. If there's a match for the services with pre-save, the call-to-action text will change from "Pre-Save/Add" to "Play".
When the release is live, the pre-saved track or album will automatically be added to the fan's library, helping boost first day and all-time streams. Additionally, for Spotify and Deezer the fan will begin following the artist.*
*Note: An artist listed as "contributor" or "featured" on a track or album will not be auto followed.
7. Retarget pre-save audiences

(For Business Advanced and Premium clients only)

Use the pre-save services for remarketing. When Linkfire sends remarketing data to Facebook and Google AdWords, we also send along custom parameters that let you create detailed audience groups. Learn more about all the parameters here, and use "AppleMusicPreRelease", "SpotifyPreRelease", or "DeezerPreRelease" as the value for the "musicservice" parameter to create an audience of users who clicked through on your Spotify Pre-save, Apple Music Pre-add, or Deezer Pre-save.