The Artist Bio link brings together all your promotions in one personalized microsite. Drive fans to your releases, merch, SoMe profiles, tours, and more, all with one shareable link. It's perfect for your social bios! Check it out in action here bio.to/kcamp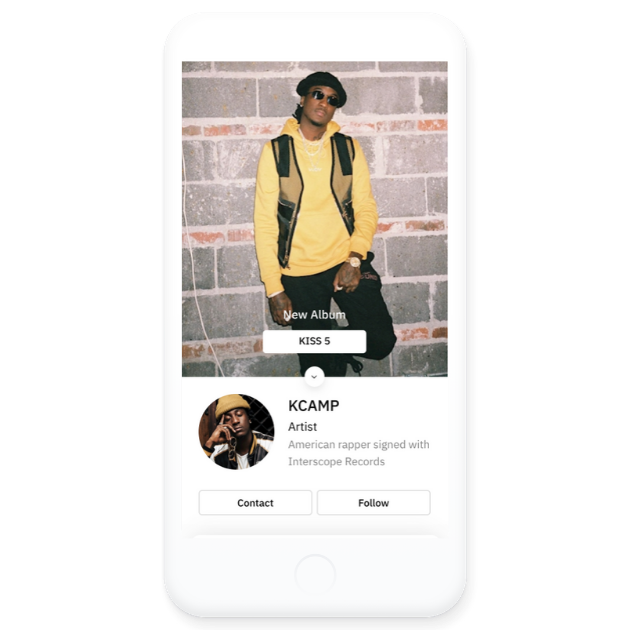 CONTENT
1. Create your bio link
To make a bio link, head to the "Create link" green button at the top right of your link feed. Select "Bio" and then "Continue".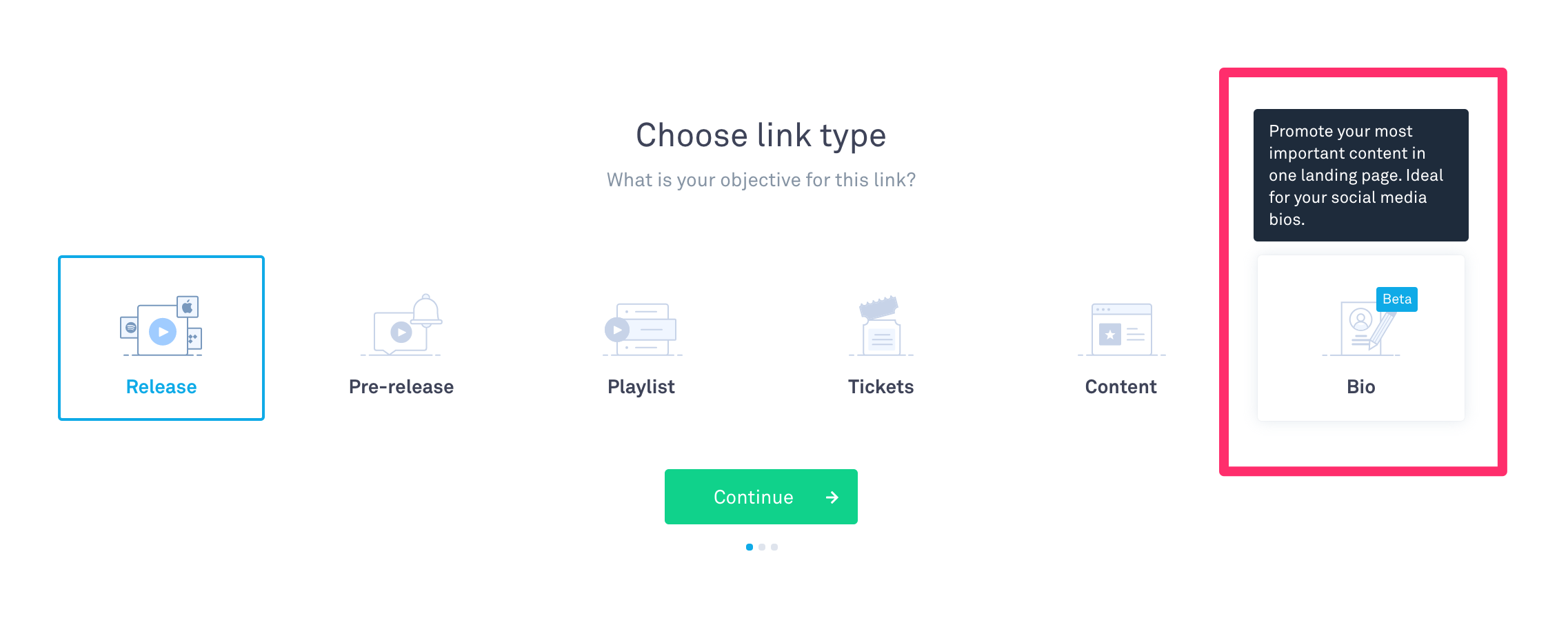 On the next page, you can set-up your bio link using the following fields:
Title: This will be featured at the top of your landing page. It could be your artist name or the name of a project.
Tags: Add internal tags to help you organize your bio link in your Linkfire dashboard. These tags are not displayed to visitors.
Link: This is the URL you will share with your fans. Customize it by changing the subdomain or short code (you might want to use artist name or brand name).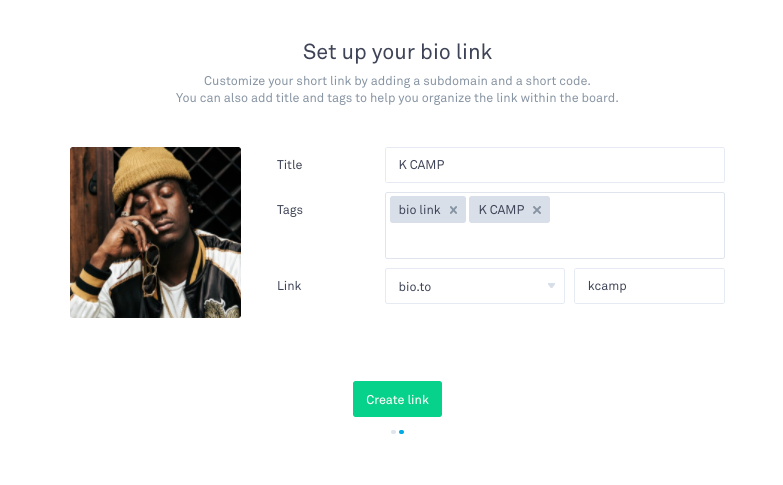 When you're done, click "Create link". You now have the option to customize the sections of your bio link.
2. Customize your bio link
General
In the "General" tab you can edit the information that was previously added when creating the link. Here's also a short description that you can use to introduce itself.
In this tab you can also add your different social profiles that will be listed under the "Follow" button on your bio link. Choose from the list and manually add the URL of your social profiles.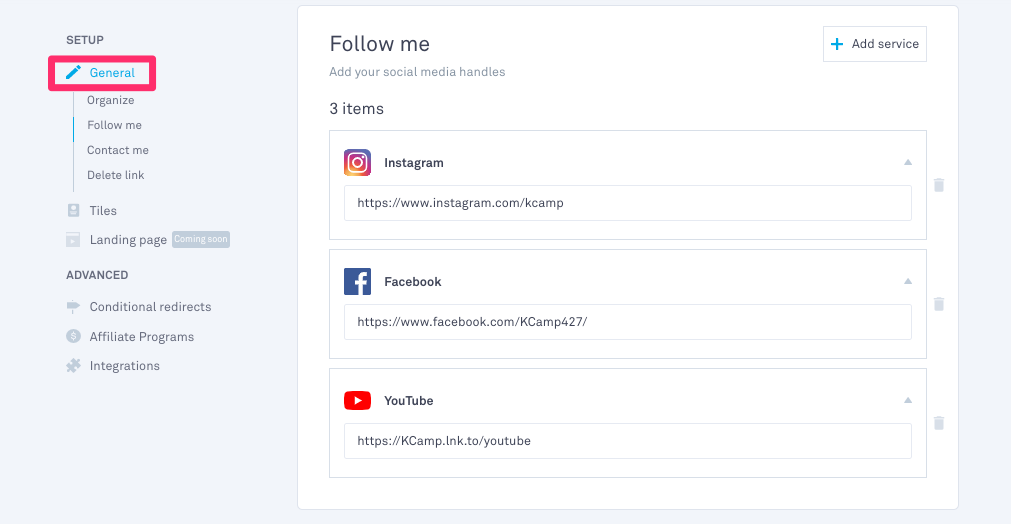 NOTE: To get a "Preview" of your bio link, you need to first publish it, and then open it on in a new tab. Click the URL in the header as highlighted below to check out your link.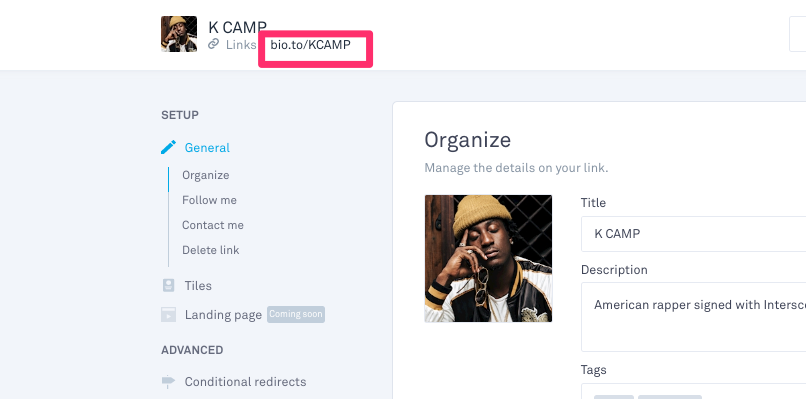 Tiles
Your bio link microsite is divided into different sections named tiles, and all of them can be customized.
All bio link tiles are listed under the "Tiles" section. That is where you edit the content of each tile and the order in which they will appear on the bio link landing page.
Promoted (not available on free subscriptions)
"Promoted" is the tile that will be featured at the top of your bio link. Use it to highlight your most important current promotion. Choose a powerful image that will catch your fans' attention.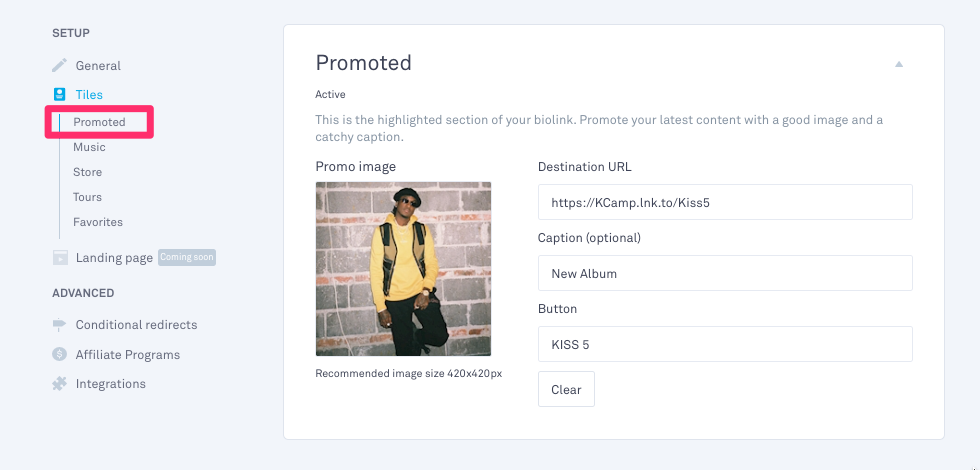 Music

(for Pro, Business and Premium clients only)
In this tile, you can add Linkfire links to your releases, pre-releases, and playlists.
First, choose a title for your "Music" section, for example "Latest releases." Then simply enter your already published Linkfire link into the "Releases" field and click "Add".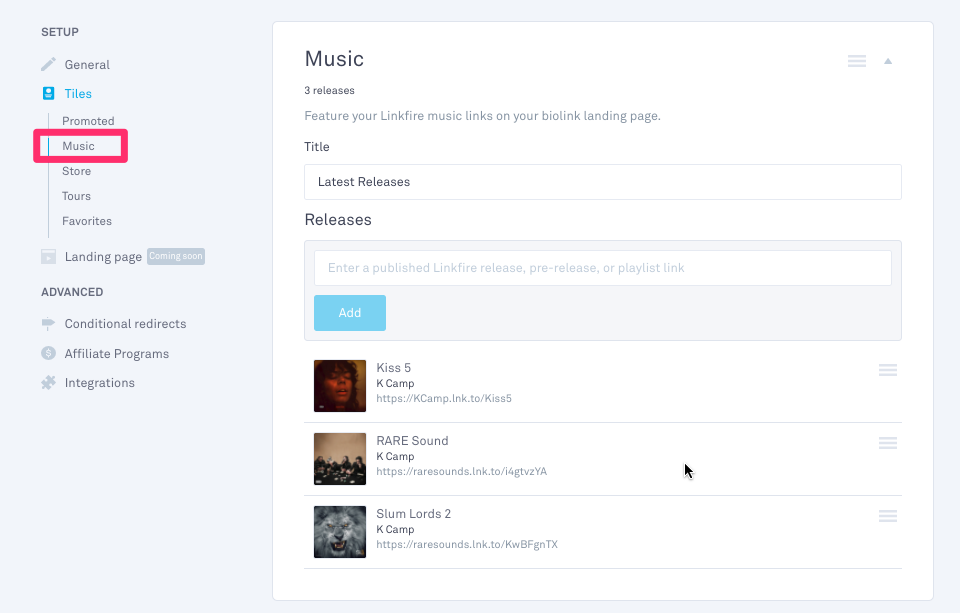 The maximum number of links is 20. You can remove links in order to add new ones by clicking on the trash icon next to the links:

You can also reorder the different links by dragging and dropping using the icon with 3 lines.
Read more about how to create release links, pre-release links, and playlist links.
Store

(for Pro, Business and Premium clients only)
You can manually add merchandise to your bio link in the "Store" tile. Choose a title for this section under "Title". "For example, you could choose "Merch" or your artist name followed by "store". Optionally, you can redirect fans to your webstore by adding the link in the field "Store URL".
The merch items need to be added manually, and won't be fetched from your web store directly. To add them you need to fill out all the following sections: "Image", "Title", "Price" and the "Product URL". When you are done click on "Add" and keep adding more products. You can add up to 5.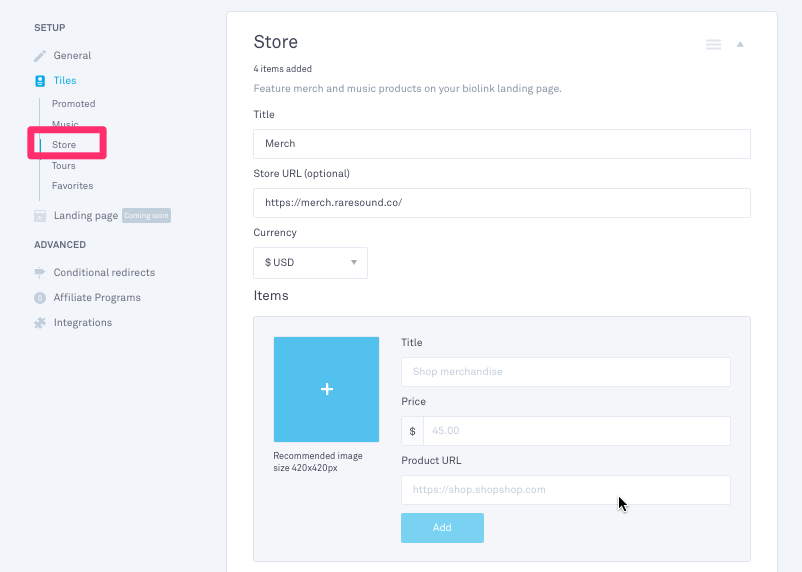 As in the previous section, you can drag and drop the articles to show them in your preferred order, or delete them by clicking on "Remove item":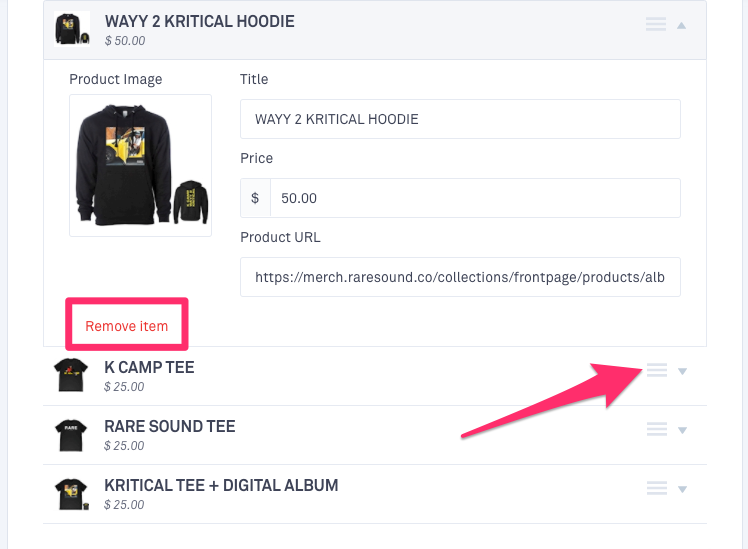 Tour

(for Pro, Business and Premium clients only)
Share your next concerts by adding your Linkfire Ticket link to your bio link.
You can customize the "Tour name", "Tour artist," and the call to action button that fans will click to access your tour dates.
Read more about how to create tickets links.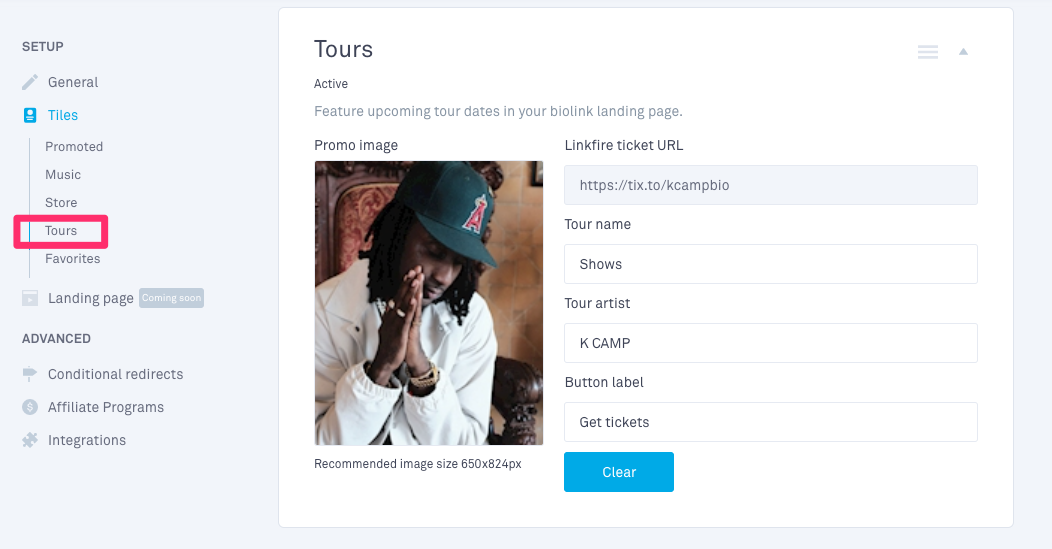 Favorites
"Favorites" is the most customizable section of your bio link, where you can share any content not covered in the other tiles. It could be anything you want, from a new music video to a recently published interview.
Under "Title" choose a headline that best describes your Favorites tile, and add up to 5 links by entering a tile and a valid URL.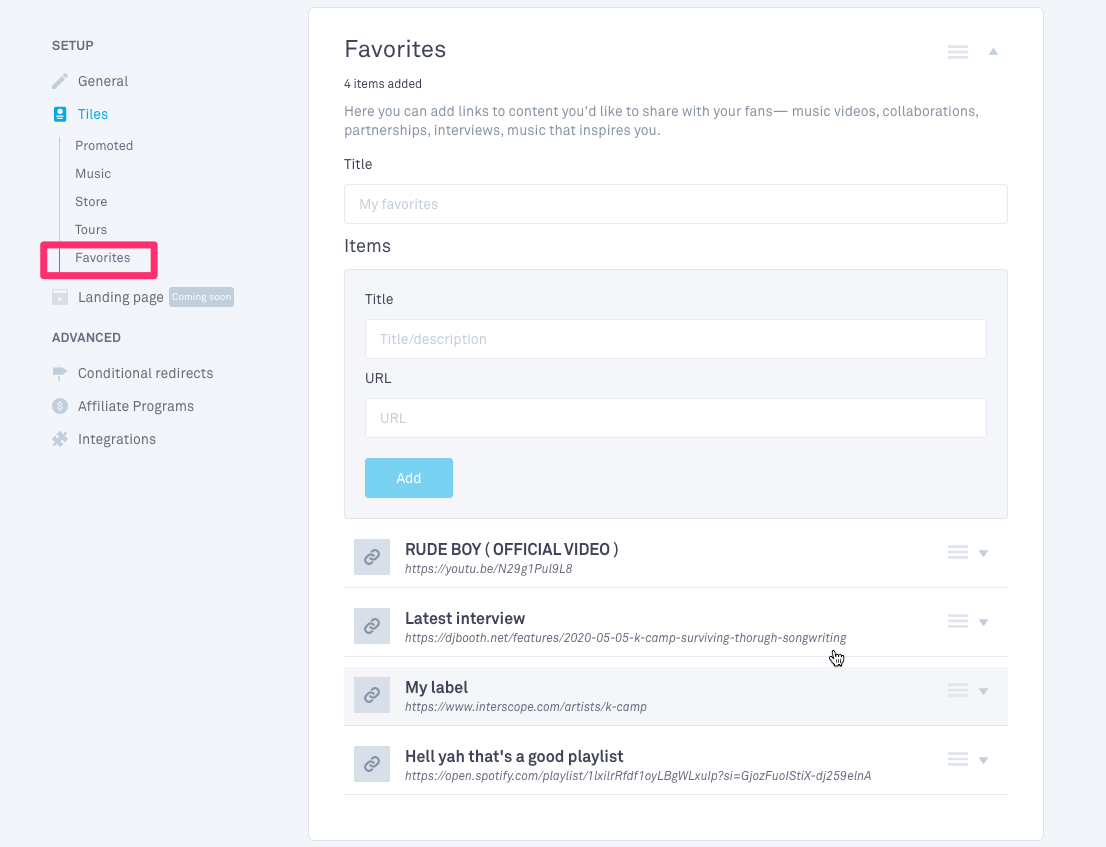 Drag and drop the items to show them in your preferred order, or delete the ones you don't want by clicking on "Remove item".
Check out the article "Link in bio: What is it and what does it mean?" for more inspiration and content ideas.
Tiles customization
Ordering tiles (drag and drop)
Each tile (except Promoted) can be moved to your preferred position on the landing page. Hover over the tile section, select the drag icon, and drag it into the desired position.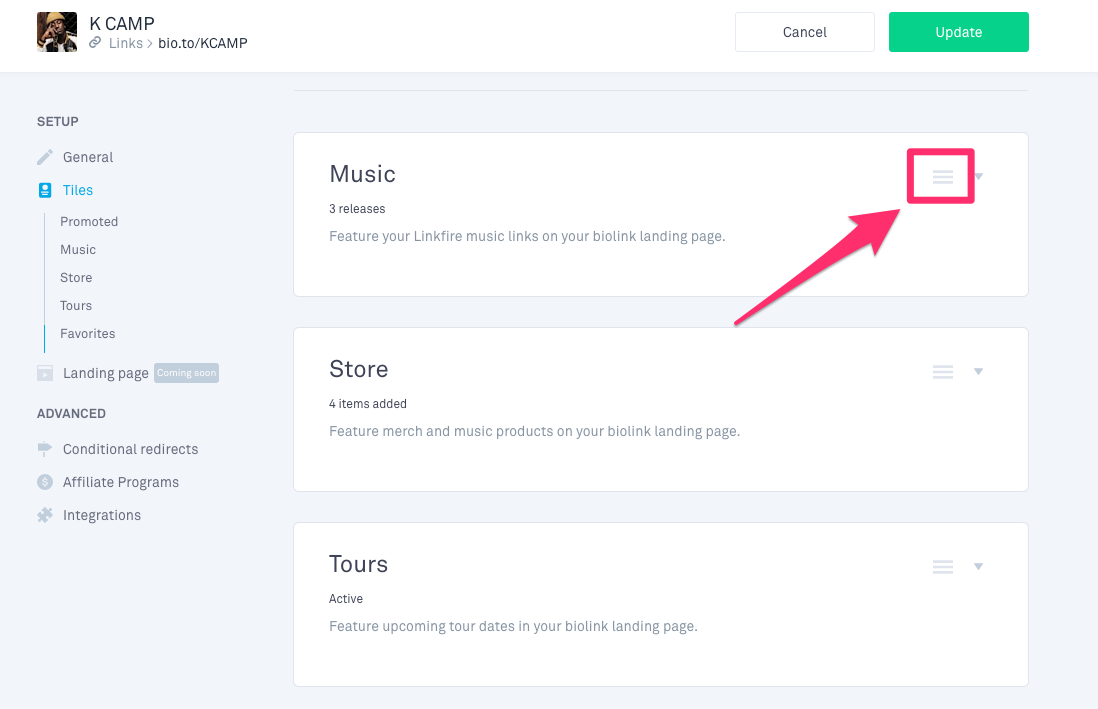 Removing tiles
To remove a tile from the landing page you need to clear all links and fields from the tile.
3. GET AND SHARE
Once you've finished editing your link remember to hit the big green "Publish" or "Update".
On your "Links" page, hover over your link and click "Get" to copy your bio link and start sharing it in your social media pages and bios.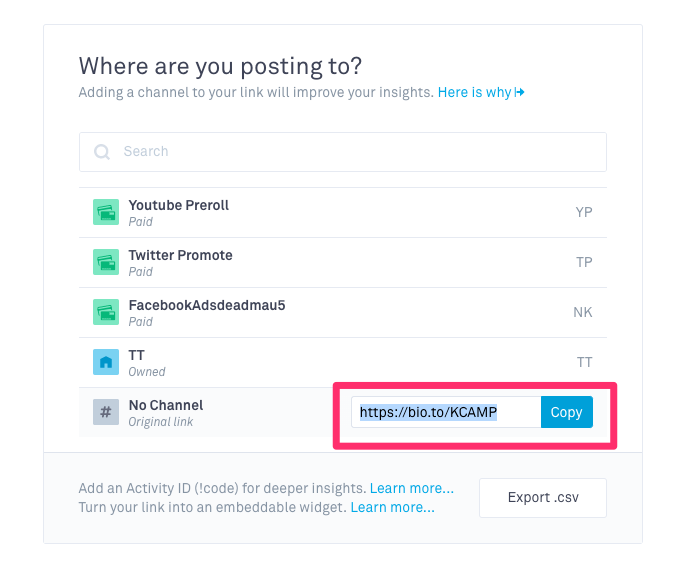 Linkfire Bio Links can be added to all your social media profiles like Instagram bio, Twitter description, Facebook 'About' page, and Youtube channel description.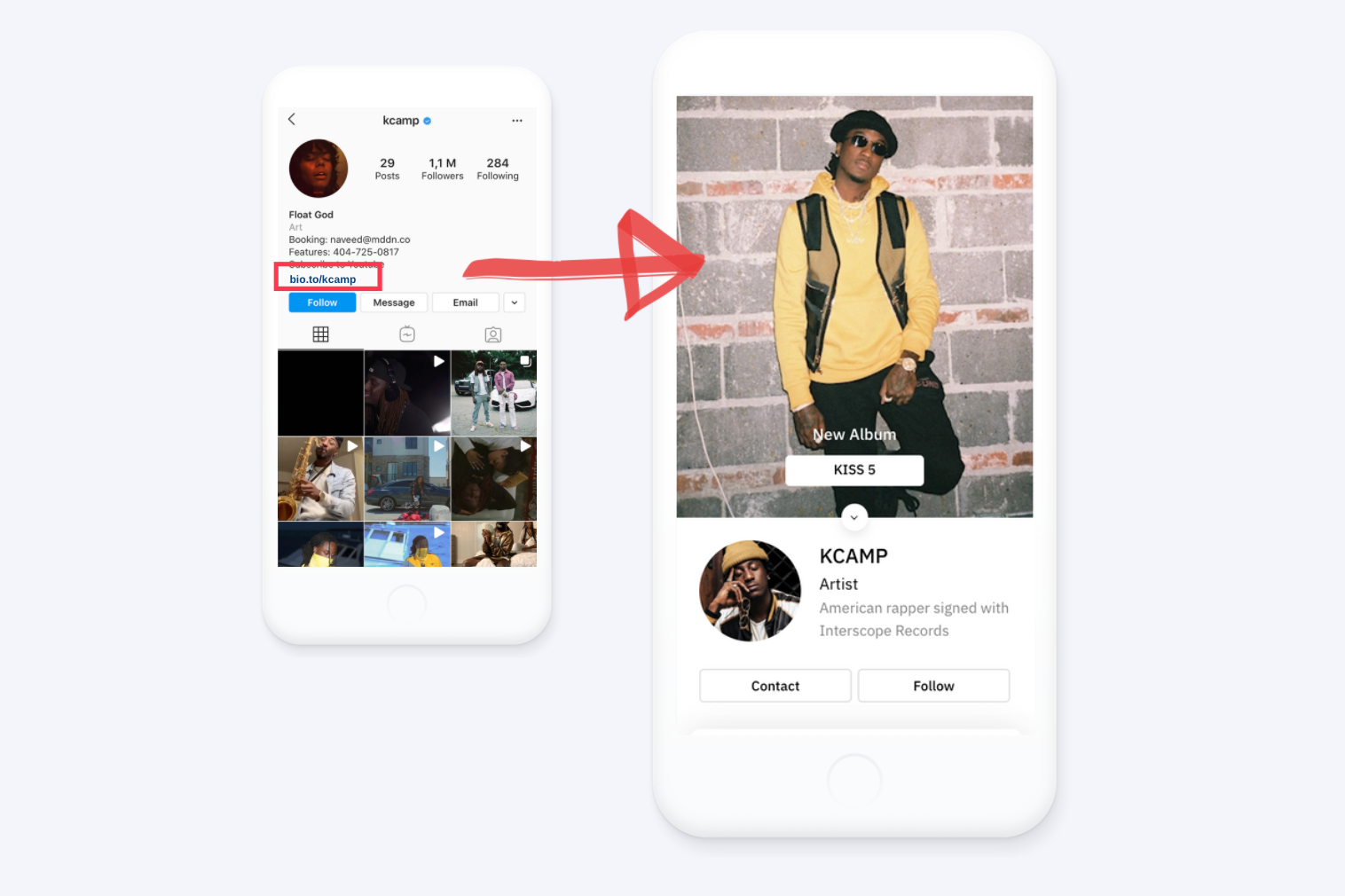 4. INSIGHTS
We will collect all insights of the fans who visit your bio link. Measure visits, clicks, streams, sales, and much more.
You can access insights for your bio link by hovering over the link title and click on "Insights".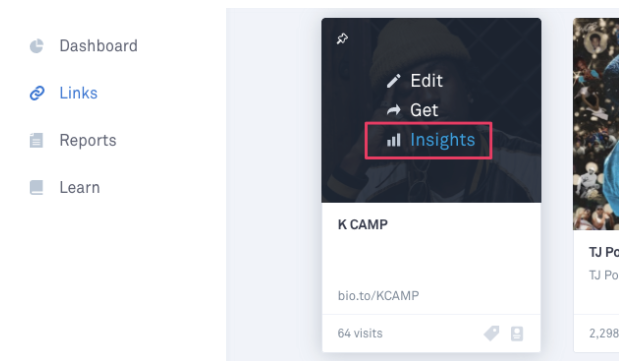 The Insights page is structured in tabs displaying different metrics:
Summary: a high-level overview of visits and click-throughs over time, visits by tiles, and top channels and countries. You can filter by date and export your data.

Sources: a display of all the traffic sources as well as the performance of your channels.

Tiles: maps out visits for each tile.

Locations: an overview of the geographical sources of traffic for your link.

Sales: a breakdown of items sold and earnings on each store for Premium clients with affiliate programs only.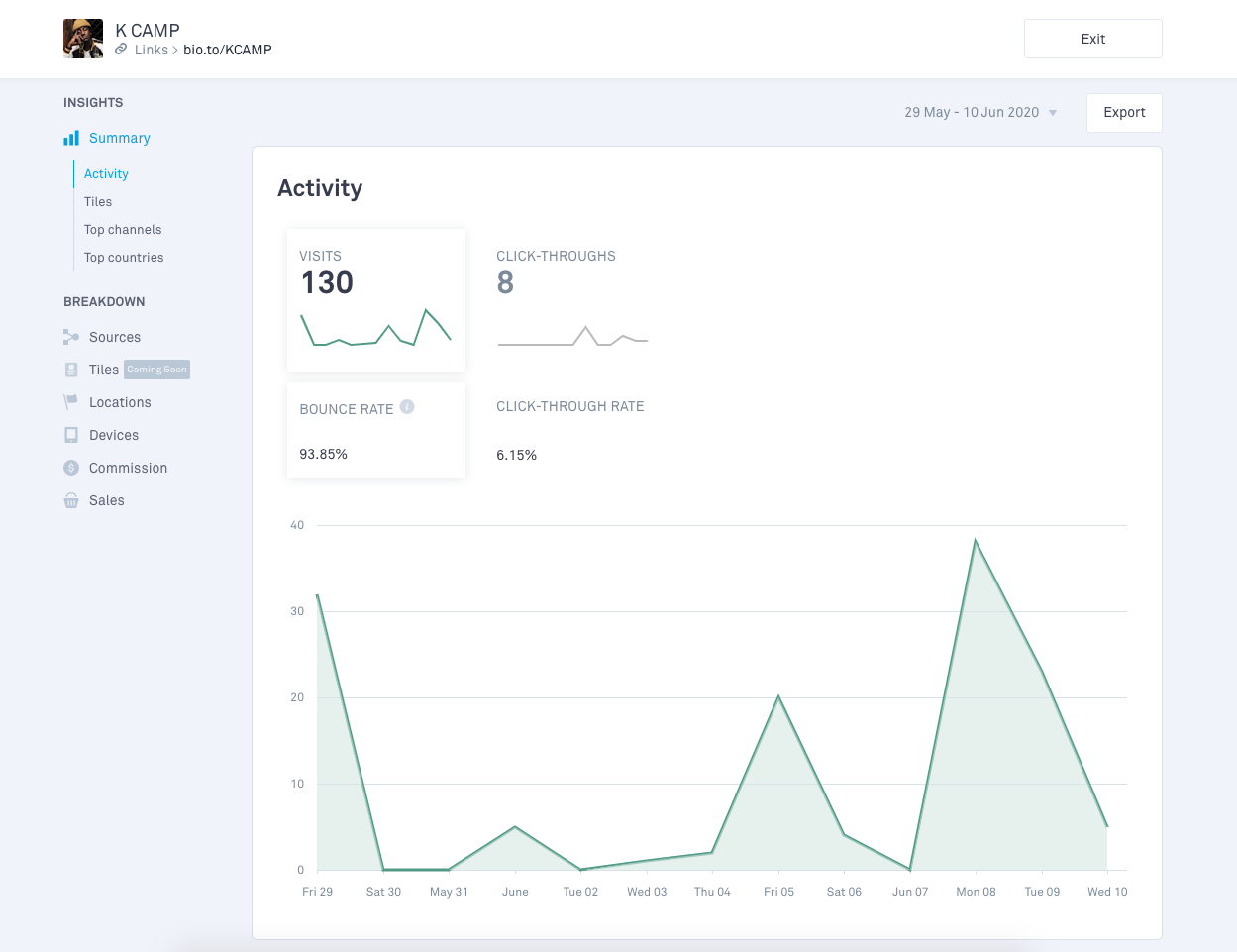 Read more about Linkfire Insights.