Note: this feature is reserved for Teams & Enterprise users.
Reward links give fans instant access to secret content, coupon codes, and contest entries in exchange for an action that you want them to take, such as subscribing to your email list or following you on Spotify. They're an excellent way to build your audience, increase engagement, and drive the kind of conversions that matter most to you.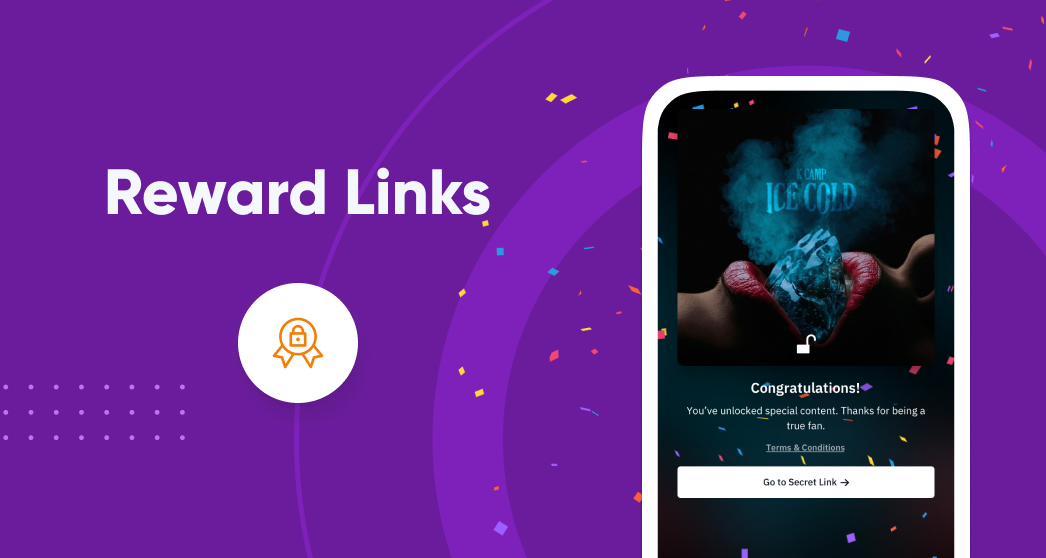 How to use reward links
There are three types of rewards you can offer fans:
Secret link

:

Any type of exclusive content (unreleased songs or videos, early access to merch, a fans-only section of your website, etc.)

Coupon code:

A discount that fans can't get anywhere else for merch, tickets, and more

Contest entry:

Run a competition, sweepstakes, or any kind of giveaway
And these are the actions that fans can take to unlock a reward:
Subscribe to YouTube channel
How to set up a reward link
Click the "Create Link" button, select "Reward," then click "Continue."


Select the reward type (secret link, coupon code, or contest entry) and click "Continue."


Fill out the details of your reward. Under "Reward type," you'll see the input for "Button text" and "Link URL"—this is the call to action fans will see after they've taken an action on your landing page.


If you're creating a contest link, fill in the "Terms Text" and "Terms URL" fields in the "Instructions" section. This will display a link to the contest terms and conditions on your landing page. If you're creating a secret link or coupon code link, you can skip this step.

Select the actions that you want fans to take. You can list multiple actions for Spotify and YouTube—e.g., letting fans follow your Spotify artist page and/or follow a Spotify playlist of your choice. And if you're running a contest, you can encourage fans to complete multiple actions for additional entries.





Set an expiration date for the reward. This will add a countdown timer to the landing page, creating extra incentive and a sense of urgency. Be sure to enter a redirect URL (such as your

bio link

) to avoid dead links after the reward expires.


Once you're happy with how everything looks, click the green "Publish" button in the top-right corner, then click "Get" to share your new reward link with any channel that fits.



After your link starts gaining traction, click "Export fans" at any time to export a file of all the fan data you've collected. The file will include: link, email, name, service, connection time, country, and consent.
See it in action
To give you a better idea of how this all comes together after you hit "Publish," here are some examples of what the landing pages look like for each type of reward.
Reward link Insights
Similar to Linkfire's other smart links, you can track your reward link visits, clicks, channels, and much more. Hover over the link title and click on "Insights" to access your Insights page.

Learn more about Linkfire Insights