Your work inside Linkfire revolves around a link. Whether you're creating a landing page for your latest album or a direct link to track clicks to a recent press release, you will do so by creating a smart link. Watch the video below to get a full intro to how to create your first link and learn more about the different Linktypes below.
To create a new link, just hit the big green "Create link" button in the upper right-hand corner when logged into Linkfire.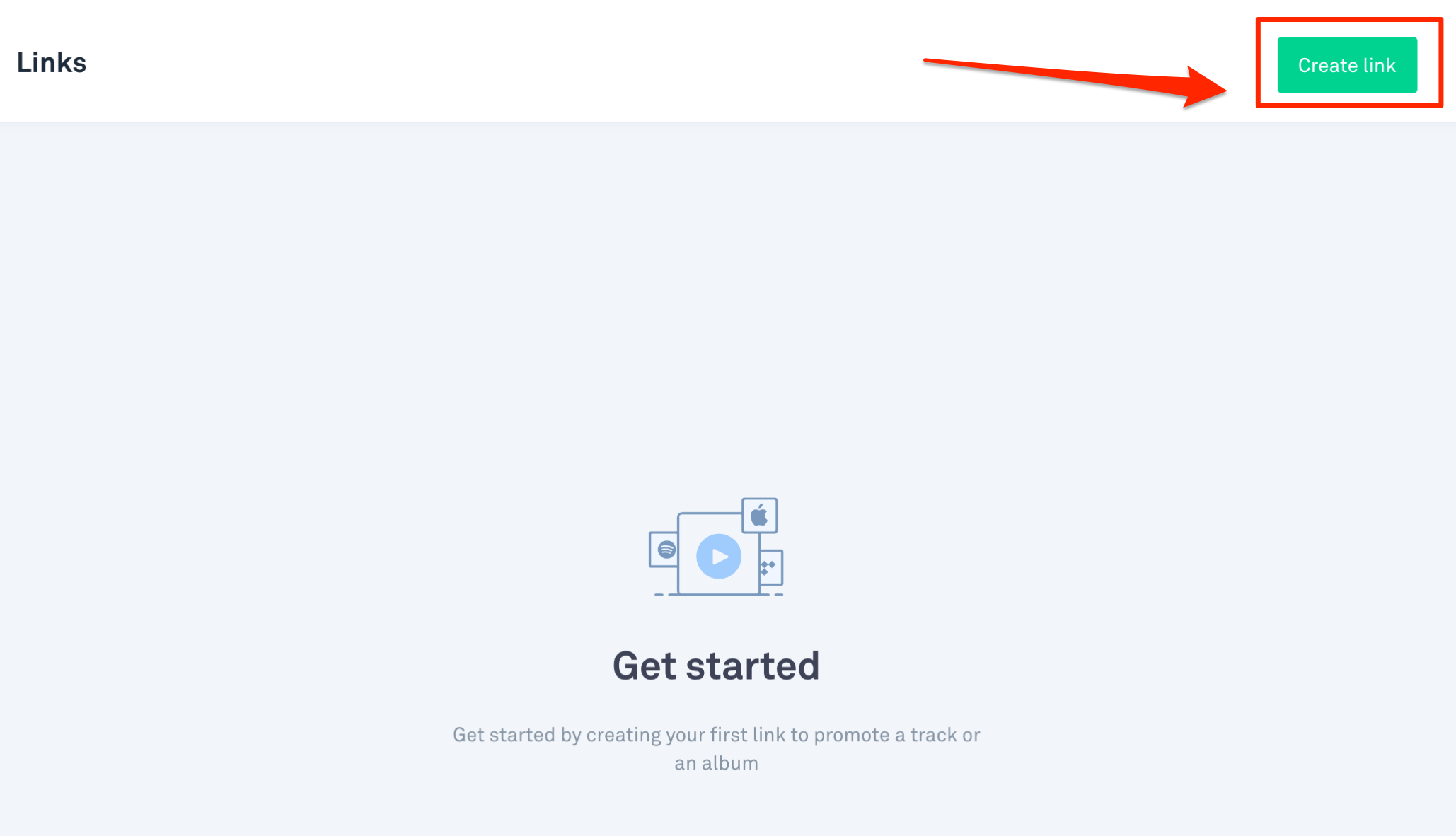 Start off by choosing the type of link you want to create. This will depend on what you'll be using your link for - choose from seven different link types being 'Release', 'Pre-release', 'Playlist', 'Tickets', 'Content', 'Bio', or 'Reward'.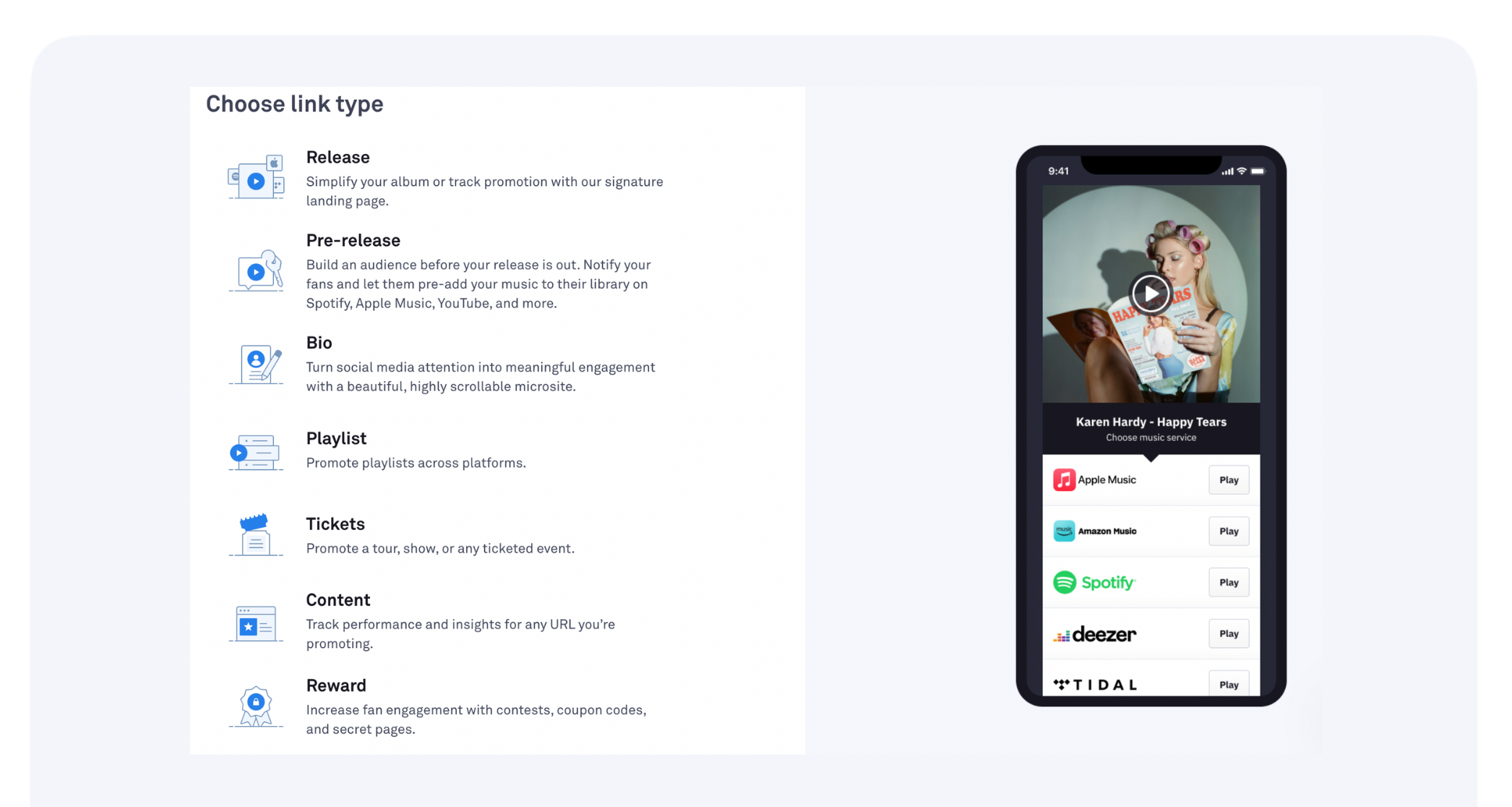 Next, paste in a link to your content, that can be a link to your album in a streaming service, a direct link to a website, or a link to a playlist. If you're creating a Release link for an album or a track, you can also paste in a UPC or ISRC, respectively. Be sure to fetch the correct link.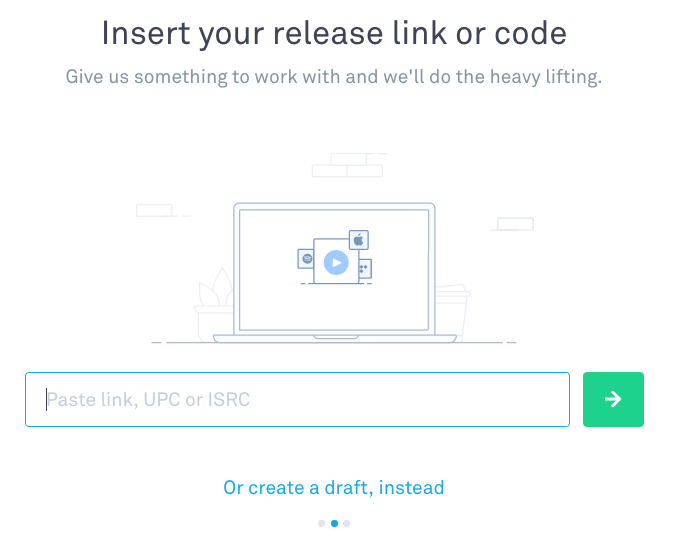 Linkfire automatically scans your URL or code and show you the results on the next page. These may include an image, title, and the artist behind your album or track.
Depending on the URL you created your link with, Linkfire will automatically create one of the following types of links:
Release Link
A link to a track or album. A link of this type will have a beautiful landing page and typically offer your fans to go to your content on different services.
To create this type of link, use a valid music URL as your source URL. We recommend using links to Spotify or iTunes for best results.
Note: You can also create podcast links via the Release link. Learn how to create a podcast link.
Pre-release Link (Pro, Teams & Enterprise feature)
Create a link and landing page before your release is available with a pre-release link. This is a great way to drive engagement, gain new followers, and increase streams, while building momentum prior to an upcoming release.
Bio Link
Promote everything you have going on in just one link—from releases and gigs, to social pages and merch. One link for all your content.
Reward Link (Teams & Enterprise feature)
Give fans instant access to secret content, coupon codes, and contest entries in exchange for an action that you want them to take, such as subscribing to your email list or following you on Spotify. They're an excellent way to build your audience, increase engagement, and drive the kind of conversions that matter most to you.
Playlist Link
This is similar to a music link, and it also features the familiar landing page. However, as playlists are managed slightly differently across services, these links look slightly different when you create them.
To create this type of link, use a URL to a playlist on Spotify or Deezer as your source URL.
Ticket Link
Linkfire's automated ticket integration makes promoting tickets for tours or events quick and easy. You can also create a tour link by manually adding each ticket link to your landing page - learn more
Content Link
If you use a non-music link as your source URL, Linkfire will create a content link. This type of link has no landing page, but you can still customize the behavior of the link in different ways and collect detailed insights. Content links are typically used to link to events, articles about your newest releases, or other destinations that are not actually music.