Most links created with Linkfire take fans to music on different services through our landing pages. However, you can also use Linkfire to link directly to other forms of content, such as articles about your latest release, a music video or your website.
Linking to single destinations through Linkfire lets you harness our powerful analytics tools to monitor your marketing efforts, and also lets you collect remarketing data for anyone clicking on your links. Additionally, you can use our conditional redirect feature to take different users to different destinations, depending on criteria such as where they're located and what device they're using.

(Please note: your account must be validated before you can use the conditional redirect feature. You can find more information here.)
To create a Linkfire content link, click the green "Create link" button in the upper right-hand corner of your dashboard, choose "Content" as your link type, and click "Continue". Then paste in the destination you want to link to and you will be directed to a page looking like the screenshot below.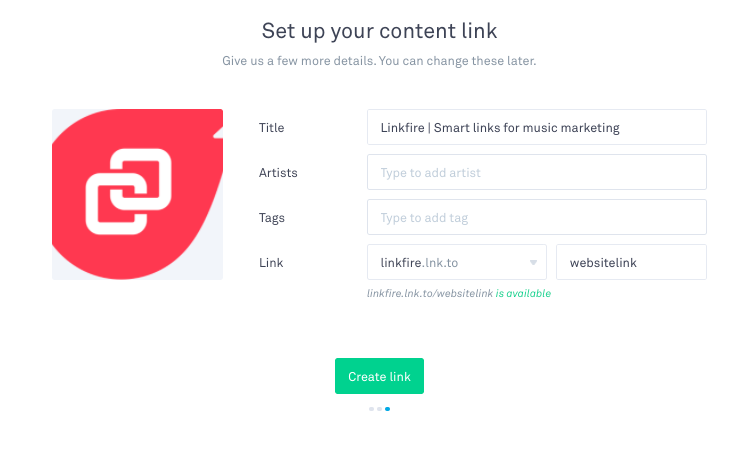 Customize the title, add tags to your campaign, edit the short code and change the image.
Once you have customized your link, click the green "Create link" button and your content will be wrapped in a Linkfire link ready to share.
Pro tip: Remember to add Channels when sharing your link to know exactly where your traffic is coming from when sharing your links across different platforms.
Monitor the content link performance in the link insights to see visits, channels, locations, and your visitor's device type, operating system, and browser.