Create a link for your upcoming tours and live events with Linkfire's ticket links.
Ticket links are one of five link types that you can create with Linkfire. Click here to read about the different types of Linkfire links.
To create a ticket link, you must use a valid ticket URL. This is typically a link directly to a ticket provider like Ticketmaster, Eventbrite or AXS. Click the green "Create link" button in the upper right-hand corner of your dashboard, choose "Tickets" and click "Continue". When prompted, paste your copied URL and scan it as you would with any other link. The result should look similar to the screencap below.
Next, you can customize the title, tag your campaign, edit the short code and change the image. When you are done modifying, click the green "Create link" button.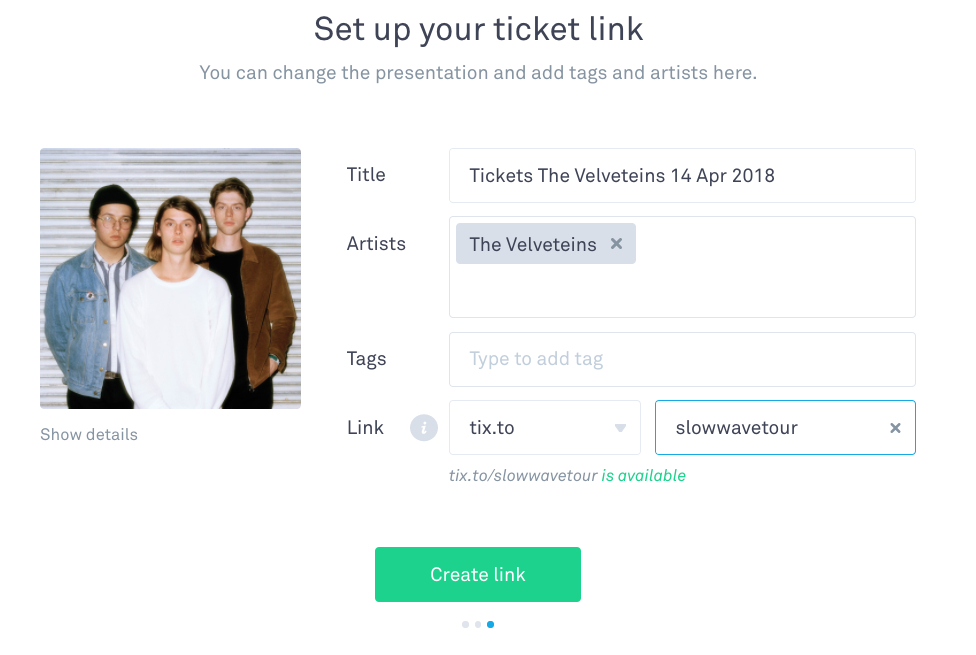 When the link is ready, it will be marked with blue text saying "Ready for Review". Click this to begin populating and customising the landing page. To add new dates, navigate to the "Shows" tab. Here you'll enter the destination URL, date, venue and location (city) for each respective show.
Next, find the "Customise" section, where you can edit the artwork and text shown on the landing page and on your social cards. If you click 'Landing page' you can choose between 3 sections to customize - "Shows", "Artwork and Media" and "Description".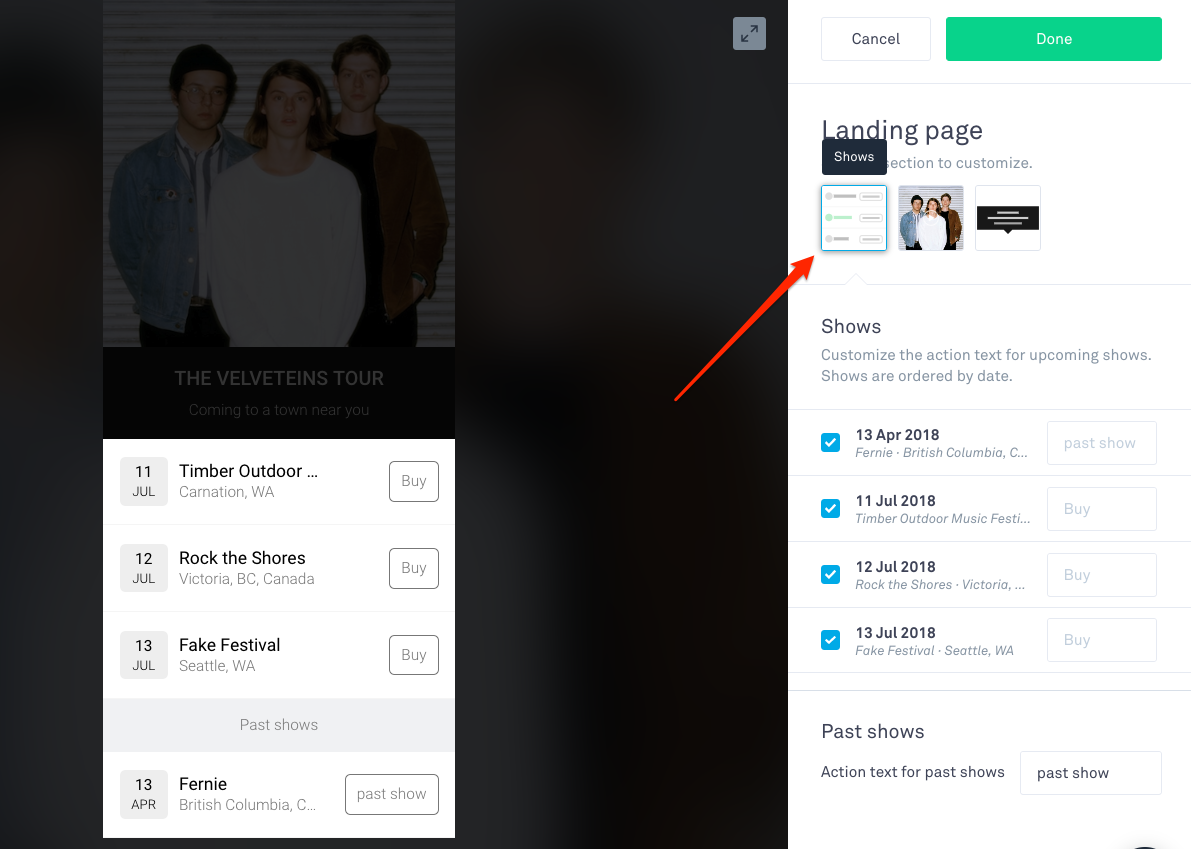 Shows
This is the section where you can edit the text for the buttons for each show. By default they have "Buy", but if a show for example, sells out you can change that text to "Sold out" or if the artist is touring in different countries you can provide each button with your preferred translation. It's also possible to disable shows you want to hide from the landing page by checking off the blue checkmark to the left. An updated preview of your landing page is at all time visible on the left side of the screen.
Artwork and Media
In this section, you can upload a new artwork for your landing page if you wish to change artwork that Linkfire per default pulls from the metadata of the scan. You will also have the option to include a media sample, in the form of a YouTube video, that can be played on the landing page.
Description
Customize the title, paragraph and the text shown for "past shows" in the "Description" section. For line breaks in the paragraph text press the return key. You may add line breaks by pressing the return or enter key on your keyboard.
Once you are finished with these changes, click the green "Done" button and finalize by hitting the 'Update' at the upper right-hand corner and you're ready to share your link with a landing page looking like the example below.