There are a number of factors you can customize on your landing page, like the order of the music services showed on your landing page, adding a custom description of the link, customize the copy in the buttons for the music services, and choose whether or not you want a specific music service displayed on the landing page or not.
If you click "Edit" when you have created your link and then go to "Landing page" this is where you can customize your landing page and "Social cards" is where you can edit the text and artwork shown on Facebook and Twitter when sharing a link.

In this section, you can change 'Services', 'Artwork and Media' and 'Description' by choosing between the three different boxes in the top right saying 'Select which section to customize'.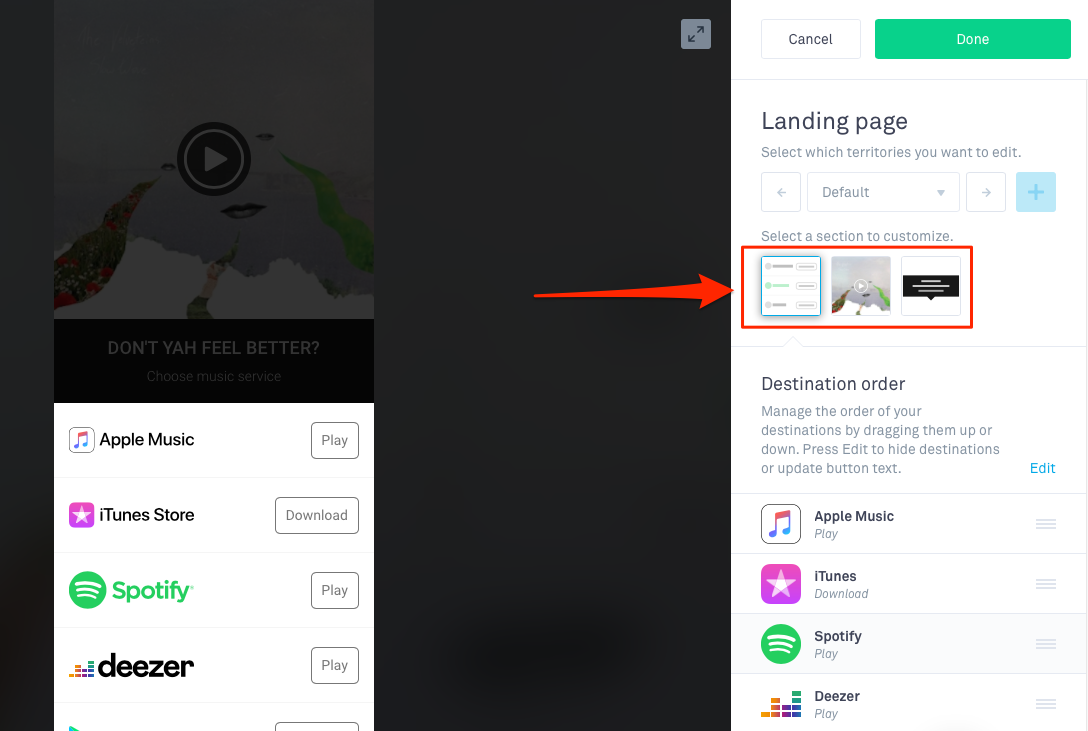 Services
This is the section where you can change the order of the music services for 'Default' and 'specific territories' by dragging them up and down. If you click the blue "Edit" you can change the text for the buttons and also de-activate services you don't want to show on your landing page by checking off the blue checkmark to the left. An updated preview of your landing page is at all time visible on the left side of the screen. In addition, you can select whether to redirect visitors to their preferred service without visiting the landing page or let them choose from the different available services on the landing page. To enable this, scroll to the sections "Miscellaneous" at the bottom of the services lists and check the box for 'redirect returning visitors automatically'.
Looking to add a service click here to learn how.
Artwork and Media
Change the artwork on the landing page if you wish to have another artwork than the one Linkfire per default pulls from the metadata of the scan. There is also an option that allows you to enable (or disable) a media sample to your landing page by picking one of the suggested services or adding a Youtube video.
Description
In this section, you can edit the title and the paragraph of your landing page and customize it for different territories. For line breaks in the paragraph text press the return key.