Linkfire offers up to 20 different Amazon service integrations to choose from when creating a link and landing page. You can direct fans to your content on everything from streaming on Amazon Music to Amazon Books or Amazon Prime Video. Find a full list below.
Two of these Amazon services are automated integrations where Linkfire will automatically scan and find your music releases and include it on landing pages. Even if you use a Spotify link as your input source we will automatically find the match for your release on any of those two Amazon services. Just make sure the Amazon service is added to your link and/or board - more on that below.
Automated Amazon services
Amazon Music (Streaming)

Amazon CD & Vinyl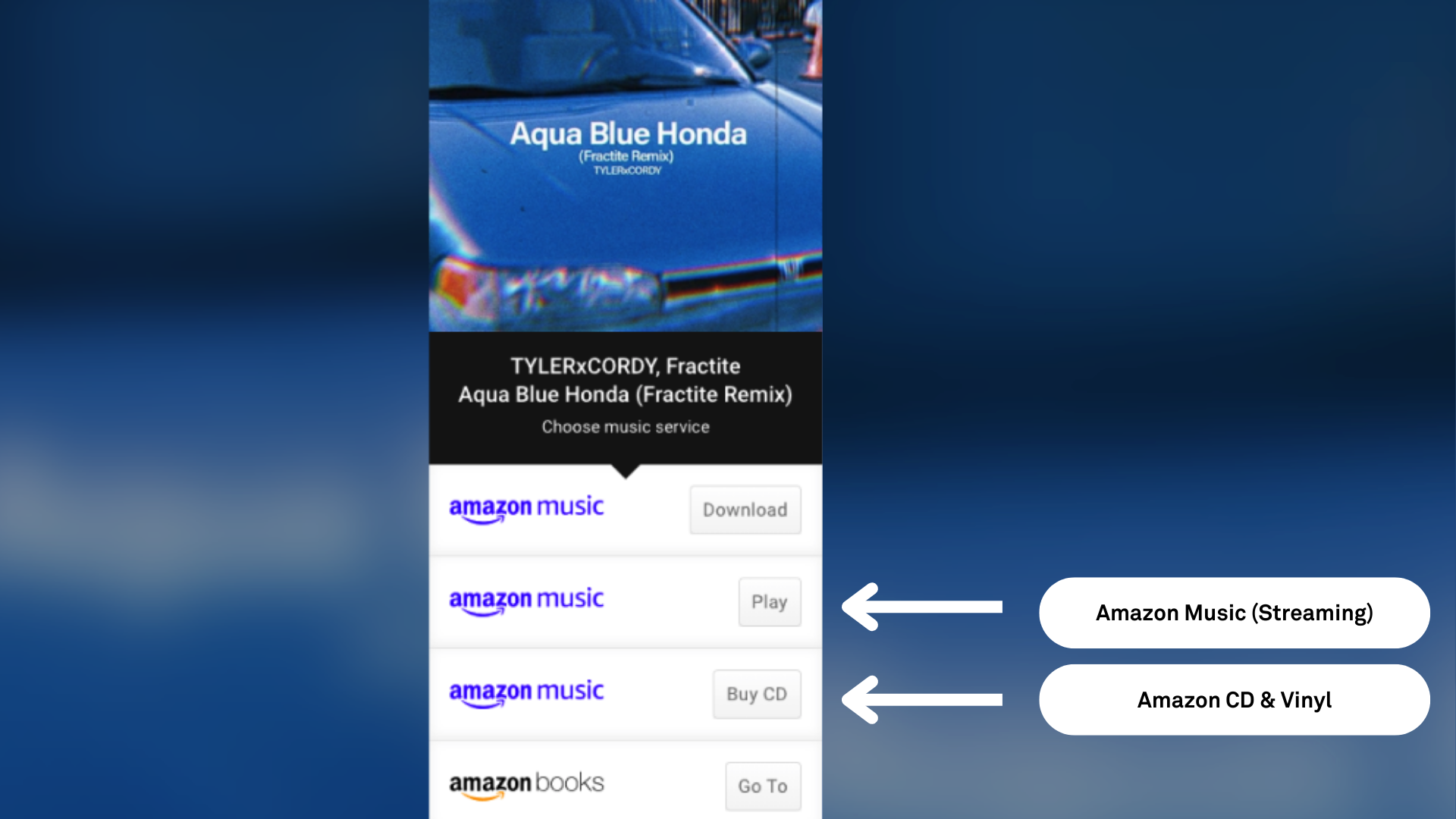 Note: Amazon uses the same branding for different services. The two automated services listed above have the same look on the landing page, but you can use the customisable CTA button to show the intent of the service like "Buy CD" for Amazon CD & Vinyl and "Play" for Amazon Music (Streaming). The CTA can be customised under "landing page" when editing a link.
Automated and manual Amazon services
The remaining Amazon services are manual and you'll have to manually paste in the direct URL when they are added to your list of services. Learn more on how to do that in step 6 below.
Distinguish between automated and manual service integrations when adding a new service to your links or boards. Look for the A (automated) or M (manual) next to the service. This lets you know if you can rely on an automated match for the service or have to manually insert a direct URL.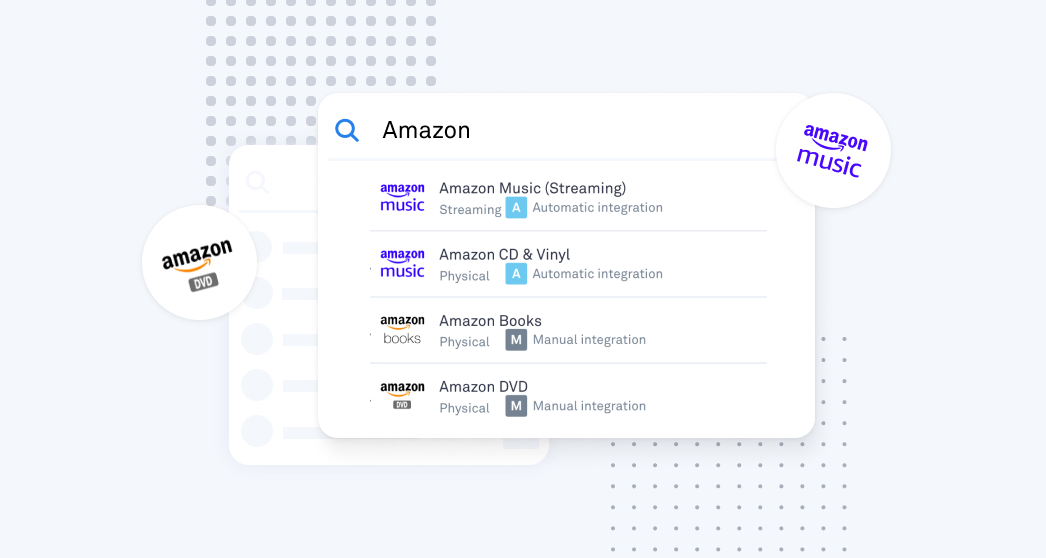 List of Amazon services available in the Linkfire platform
Automated Amazon services
Manual Amazon services

Amazon CD & Vinyl*

Amazon Music (Streaming)*

Amazon 4K

Amazon Blu-Ray

Amazon Books

Amazon Music (Mp3)*

Amazon Box*

Amazon Deluxe

Amazon DVD

Amazon Film

Amazon Film DE

Amazon Germany

Amazon Instant Video

Amazon Kindle

Amazon Prime

Amazon Prime Video*

Amazon Prime Video Game*

Amazon Prime Video UK*

Amazon Video

Amazon Vinyl*
| | |
| --- | --- |
| *Some services are listed multiple times with a number after to allow you to add several destinations to the same service (i.e. if you want to promote 2 different vinyls in the same link, you need to add Amazon Vinyl and Amazon Vinyl 2 and paste in the individual links for each vinyl). | |
How to add an Amazon service to your landing pages
We recommend adding popular services like Amazon Music that you're using again and again to your permanent board settings to make it a default service destination for any link created on your board. You can also choose to add services on the link level for individual landing pages each time you create a new link. For example, if you rarely use Amazon DVD but need it for one release you can add it to that specific link but leave it out of the board settings. Learn how to add an Amazon service on board level and link level below.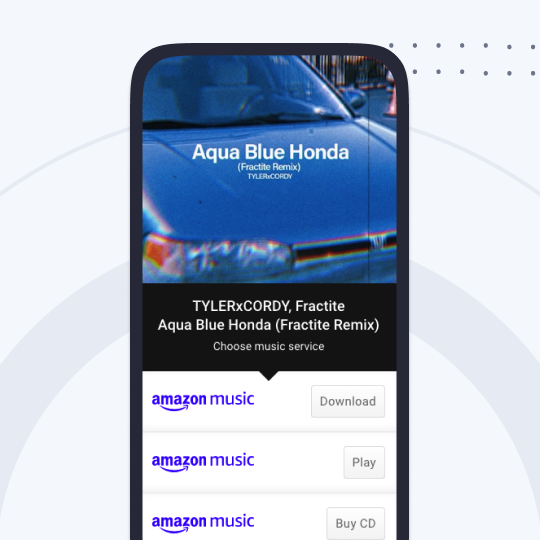 Make an Amazon service a default service destination on your board

(for Personal Pro, Business Essential, Advanced, Premium, and Enterprise clients only)
To make any Amazon service a permanent service destination across all links created on your board, add it directly to your board settings under the "Services" section. You can always remove it later and change the order of your services when setting up individual links. Remember to check if the service is automated or manual. If the service is automated Linkfire will automatically scan and find your music release on the service and include it on landing pages. If the service is manual you'll have to manually input the specific URL under the services listed when "editing" a link.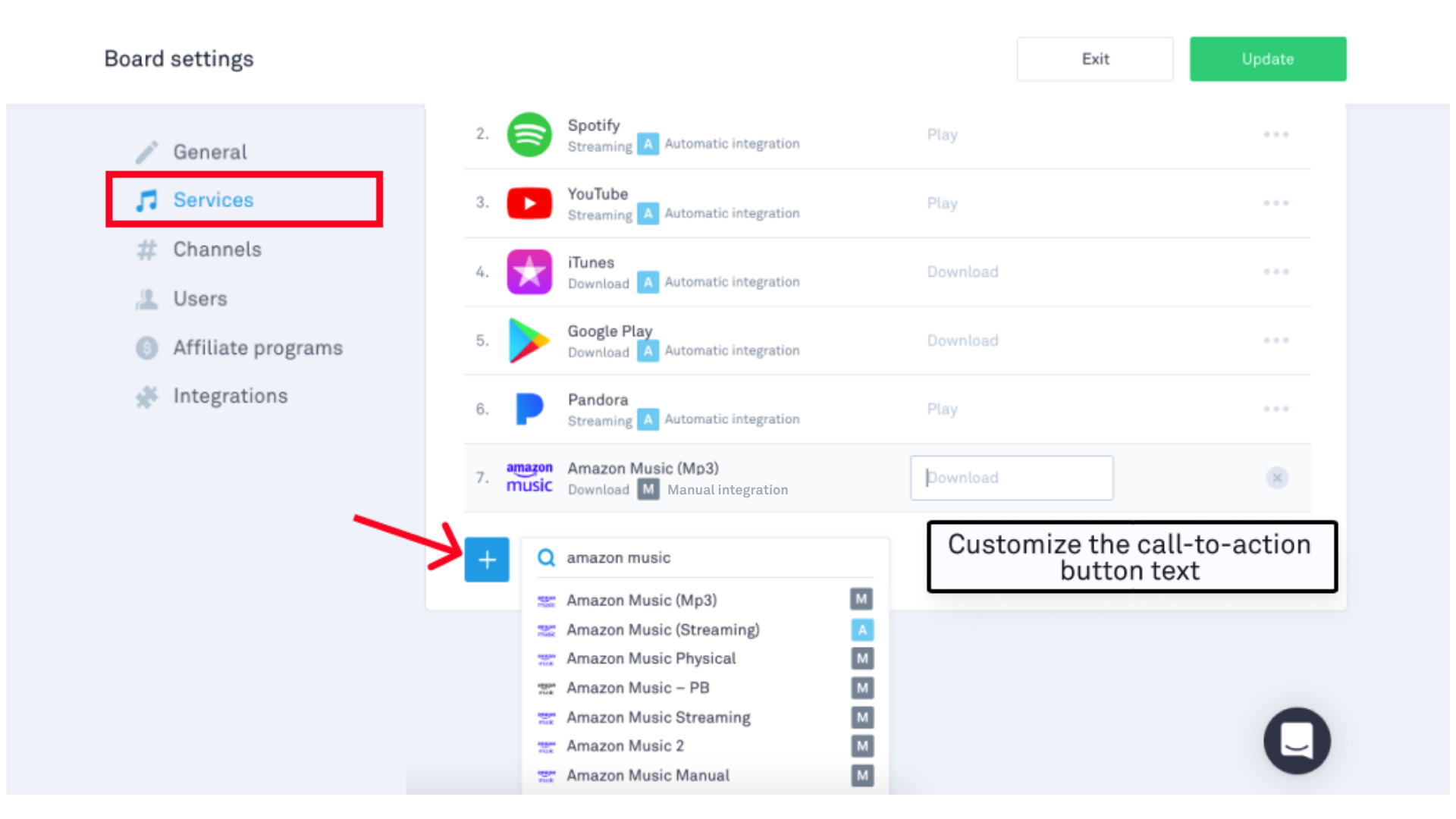 Change the default order and customize the call-to-action button text that appears next to each service. "Play" and "Download" are the defaults for most services, but you can change the text to "listen," "stream," "buy," or whatever you wish.
Add an Amazon service to a specific link
Hover over your link and click "edit."

Under the "SETUP" section go to "Service destinations."

Select "+ Add Service" at the top-right of the screen.

Type in "Amazon" and select the specific service you're looking to add.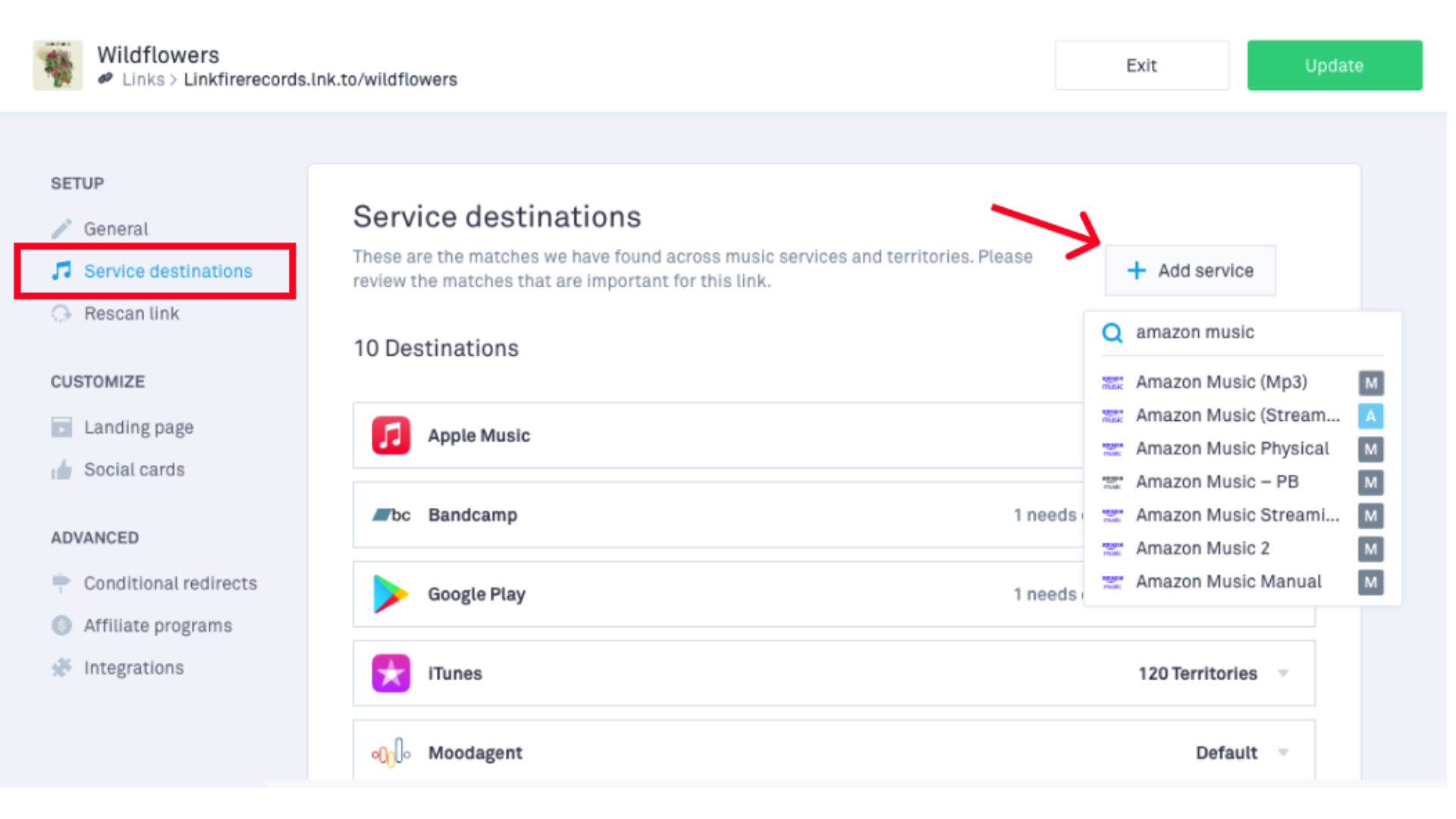 Click the dropdown next to the Amazon service and for an automated service click "Schedule Rescan." Linkfire will automatically find a match.

If you don't get an automated match, manually insert the direct URL.

Repeat steps 3-6 for any additional Amazon service you're looking to add.

Check out the landing page preview under "landing page" and reorder the services and customize anything else needed.

Start sharing your link.