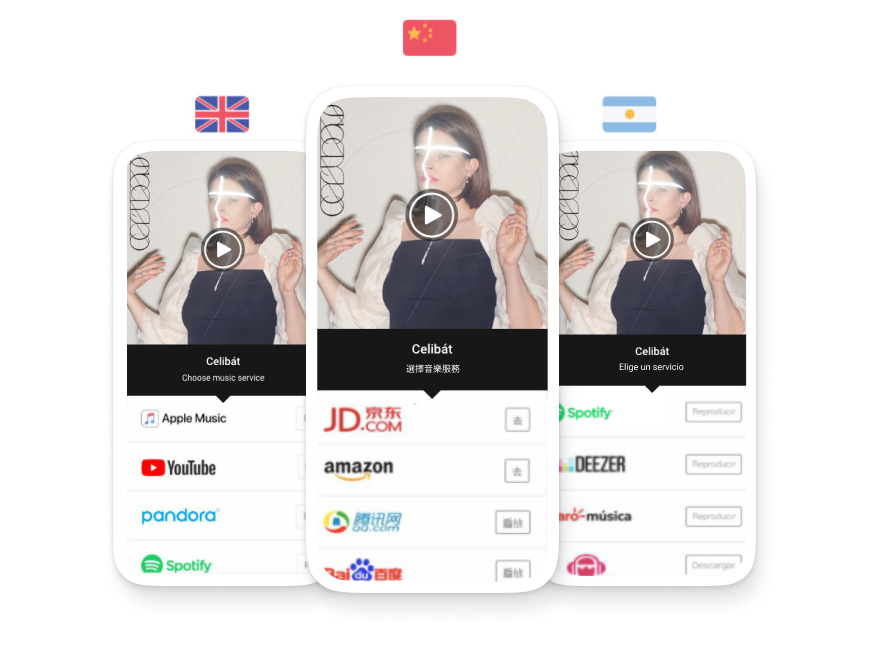 Note: this feature is reserved for Teams and Enterprise
Your music and promotions cross borders, but not all content behaves the same in all countries. For example, you may release two different versions of an album: one for release in one country, and another for the rest of the world. If you want to use the same link to promote these different versions, you can set up territories to create territory-specific landing pages.
What are territory-specific landing pages?
By setting up multiple territories for your links, you can ensure that visitors from different countries have a customized experience on your link. You can customize all aspects of your link for specific territories, including:
Taking visitors who click on the same music service to different destinations based on their location.

Displaying or hiding certain music services for specific countries.

Rearranging the order of music services depending on local popularity.

Displaying different album artwork in specific countries.

Instantly redirecting visitors to conditional destinations.
How to set up territories
Before you can set up unique landing pages for your links for specific territories, you must first set up those territories in your board settings.
Navigate to your board settings page by clicking the "gear icon" next to your board name.

Find the section titled "Services".

Use the blue "+Add Territory" to add new countries to your settings by typing in the territory you wish to add and wait for the services to load.

After you have added a territory, you will be able to remove and add your desired music services for that particular territory by clicking the blue "Add Service" at the bottom or, hover over the 3 dots to the right of each shown service and click the red X that appears.

You can also customize the CTA text by typing in the box under "Action Text".

Remember to click "Update" in the top right corner to save your changes.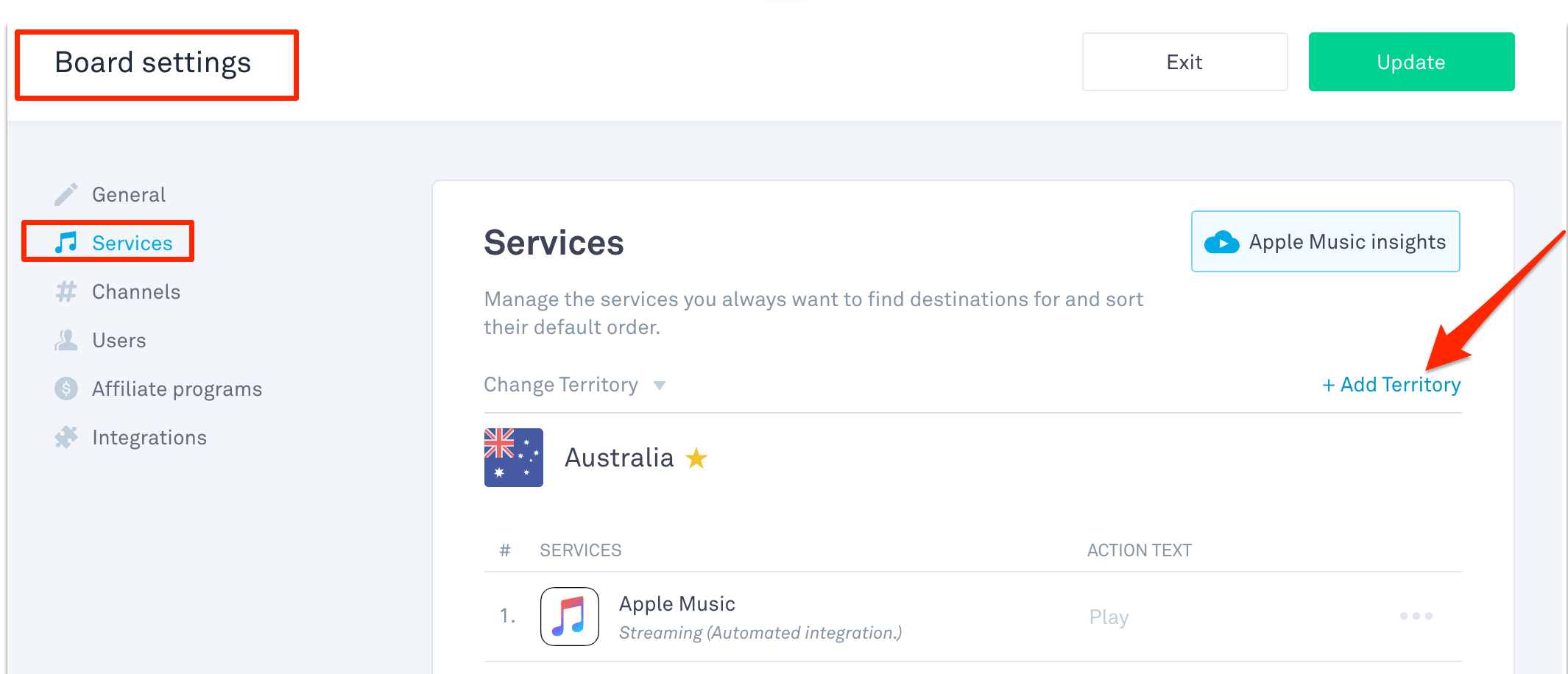 Once you have added at least one territory, the default territory is titled "Default". Any settings you make here will apply to all territories that you have not explicitly added to this section in your board settings.
You can now use your selected territories to create specific rules and behaviors when creating or editing your links.
How to create territory-specific landing pages for a link
Once you have added your territories to your board settings, you will be able to use them when creating or editing Linkfire links. When doing so, you can customize your landing page for different countries in the section titled "Landing Page".
The drop-down at the top already contains all the territories that you have added in your board settings. Use this section to switch between territories or add new ones you wish to customize. Click the drop-down and type in the name of the country/territory you wish to add or remove.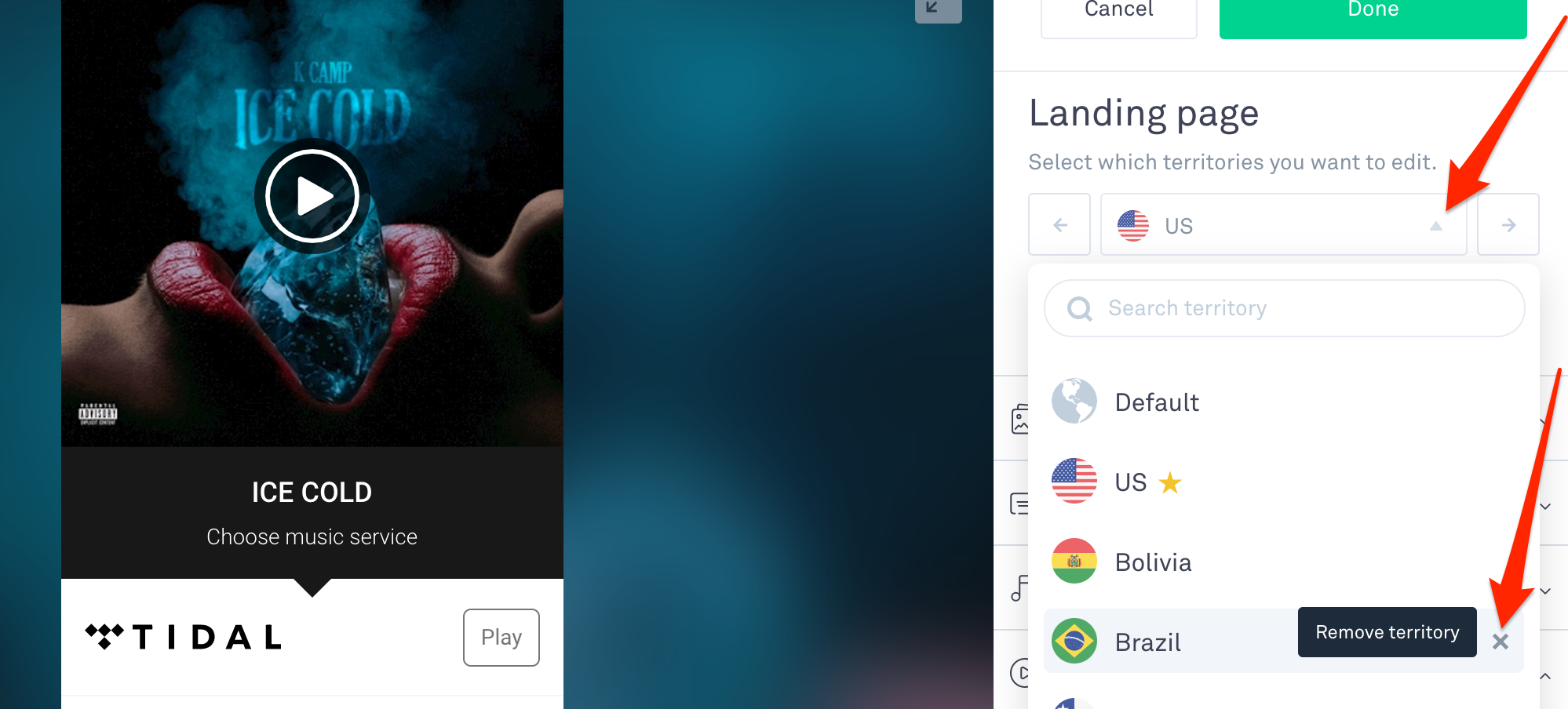 Add whole regions by clicking "+Add territory". In the pop-up you can easily add/remove individual territories or entire regions with the "add/remove all". Add all territories from a region by clicking "Add all" or click on the Region to unfold each territory to add individual ones.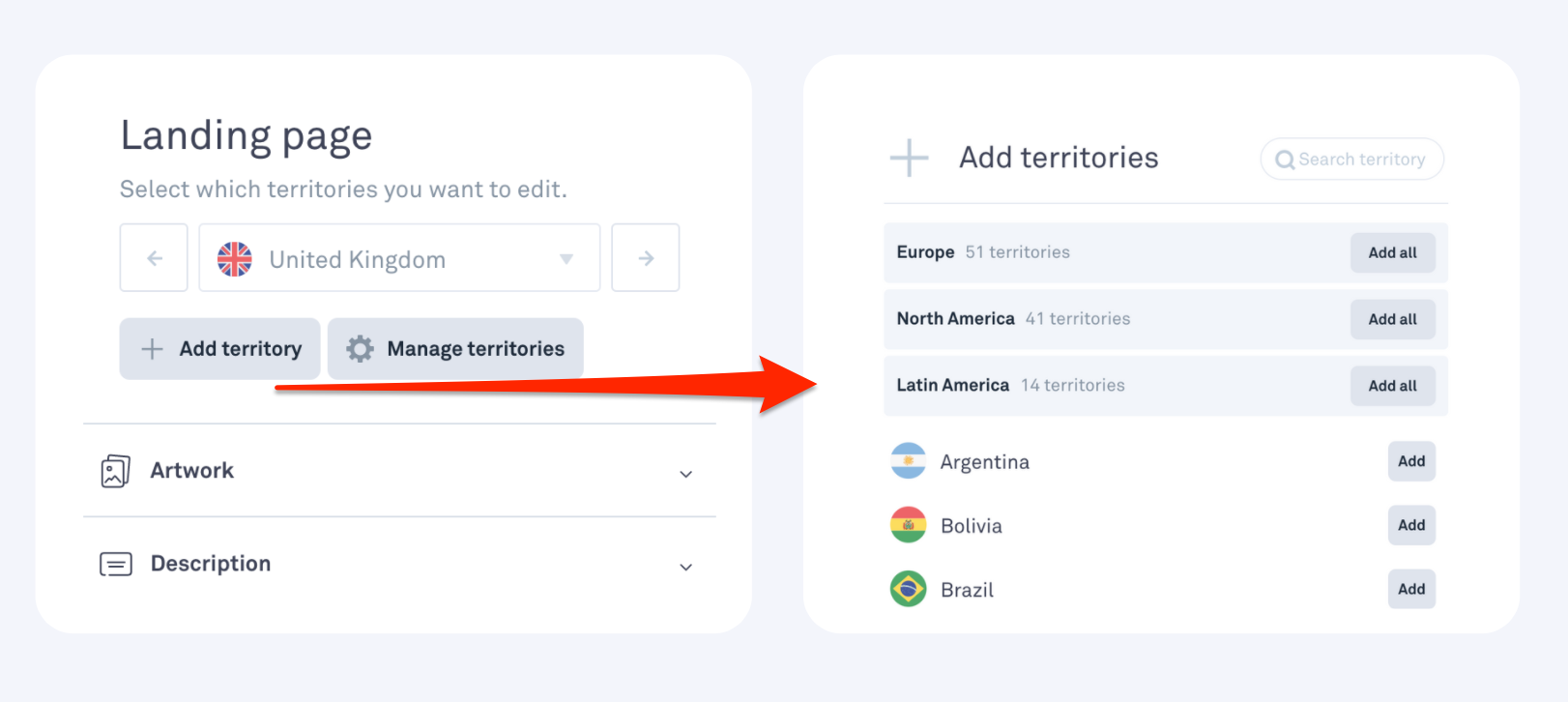 Switching between different territories lets you create a custom configuration, which will only appear to users visiting your link from the selected country, based on IP Address.
Learn more about how to customize your landing page by setting up the correct services for your territories, artwork, and description here.