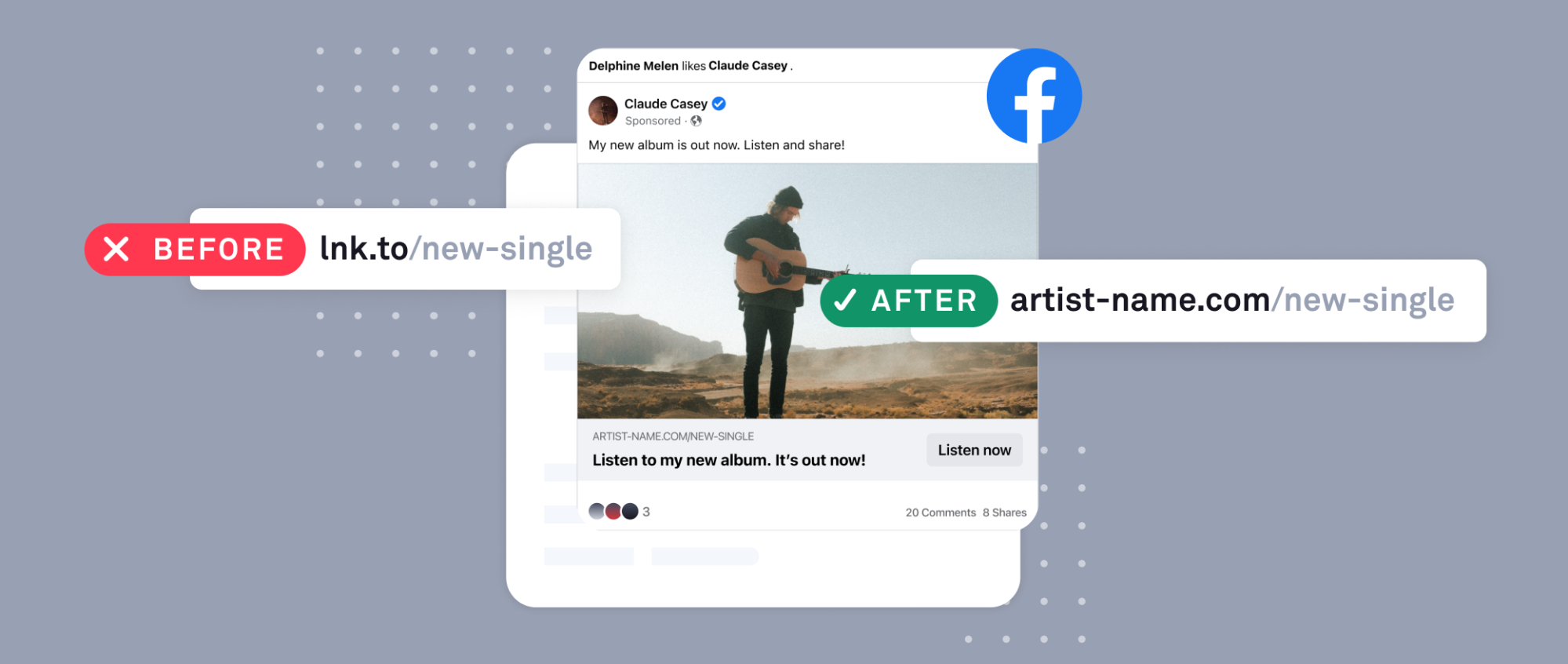 Given Facebook's recent changes for iOS 14, the best way to continue running advertising on smart links, while leveraging the benefits of the Facebook pixel's custom conversion is to own your smart links domains.
In this article, we will cover how to set-up your Linkfire account, smart links domain, and Facebook Business Manager for running Facebook custom conversions on your Linkfire landing pages.
Disclaimer: All Linkfire users on a plan that includes a Facebook Pixel will be able to run campaigns using landing page view events, even if the user does not have a custom domain connected to their Linkfire account.
Existing custom events and custom audiences will remain unaffected.
Why own a domain for your smart links?
Owning a domain for your smart links will allow you to maintain the ability to run conversion campaigns on events that are unique to you, and are not covered by Linkfire domains.
With custom domain: Your advertising campaigns promoting smart links on your domain (artist-name.com/new-song) will measure the events you need for optimizing your results. These events are specific to your goals and can include anything from email submitted on a release link, subscribed on a pre-save campaign, purchase made on a ticket link etc.
Without custom domain: Your advertising campaigns promoting smart links on the domains (lnk.to, bio.to, tix.to) will only report back on the events defined for those domains. This will exclude information post landing page view, such as conversion value.
Step-by-step guide on how to set-up a custom domain
Before you start:
If you don't already own a domain or represent several artists and are unsure how to proceed, please reach out for advice to your Linkfire Account manager or to bizsupport@linkfire.com

Linkfire subscriptions starting with Business Essential include a custom domain limited to a value of $10/year. Reach out to support or to your Account Manager for details.

If you don't have a Facebook Business Manager account, follow

these guidelines

to create one.
Step 1: Add and verify your domain in Facebook Business Manager
To verify your domain in Facebook Business Manager, connect to your Business Manager and on the home screen click on the Business Settings button in the upper right corner.

On the Business Settings page, select the tab names Brand Safety -> Domains from the left side navigation list.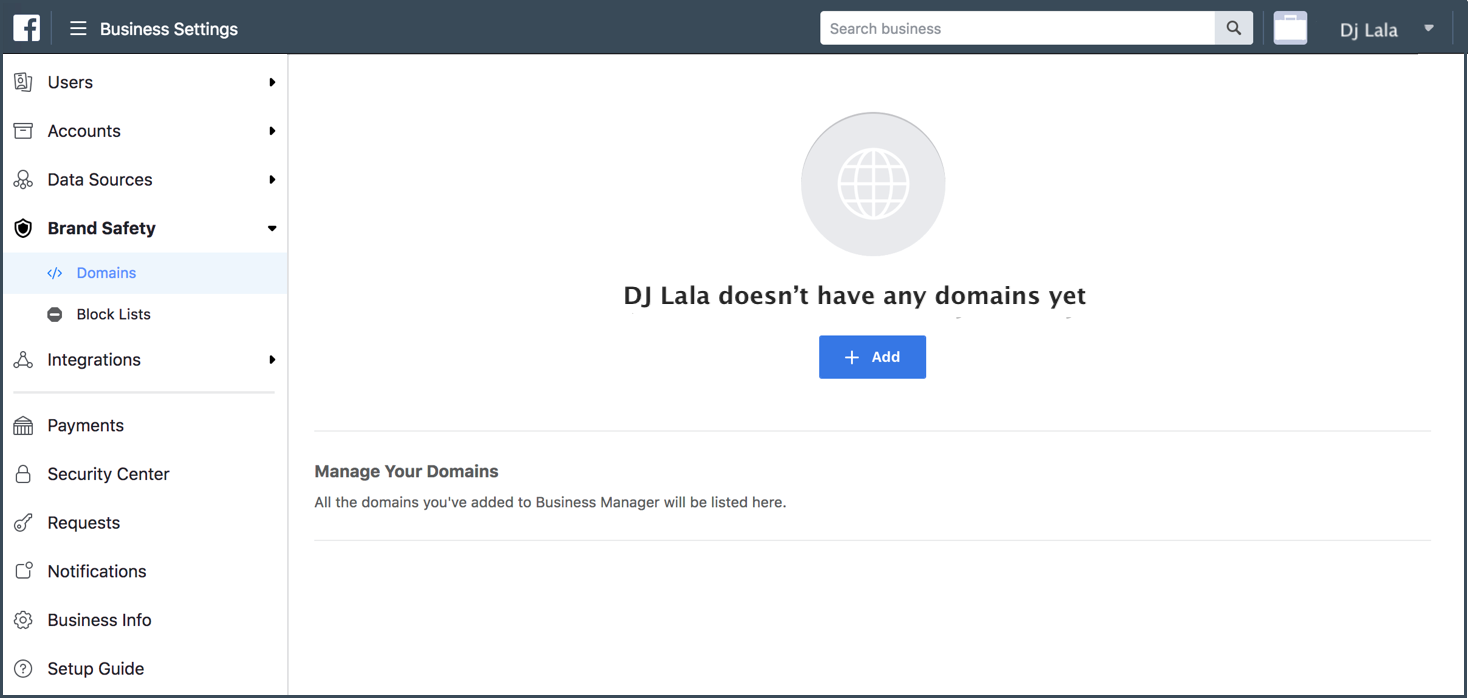 Click on the Add button, and type your top-level domain name (the top-level or root domain, not the subdomain—for example, if you're setting listen.band-name.com as the subdomain in Linkfire, here you'd verify band-name.com).
If you have more than one domain listed, select the domain for which you desire to confirm ownership.
Then choose DNS Verification to verify your domain.

Step 2: Reach out to Linkfire for connecting your domain with your Linkfire account
Please reach out to your dedicated account manager in order to connect your custom domain with your Linkfire account. If you don't have an account manager, please reach out to bizsupport@linkfire.com.
Step 3: Choose your eight conversion events
We recommend identifying the eight events most important to critical business outcomes and assessing if changes need to be made to campaign or measurement strategy.
Think about what are the most critical events for your business. You will be able to change these 8 events in the future but, when an event is changed, it will trigger a 72 hour cool down period before campaigns can deliver using changed events. Therefore, we don't recommend changing the prioritized 8 events too often in order to not lose any data and to be able to optimize paid campaigns efficiently.
Find an overview of all the event parameters Linkfire provides.
Step 4: Anticipate changes to attribution windows
Our recommendations to advertisers who at the moment use 28-day attribution and/or automated rules:
Use the Comparing Windows feature to see how conversions attributed to their ads compare across different attribution windows. This will allow advertisers to better anticipate any changes in reported conversions as a result of moving to a 7-day window.
Export any historical 28-day attribution window data. Please note that historical data will continue to remain accessible via the Ads Insights API.

Update any automated rules using a 28-day attribution window to prevent any unexpected adjustments in spending once the new 7-day click-through window default goes into effect.
Other best practices
Identify campaign optimization strategies that may require testing such as alternative audience options or different bidding strategies. Optimization strategies, like bid types and amounts, audience definitions, or optimization events, will need to be tested against new performance levels to develop new best practices.
Follow Facebook's updates and recommendations
Apples and Facebook's privacy and tracking alignment continue to evolve as we speak and Linkfire's team is in close collaboration with Facebook to make sure that we can continue rocking the music industry.

We recommend you to subscribe to Facebook for business news to make sure you are updated on the latest optimization strategies and news. https://www.facebook.com/business/news.