Note: this feature is reserved for Business plan and Premium users
In order to create a remarketing list in Google AdWords based on your global site tag, you will need to have data being collected by that tag. In order to integrate your AdWords tag on Linkfire campaigns, follow the guide below.
Once you've done so, AdWords will receive custom parameters from Linkfire that you can use to create your lists.
How to create a remarketing list
1) Go to adwords.google.com and log in to your AdWords account.
2) Click "Audience Manager" under the header "Shared Library". This option is located under the "Tools" icon in the top right of your screen.
3) If you have not set up remarketing in AdWords before, you should be prompted to set it up now. Follow the on-screen instructions to get started.
4) Under "Audience Lists" from the options to the left you will see any remarketing lists you have already created on this account. To create a new one, click on the blue "+ create remarketing list" button, and then select "Website visitors".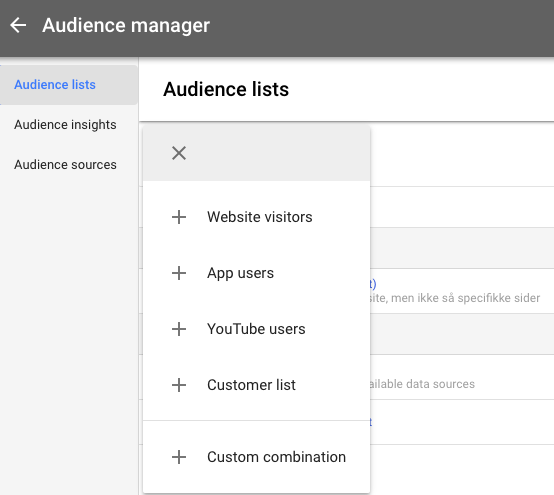 5) This will open a page where you can define your remarketing list. Start off by giving it a descriptive name so you can recognize it later, and then start defining the users you want to include in this list.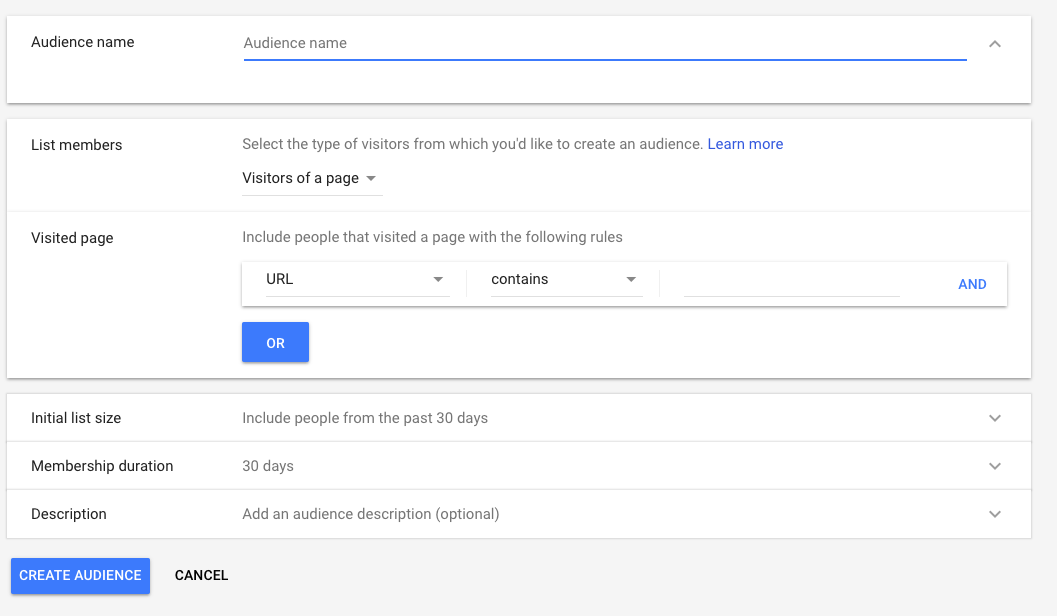 6) Press the first dropdown to select which parameter you want to use. Then enter the value you want for that parameter. For example, you may select the parameter "artist" and type in "Justin Bieber" to create a list of all visitors who opened a Linkfire link with content by Justin Bieber. See this guide for a detailed description of all Linkfire's custom parameters and how to use them.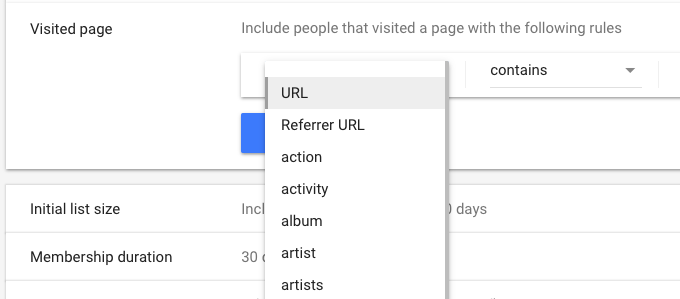 7) Before you save your list, you can do a few more adjustments.
Tick "Include people from the past 30 days" if you want your list to be populated with visitors right away. Otherwise your list will start empty, and will start to populate as you receive traffic to your links. As the copy states, checking this box will include users from the last 30 days. Therefore, if you know you will need today's traffic in a list more than 30 days from now, create that list now.
In the "Membership duration" field, you can define for how long you want to keep people in this list. The maximum amount of time is 540 days.
Lastly, you can optionally write a description for this list to remind yourself exactly what you created it for. AdWords remembers for 540 days, but us puny humans barely remember what we ate for breakfast today.