Note: this feature is reserved for Business plan users
Your music is online and your promotions cross borders. But not all content behaves the same in all countries. For example, you may release two different versions of an album: one for release in one country, and one release for the rest of the world. If you want to use the same link to promote different versions of the same content, you can do so by setting up territories to created localized landing pages.
What are localized landing pages?
By setting up multiple territories for your links, you can ensure that visitors from different countries have a customized experience on your link. You can customize all aspects of your link for specific territories, including:
Taking visitors who click on the same music service to different destinations based on their location.

Displaying or hiding certain music services for specific countries.

Re-arranging music services depending on local popularity.

Displaying different album art in specific countries.

Instantly redirecting visitors to conditional destinations.
Before you can create these rules for your links, you must first set up your desired territories in your board settings.
How to set up territories
Before you can set up unique landing pages for your links for specific territories, you must first set up those territories in your board settings.
Navigate to your board settings page by clicking the "gear icon" next to your board name and go to "Edit board settings".

Find the section titled "Services".

Use the blue "+Add Territory" to add new countries to your settings by typing in the territory you wish to add and wait for the services to load.

After you have added a territory, you will be able to remove and add your desired music services for that particular territory by clicking the blue "Add Service" at the bottom or, hover over the 3 dots to the right of each shown service and click the red X that appears.

You can also customize the CTA text by typing in the box under "Action Text".

Remember to click "Update" in the top right corner to save your changes.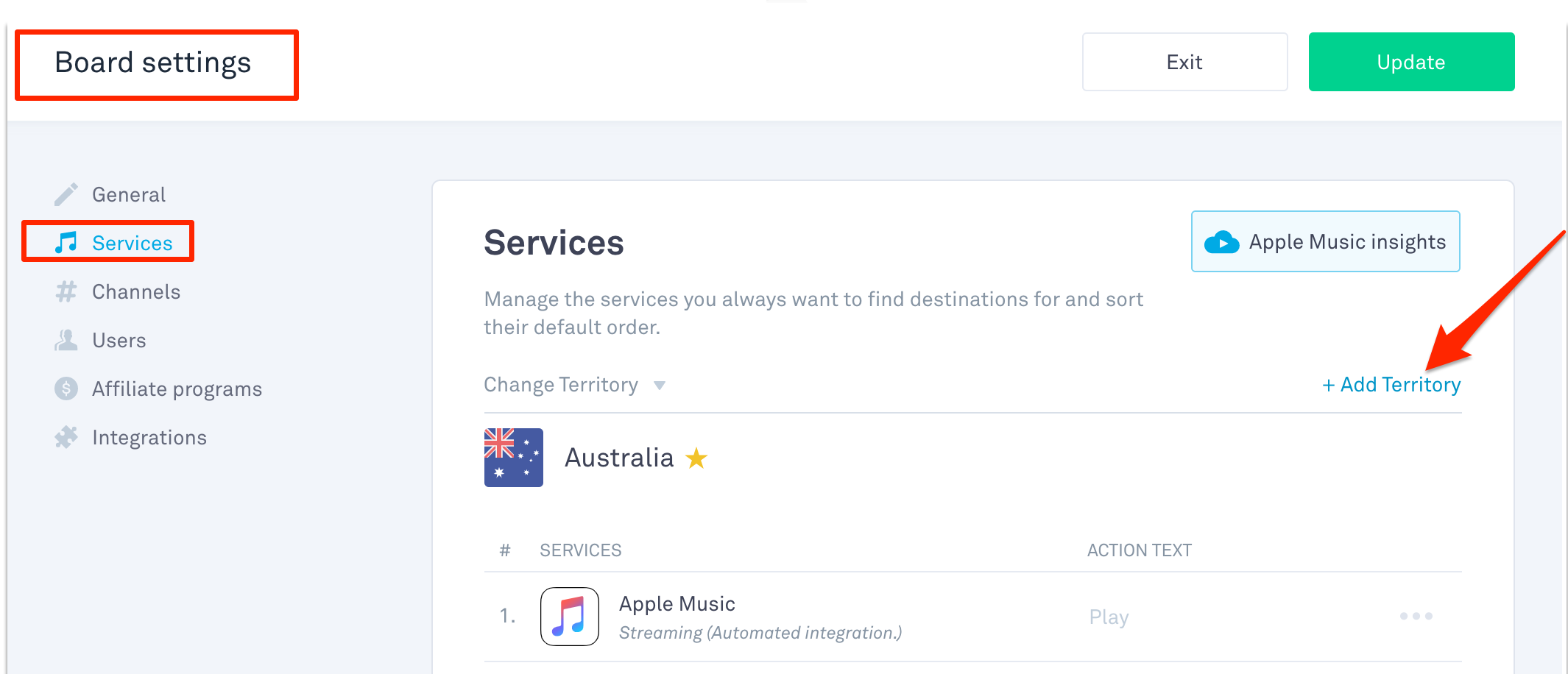 Once you have added at least one territory, the default territory is titled "Default". Any settings you make here will apply to all territories that you have not explicitly added to this section in your board settings.
You can now use your selected territories to create specific rules and behaviors when creating or editing your links.
How to create localized landing pages for a link
Once you have added your territories to your board settings, you will be able to use them when creating or editing Linkfire links. When doing so, you can customize your landing page for different countries in the section titled "Landing Page".
In this section, click the blue "+" button under the title "Landing Page" and type in the country you wish to add. You will see the preview to the left change to the local language and services set up for that territory. In the "Service order" section below, you can hide services for that territory, edit the text for each button, and change the order of services.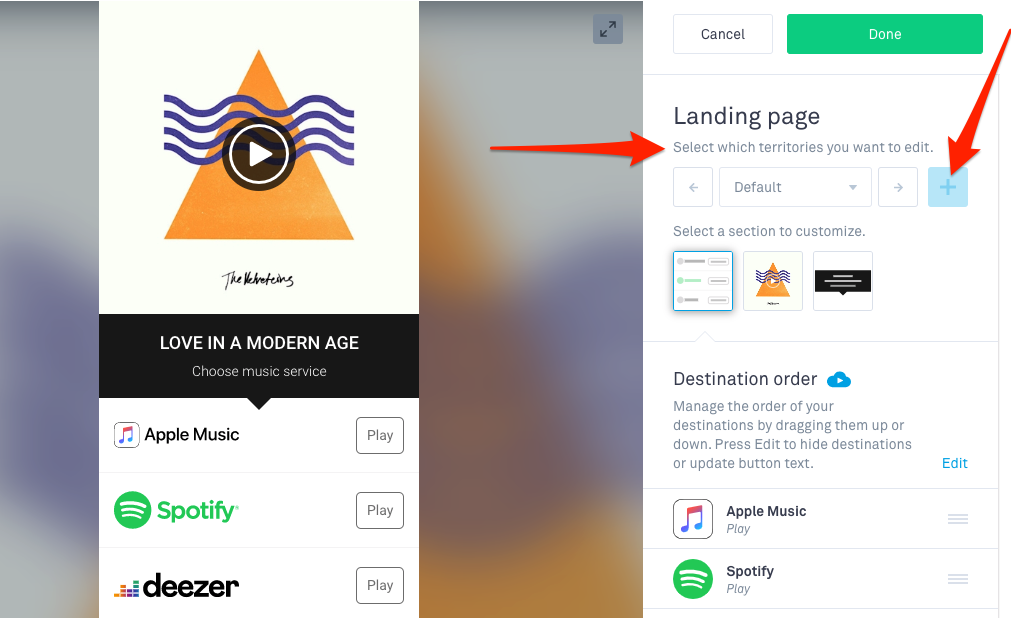 You will also find a drop-down field containing all of the territories that you have added in your board settings. Select a country in the drop-down or type in the territory you're looking for. This dropdown also allow you to remove any territories not relevant for your link. Simply click the trash can icon next to the territory to delete it.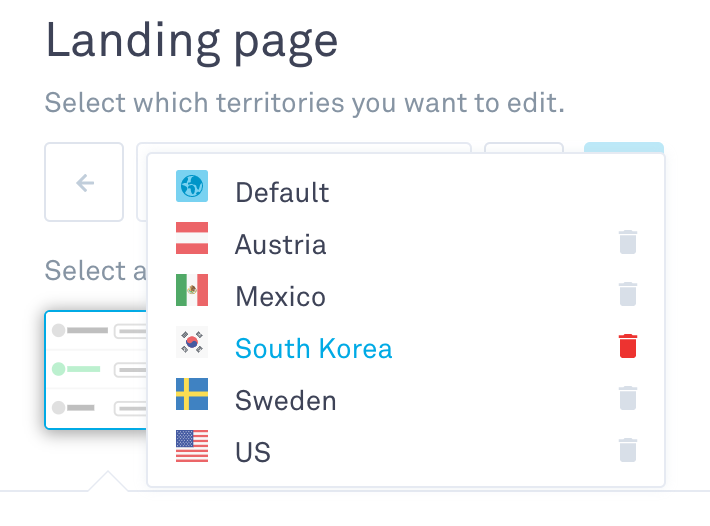 Switching between different territories in this section will let you create a custom configuration, which will only appear to users visiting your link from the selected country.
If you need to test how your link will behave for users from certain countries, you can do this by visiting your link and appending /lang/xx to its URL, where xx is the ISO code of the country you want to test for. For example, if you want to see how artist.lnk.to/album would behave for visitors located in Germany, you will visit the URL artist.lnk.to/album/lang/de.