NFTs are digital art sold as non-fungible tokens, and if you're getting in on the action, you can now direct fans to your NFTs via any of your Linkfire landing pages.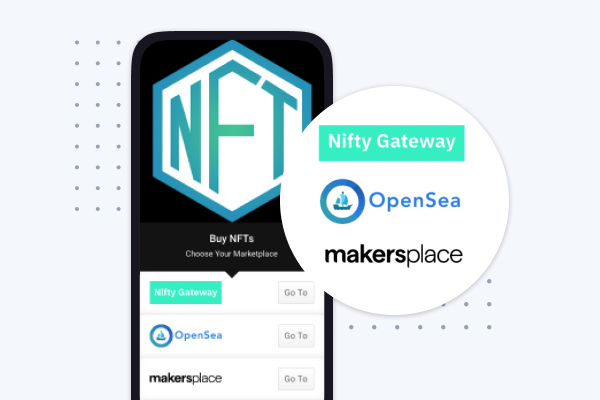 We've integrated some of the most popular NFT markets, blockchain-powered music DSP- Audius, and digital NFT display board Lazy so you can easily choose them from the list of services and add them to your landing page. Pick from the following stores:
Nifty Gateway

Open Sea

Makers Place

Rarible

Zora

Mintbase

Foundation

Ghostmarket

Async

KnownOrigin

Lazy.com

Audius

Crypto.com

Ethernity Chain
Similar to how you add a new music service you can add an NFT store under "Service Destinations" => "Add service" and manually paste in the direct link to your NFT.
Follow the step-by-step guide below and you'll have fans checking out your NFTs in no time. And if you're interested in diving deeper into the world of NFTs and music - check out Music Ally's NFT archive here or this NFT guide for beginners.
Add NFT stores to a specific link
Add any of the NFT stores as a destination to a landing page in these easy steps.
Create a link in Linkfire.

Go to the "SETUP" section of your link and select "Service destinations."

Select "+ Add Service" at the top right of the screen.

Search for the name of the store you're looking to add and select it.
Copy the direct link from the NFT store
Paste in the direct NFT store link for the new destination you've just added.

Repeat step 3-6 for any additional NFT store you're looking to add.

Check out the landing page preview under "landing page" and reorder the services and customize anything else needed.

Start sharing your link. When fans click on the NFT store they are routed directly to site where you're selling your NFTs.
Add NFT stores as default destination on your board

(limited to Pro, Biz Ess Legacy, Business, and Premium clients)
To make any NFT store a permanent integration across all links created on your board, you can add it directly to your "Board settings" under the "Services" section.
Click "add Service" and search for the NFT store of choice. Here you can also update the action text for the button to a default text for the NFT store, such as "Buy NFT".
This way it will automatically appear on all links created within that board. Then you just have to paste in the direct NFT store URL for any new link you create.